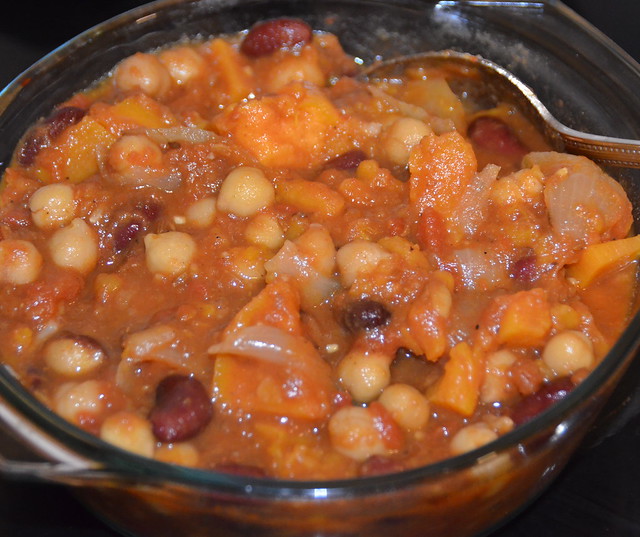 Spicy Vegetarian Bean Stew
There are a lot of different ways to make a Vegetarian Spicy Bean Stew. In my opinion, this one is particularly tasty – and really easy to make. Bean stews are low cost because pulses, whether tinned or dried, are so much cheaper than any stewing meat. They are nutritious and low calorie and a dish like this is low fat too.
And yet people who like meals that contain meat, will hardly notice its absence, because it is so tasty and filling.
Easy to make, tasty, low cost and nutritious spicy bean stew. Perfect for midweek family supper, especially if people need food at different times
I used chickpeas and kidney beans but you can use your any beans – whatever you have in the cupboard. If you use a lot of pulses it is a good idea to prepare a large batch and divide them into bags to keep in the freezer. Take a 500g bag, soaking overnight in plenty of water. Rinse and boil for 90 minutes or until they are soft. I then divide them into roughly 225g bags and freeze them as this is usually the amount I need, roughly equivalent to at a tin of pulses.
Vegetable With Spicy Beans
I used a large sweet potato and it does go really well in this stew. You could use butternut squash, pumpkin or even some ordinary potato instead. But do I think sweet potato is best. Sweet potatoes are generally available all year round in the supermarkets and are imported from USA or South America.
You could use a butternut squash or a crown prince squash when they are in season or even a couple of plain, local potatoes.
There is a sweet and sour element to this recipe provided by white wine vinegar and honey giving a gentle tang to the dish.
Midweek Family Supper
Once cooked this stew can be kept warm for hours, so you can get cooking even when you are unsure when some members of the family might be home.
It can be kept warm happily for a couple of hours so is also suitable if the family is eating at different times of the evening. Any left overs can be kept in the fridge or frozen for a ready meal for another day.
Serve with a baked potato, rice or a couple of your favourite green vegetables. This meal is under £4 for a 4 generous servings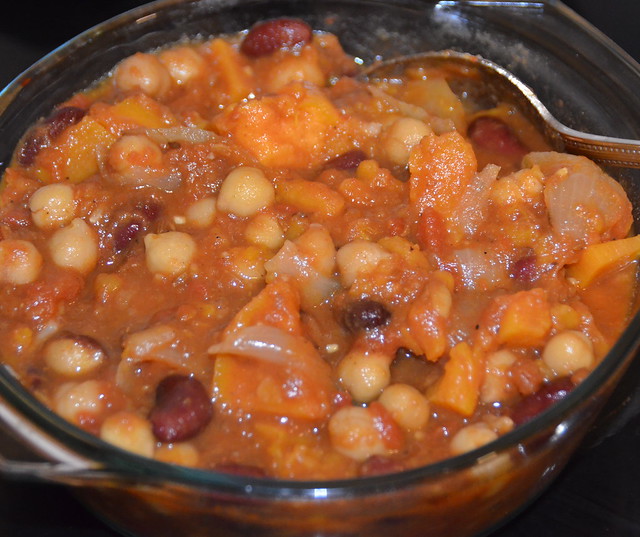 Spicy Mixed Bean Vegetarian Stew
Easy midweek, tasty supper
Ingredients
1

tablespoon

vegetable oil

1

onion

peeled and chopped

2

teaspoons

cumin seeds

1

large

sweet potato

peeled and cubed

1

x 400g

can chopped tomatoes

500

ml

vegetable stock

1

400g

can kidney beans drained and washed

225

g

cooked weight or 1 400g / 14oz tin chickpeas

2

teaspoon

coriander powder

1

teaspoon

chilli powder

3

tablespoons

white wine vinegar

3

tablespoons

runny honey

1

tablespoon

tomato puree

Salt and pepper

to taste
Instructions
Put the oil in in a large frying pan (with a lid if possible)

Add the onion and cook for a few minutes until it starts to soften

Add the cumin seeds and cook for a couple of minutes

Add the sweet potato, stir and cook for 3-4 minutes

Add the chopped tomatoes, vegetable stock, coriander and chilli powder

Add the kidney beans and chickpeas

Add the honey, white wine vinegar and tomato puree

Stir, bring to the boil and then a gentle simmer

Cook for 30-40 minutes on a gentle heat with the lid on

Taste and adjust seasoning

Serve with rice
Notes
Can be reheated in the oven in a casserole dish or in a large saucepan on the hob