Best Yorkshire Puddings
My Mum made perfect Yorkshire puddings. She always has since I was a child. I think it is in her genes since she was born and brought up in Scarborough. I too was born in Yorkshire but may be I moved away too soon, when I was eight, to the Midlands as my parents got new jobs.
As a child the test for a good Yorkshire pudding was if you could pour your gravy in without any escaping – no holes and good strong edges!
Perfect Yorkshire puddings makes a good roast dinner great! They are easy to make if you follow this simple recipe – originating from a real Yorkshire woman!
Of course when asked for the recipe, she said she didn't have one. She just mixed some flour with and egg then adds milk and water until she has the right consistency. Well of course that is how many people cook and it is really commendable but not conducive to teaching other people.
In fact I have watched her many a time and struggled to reproduce her amazing Yorkshires. Or at least until now. I am actually not saying I have it sussed completely but I am beginning to get there. I think I have managed to convert her method in to a recipe that I can follow in future and that I can write down for the web site
Where Do Yorkshire Puddings Originate?
The real origin of the Yorkshire Pudding is not really known but the first mention of it in a cookery book appears to have been 1737. Most people seem to agree that it was used to fill up hungry tummys before the main meal. It is traditionally eaten as a starter before the meat is served, reducing the amount of meat that is needed.
More recently Yorkshire puddings are served alongside the roast dinner, although obviously they still act as a filler!
The Key To Great Yorkshire Puddings
The advice most people give for great Yorkshire puddings is to have the fat really hot before pouring the batter in – and to have a good hot oven for the cooking.
The batter should be smooth and the consistency of single cream.
You will need a tin like this one – Prestige Non-stick Bakeware, 4 Cup Yorkshire Pudding Tin
Yorkshire Pudding Recipe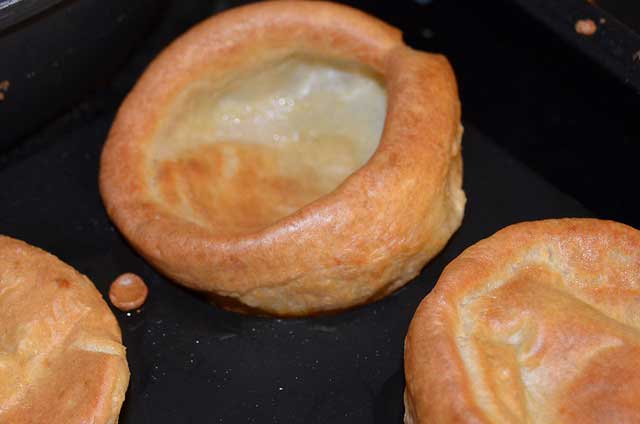 Ingredients
85g / 3oz

plain flour

1

egg

120ml

milk

30ml

water
Cooking Directions
Place the flour in a bowl
Make a well in the middle
Break the egg into the middle
With a fork, start whisking the egg into the flour
Gradually add the milk, whisking all the time, until all the flour is incorporated
Add the water and whisk until smooth
Allow to stand for at least 30 minutes
Preheat the oven to 230 degrees C
Place a small amount of oil in each cup in the pudding tin
Put the tin in the oven for 5 minutes to get the oil really hot
Remove from oven and immediately pour the batter into the tin, putting about the same amount in each cup
Return to the oven for about 20 minutes until they are risen and golden brown