Sausage And Mixed Bean Stew
When you are cooking on a budget, beans and pulses are a great, delicious and healthy resource for creating nourishing and tasty meals at low cost. You can make this recipe in fact without the sausages – but the sausages make a rather lovely additional flavour – especially if you are a sausage lover! You can use good quality pork sausages or vegetarian sausages.
This spicy sausage and bean stew is really easy to make and can be adapted for both evegetarians and meat eaters. Low cost too!
Easy To Cook For Veggies And Carnivores
It is very easy to make a vegetarian and and meat casserole at the same time. The spicy bean base is cooked the same. When it is ready, you can just split it between two casserole dishes and then add the appropriate sausages to each. Both casseroles then go in the oven.
Reduce Price Food – Reduce Waste
I used chipolata sausages as there some good quality ones that were reduced in my local supermarket at the end of the day. It is often possible to get very reduced meat this way. I prefer to buy from butchers and local food stores so I can find out the exact source of the meat but shopping at the end of the day in the supermarket is such a good way of keeping within your budget as well as reducing food waste as much of the supermarket food that doesn't get eaten will get thrown away.
Although consumers are often cited as throwing away up to £50 of the the food they buy every month there is a lot of food waste that happens before the food reaches the consumer. But a good deal of food waste happens on the way to the supermarkets and by the supermarkets themselves. so buying reduced food at the end of the day not only saves you money, but lightens the load of food waste too.
But I have two rules on buying reduced price food. I only buy it if it is something I would buy anyway or if it is something I will only buy at a reduced price because I consider it too expensive otherwise. You will need to use it immediately or put it straight in the freezer if it is freezable.
There is no point in buying bargain food only to throw it away a couple of days later – the supermarket would have done that for you for free!
Spicy Beans
Make the stew as spicy as you like. Use more or less chilli powder according to the strength of the powder and how spicy you like it. Test the sauce before you add the sausages.
Serve with potatoes and a favourite vegetable. Try purple sprouting broccoli, mashed swede or cabbage
Spicy Bean And Sausage Casserole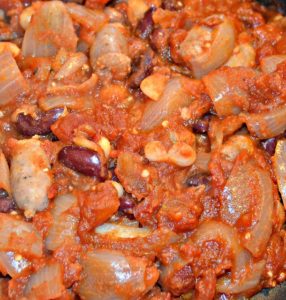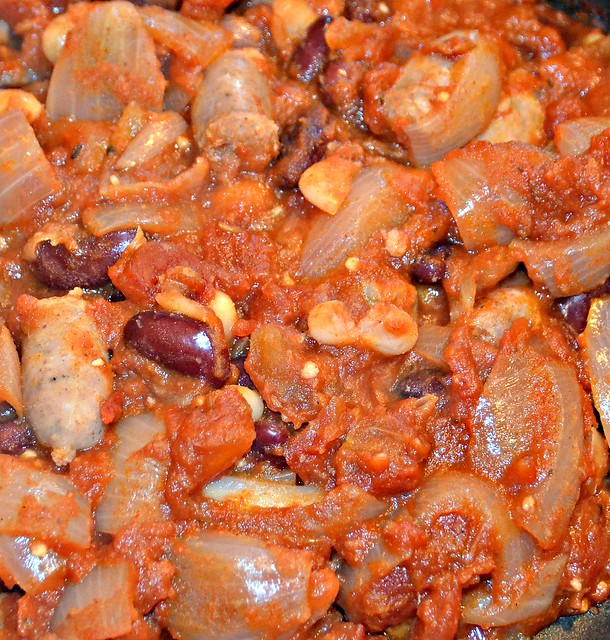 Ingredients
1 tablespoon

olive oil

2-3 cloves

garlic, crushed

1 onion

peeled and chopped

2 teaspoons

cumin seeds

250g or 1 can

cooked cannellini beans

1 x 400g can

kidney beans, drained and washed

2 x 400g can

chopped tomatoes

4 tablespoons

water

2 teaspoons

paprika

1 teaspoon

chilli powder

6

pork or vegetarian sausages (or 3 or each)
Cooking Directions
Heat the oil in a large frying pan with a lid (ovenproof if you have one)
Add the onion and fry for a few minutes until soft
Add the cumin seeds and garlic and fry for 2-3 more minutes
Add the chopped tomatoes and water (using the water to rinse the tomato cans)
Add the paprika and chilli powder
Add the cannellini beans and kidney beans
Stir well and bring to the boil and simmer for 5 minutes
Add salt and pepper to taste
Transfer the beany stew to a casserole (or two if making a vegetarian and meat option)
Add the sausages and stir
Cover and place in the oven at 180 degrees C for about 40 minutes
Serve with mash or new potatoes and a green vegetable