Easy Yellow Split Pea Soup
If you are a regular reader of Penny's Recipes, you will know that I love simple, tasty and low cost recipes and that I love to receive guest posts. Well here is a guest recipe that is fabulously simple and really delicious! It is a soup made from yellow split peas.
It is very easy to make with few ingredients and lots of flavour.
This flavoursome soup made with yellow split peas is very easy to make and really low cost too – under a £1 to serve four people!
Low Cost Soup
Soup can make a light supper or a lovely lunch. Full of nutrients and filling, it can also be used as an effective way to lose weight, since surveys have shown that it fills you up for longer than the equivalent food if you had it on a plate. The liquid means that you feel full for longer.
Soup makes a great alternative to a sandwich especially in the winter months when its warming properties is good for the body – and the soul! In the Spring and Summer, soups made from seasonal vegetables are colourful, flavourful and very nutritious.
Many soups are easy to make, often being a case of chopping the vegetables, cooking in stock and flavouring with herbs and then whizzing in a liquidiser or pushing through a sieve. You don't even have to do that if you like your soups more lumpy. Because the yellow split peas break up in this soup, you can choose whether to have it as it is or make i smooth
Yellow Split Peas
Yellow split peas are high in protein, fibre, vitamins and minerals and also low in fat. They are a fabulous addition to a vegetarian diet – or indeed for anyone. They are very low cost – 500g are about 70p and you generally will use half that in a recipe for four people – so its great for anyone on a budget!
Yellow split peas can be used in many recipes and can be a substitute for lentils in any lentil recipes.
To Soak Or Not To Soak
Soaking yellow split peas overnight does reduce their cooking time and I did soak them for this recipe, even though the recipe said there was no need. It just meant they cooked a little quicker. I think it depends on the peas and possibly how old they are. The pack I bought advised soaking them but if you don't soak them, you may need to simmer the soup for a little longer.
I would be interested to hear from people if you pre-soak your yellow peas or not. Do comment below.
Dill And Fennel – Or Other Herbs
This recipe is flavoured with dill and fennel seeds making it have a delightful soft aniseed flavour – really lovely! But if you don't have dill or fennel in your cupboard use oregano or mixed herbs to add a little extra flavour.
The fennel seeds are the seeds of the fennel plant. They have been considered to have special properties and can be beneficial to your health. Dill too has flavours of anise but is slightly sharper and stronger. The two flavours of fennel and dill complement each other in this delicious soup.
Lesley Says:-
There are many versions of this soup, some with onion, or celery added. This is my version, and it is delicious. Keeps you satisfied for hours.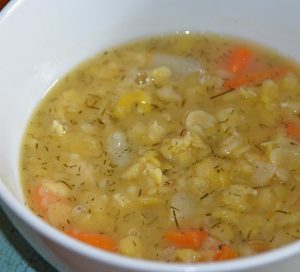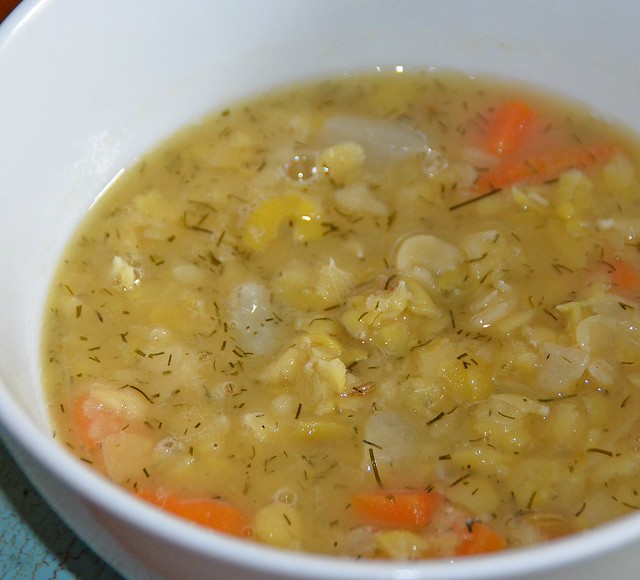 Yellow Split Pea Soup
Ingredients
1 tablespoon

extra virgin olive oil

1 clove

garlic, crushed

2 medium carrots

chopped

pinch

ground black pepper

250g dried yellow split peas

rinsed (and soaked overnight if you wish)

1 litre vegetable stock,

or chicken stock

1 dessert spoon

dried dill (or herbs of your choice)

1 teaspoon

fennel seeds(or herbs of your choice)

1

bay leaf
Cooking Directions
In a large saucepan, heat oil over medium-high heat.
Gently fry garlic and chopped carrot, cook, for a few minutes
Add stock, fennel seeds, dill, bay leaf, and pepper
Add the yellow split peas
Bring to boil
Reduce heat to medium/low, cover and simmer, stirring occasionally to prevent peas sticking to pan, for 35 to 40 minutes or until peas are soft and beginning to break up and thicken the liquid
Remove from the heat – not forgetting to remove the bay leaf, and either process using a stick blender, or in a food processor – or eat as it is
If too thick, add a little more hot water. Adjust seasoning if required
Serve with homemade buttered garlic spelt bread
There are many versions of this soup, some with onion, or celery added. This is my version, and it is delicious. Keeps you satisfied for hours.