Sausage Supper
I love sausages but I will only eat good quality butcher sausages or the premium sausages from the supermarkets. Good quality sausages are delicious but of course they are more expensive than the cheaper ones. I would rather have one good quality sausage than 2 or 3 cheap ones. The meat content may well be the same – it's just that the cheaper one will have much more fat and other fillers.
Good Quality Sausages – Without Expense
One answer is to use a small amount of sausage and combine it with other delicious ingredients so you get all the flavour and nutrition of a quality sausage without the added expense. By chopping it into bite sized pieces for a stew, you will feel you are getting a lot of sausage. Chipolata sausages are quite good for this as they will make more individual bite sized pieces
You can also go to the supermarket towards the end of the day and you may find reduced quality sausages on their sell-by date. Use them straight away or freeze them.
Many Ways To Cook A Sausage
I love straight sausage and mash it has to be said, with fried onions and some good gravy. But I also love a sausage casserole. It is warming and full of flavour and you can have fun adding herbs and spices and other vegetables or beans
This stew has leeks and sweet potato and is also flavoured with sage – a herb that goes so well with pork. Sausage and leek go together very well. Sweet potato adds sweetness and colour to the dish.
The stew is quick and easy to make as most of the cooking happens in the oven when you can do something else. It is also ideal if members of the family are eating at different times, as it can be kept warm in the oven. It could also be placed in the slow cooker for a few hours.
You could also try Sausgae And Leek Casserole
Recipe For Vegetarians Or Meat Eaters
This is also a recipe that can be adapted for vegetarians, since you can make it with either vegetarian or meat based sausages. If you are cooking for both, it is straightforward since the basic vegetables and sauce are the same for both. Just put the vegetable mix in two different casseroles and then add the sausage.
I served this dish with mashed potatoes and purple sprouting broccoli. Serve with mash and your favourite green vegetable
Sausage And Sweet Potato Stew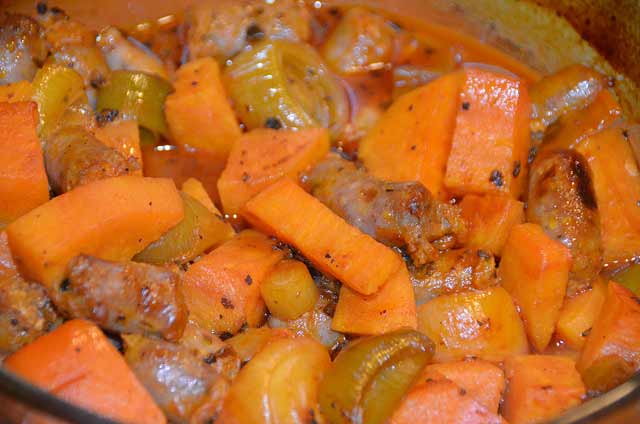 Ingredients
1 tablespoon

olive oil

2 medium

leeks, sliced

1 large

sweet potato, peeled and chopped into chunks

4-6 pork sausages (or 10-12 chiplolata sausages

or vegetarian sausages

500ml

vegetable stock

2 teaspoons

dried sage

2 dessert spoons

tomato puree

salt and black pepper

to taste
Cooking Directions
Put the oil in a large heavy bottomed frying pan
Add the leeks and fry for a few minutes until softening
Add the sweet potato chunks, stir and cook for a minute or two
Add the sage and tomato puree to the stock
Add the stock to the vegetables and simmer for 10 minutes
Meanwhile chop the sausages into bite size pieces
Transfer to a casserole, (two if you are making both a meat and veggie version) cover and bake in the oven for about 45 minutes
Serve with mashed potato and a green vegetable