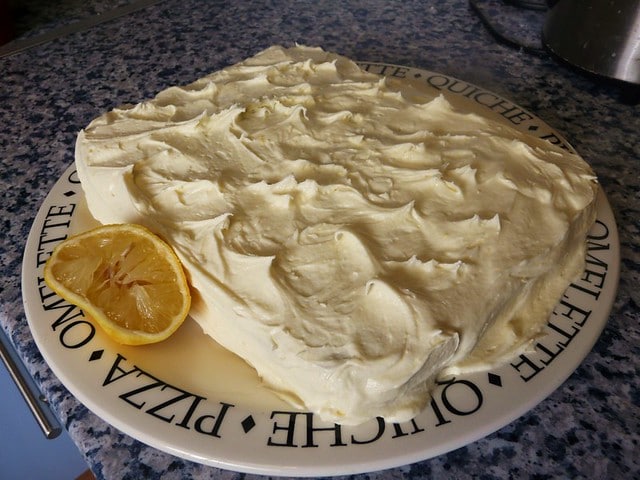 Lemon Drizzle Cake
As times are getting tougher, more people are turning to baking . I think this is partly for economic reasons but I am also certain that is the comforting, warm inner glow that comes from making delicious sweet treats and sharing them lovingly with friends or family! This Lemon Drizzle Cake is perfect as it is easy to make – but a little bit impressive too!
Cake baking is good for the soul as well as the pocket. Not to mention that you know exactly what goes into your cake if you make it at home – no artificial colours, preservatives, sweeteners or flavouring. And your kitchen always has a delicious smell for some time after the baking is finished!
There is nothing quite so homely and comforting as tea and a slice of homemade cake. This easy to make lemon drizzle cake is a delicious treat!
A Cake For Celebration Or Just Because
There is nothing quite so delicious at certain times, as tea and cake. It really is suitable for all occasions. Enjoy with friends, or alone with a good book. Have as a celebration or as a reminder that in bad times there are still some good things in life!
There is a cake for most occasions – Birthday, Christmas, Wedding, Christening, Anniversary, Graduation. But there is also every day cake, and lemon drizzle cake must be one of the best! Therapeutic to make and share, this recipe was given to me by Kloe who is a student at Exeter University.
She calls it her 'Procrastination Recovery Cake' for when her studies are getting the better of her and she needs to achieve something good to prevent her from wasting more time. Making the cake reduces her stress and puts her back on the road to academic success!
Connecting To The Past
Cake making, if done slowly and carefully, puts you back in touch with our Mothers and Grandmothers, who did far more baking and cooking than we do! (I don't mean to be sexist here and I hope plenty of men are following my recipes, but it really did used to be the women who did most of the cooking in times past!). Women used to spend around three hours a day preparing food. So as you stir, think about some of your ancestors.
It's also for this reason that I still enjoy cake making by hand, rather than using a food processor. You can use one for this recipe and there is no reason why you shouldn't, especially if you need to get the cake baked in limited time. However, even just occasionally, enjoy the process of hand mixing and get close and up personal with your eggs flour and sugar. You might be surprised at how enjoyable it is!
If you're feeling extravagant you could cover your cool cake with a buttercream icing – like the one in the photograph – a very simple mixture that tastes divine!
Easy Lemon Drizzle Recipe
It is a straightforward cake to make and is truly delicious. Share with friends or enjoy alone!
Easy Lemon Drizzle Recipe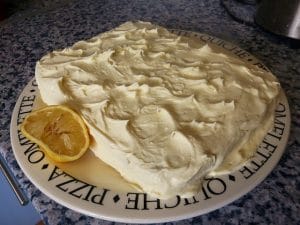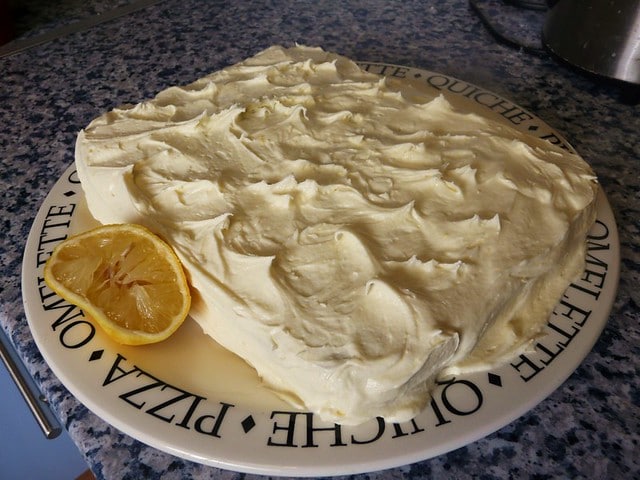 Ingredients
225g / 8oz

unsalted butter, softened

225g / 8oz

sugar

4

eggs

1 lemon zest

finely grated

225g / 8oz

self-raising flour

2 lemons

juiced

85g / 3oz

caster sugar

115g / 4oz

butter

225g / 8oz

icing sugar
Cooking Directions
To start off, you will need to get the oven going and turn the heat up to 180C/fan 160C/gas 4
Then get the butter and sugar in a bowl together and beat until pale and creamy
Once you have done this add the eggs, one at a time, slowly mixing through
Sift in the flour into the mixture
Add the lemon zest and stir until all of it is mixed
Finally, get some butter and grease a loaf tin or deep round cake tin and line with greaseproof paper
Spoon in the mixture and level the top with a spoon
Then comes the cooking (and music time!). Bake for 45-50 (ish)mins
Test by sliding a knife into the centre of the cake to see if it comes out clean; if there is any cake mix on it leave in for longer
When done take it out and leave to cool in its tin
Meanwhile mix together the lemon juice and sugar to make the drizzle
Stab the warm cake all over with a fork and then pour over the drizzle – the juice will sink in and the sugar will make a lovely, crisp topping
Leave in the tin until completely cool, then remove and serve

If adding Buttercream icing:-

Thoroughly mix together the butter with the icing sugar
Spread the cream evenly over the cake
Storing
If you don't eat it straight away you can keep it in an airtight container for 3-4 days. If you really want to savour it, stick it in the freezer for up to 1 month