Magic Lemon Pudding
This is one of those magic 'Impossible Pie' puddings that you are not sure quite how it works! Well it is to me anyway. You make up a liquid batter and then bake it in the oven and it comes out with a spongy top, and a lemon sauce underneath. It is really delicious, lemony and light – and really easy to make as you really just mix all the ingredients together in a bowl and then it goes in the oven.
This lemon pudding is ideal for a dinner party or for a family pudding. It's good after Sunday dinner – or any meal really!
Cooking With A Water Bath
It is cooked in a baking dish that is then put into a bowl of hot water – or a water bath. This helps the pudding to cook more evenly and provides a steady source of gentle heat. It also provides more moisture in the oven. You just need to be careful when putting the dish in and out of the oven that you don't spill the water.
Lemons
I used unwaxed lemons. Lemons often have a wax on the surface to help preserve them – and possibly to make them look better. This means you need to wash and scrub them well when you are going to use the zest – or better still, buy unwaxed lemons. Be careful just to use the zest of the lemon and avoid going through to the pith.
When juicing the lemons remove any pips. The juice of 2 lemons should be around 100ml.
Separating Eggs
It uses egg whites and egg yolks in an even number so there are no leftovers. The same with the lemons using all the juice and zest of two lemons.
Ensure your bowl for the egg white is very clean and especially that it is free from any grease. Separate the eggs by cracking the egg and tipping the yolk into one side and letting the white running to a bowl. Tip the yolk from side to side until most of the white has run away. Do this for each yolk being very careful not to get any of the yolk into the white. The whites will not whisk properly of there is any yolk or grease of any kind in the mix
This lemon pudding can be served by itself or with cream or ice cream. It has a lightness about it which make it good to serve after a roast dinner. It can also be eaten cold.
Lemon Pudding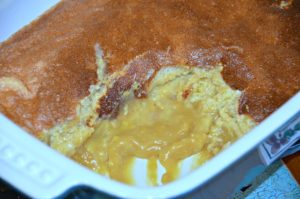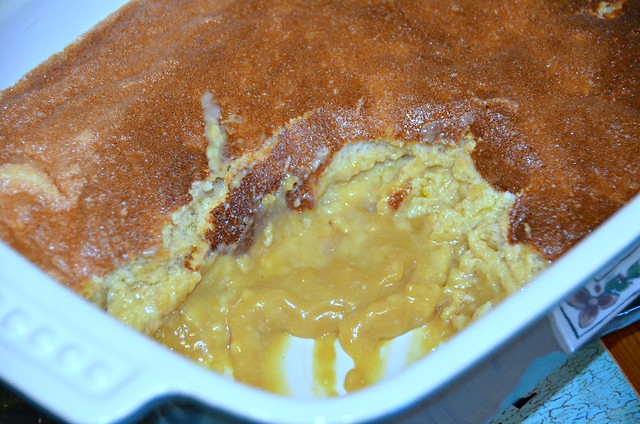 Ingredients
50g / 1.5oz

butter, cut in pieces

200g / 7oz

sugar

2 lemons

zest and juice

3 egg

yolks

3 egg

whites

50g / 1.5oz

plain flour, sifted

250ml

milk
Cooking Directions
Pre-heat the oven to 180 degrees C
Grease a baking dish
In a bowl place the butter, sugar and lemon zest and cream together
Add the lemon juice and mix
Beat the egg yolks and add to the mix
Add the flour and milk and mix into a smooth batter
Whisk the egg whites until firm
Fold the egg whites gently into the batter
Place the mixture into the greased baking dish
Stand the baking dish in a roasting tin half filled with hot water
Bake in the oven for about 45 minutes until brown and firm
Remove from oven and serve immediately with cream or ice cream