Beans For Vegetarian Stew
I have just discovered black turtle beans but I think they will become a staple in my cooking from now on. Economical and very nutritious they are versatile too. They are a bit like a small kidney beans with a good robust texture.
They are ideal for chilli dishes and vegetable stews – but are good in salads too and in any bean recipe or as a meat substitute. Anyway I tried them out with this spicy stew and was delighted with the results.
These black turtle beans are really economical, highly nutritious and taste great. This simple recipe could become part of your regular meals!
They are probably most available in wholefood shops although they are listed online at Tesco (but expensive) and Ocado (surprisingly cheaper than Tecos!). They should be between £1 and £1.50 for a 500g bag. And all you need is half a bag for four people.
Black Turtle Beans
Black Turtle Beans originate from Mexico and are used quite widely in Latin America. They are also called black beans but this is a bit confusing as there are other beans called black beans. I tried to find out why they are called black turtle beans but couldn't throw any light on that other than it being to do with their back shiny exterior – which didn't really make sense to me.
A Fabulous Superfood!
Anyway the other fabulous thing about these black beans is the fact that they are a real superfood! This is partly because of their high protein and fibre content and partly because of the vitamins, minerals and antioxidants they contain. Read more about their nutritional content here But the main thing is that they taste really good and have a great texture!
I served this vegetarian bean stew with new potatoes but it would also be really good with rice – or as a baked potato filling. You can vary the spiciness of the dish by adding more or less chilli powder
Spicy Black Turtle Bean Stew Recipe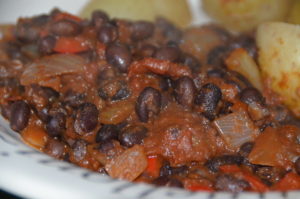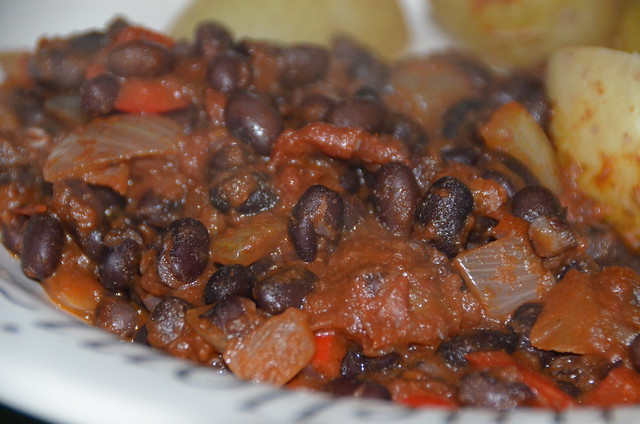 Ingredients
250g / 8oz

black turtle beans

1 tablespoon

sunflower oil

1 onion

peeled and chopped small

2 cloves

garlic peeled and chopped

1 red pepper

de-seeded and chopped

400g

chopped tomatoes

1 teaspoon

cumin seeds

1 teaspoon

coriander

1 teaspoon

paprika

1/2 teaspoon

chilli powder

3-4 tablespoons

hot water

1/2 teaspoon

salt
Cooking Directions
Prepare the beans

Place the 250g of beans in a large bowl and cover with three times the volume of water
Soak for at least 12 hours or overnight
Drain, rinse and place a saucepan of water
Bring to the boil and simmer for about 45 minutes to one hour

Make the Stew

Heat the oil in a large heavy bottomed frying pan
Ad dthe onion and cook for a few minutes, stirring occasionally
Add the cumin seeds and garlic and cook for another 2 to 3 minutes
Add the chopped pepper and cook for a further 5 minutes
Add the beans and tomatoes and stir
Ad the paprika, chilli powder and coriander
Swill out the tomato can with the hot water and add to the stew
Add more hot water as required
Simmer for about 20-30 minutes
Add salt at the end of cooking time and stir thoroughly