Lovely, Local, Seasonal Tomatoes
When the summer months are lovely and warm, we tend to enjoy lighter meals – and especially those that taste of the sunshine. There is little that can beat locally grown, sun ripened tomatoes for sweetness and flavour. Although tomatoes are available in the shops all year round seasonal, local tomatoes are as welcome and delicious, to me, as the strawberry season.
A simple salad recipe made with sun ripened tomatoes is hard to beat to compliment warm, sunny days – or even the promise of sun on cloudier days!
So I love to make the most of raw tomatoes. There are lots of recipes on this website for cooked tomatoes but simple recipes embracing the flavour of tomatoes are welcome.
Easy Mozzarella Salad With Friends
This recipe was given to me from a reader. She says that she often makes the salad for friends and they are always asking for the recipe. It serves 4 as a light main course or lunch or just halve the ingredients for a nice starter or side salad.
The recipe makes the most of the affinity between tomatoes and basil and tomatoes and mozzarella cheese along with seasonal fresh salad leaves. It really is a taste of summer and so easy to prepare there is no need to get hot and bothered in the kitchen!
You can use any salad leaves. Peppery rocket is really good with it or any seasonal lettuce. A good bag of salad leaves with also work well
The salad is easily made by popping everything in a large bowl in order, leaves first and oregano last. Give it a good mix around. You can do the dressing in a separate bowl if you want to taste it before pouring it on, but to be quick just pour it on top and then give it a good mix.
Easy Mozzarella Salad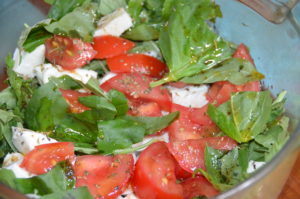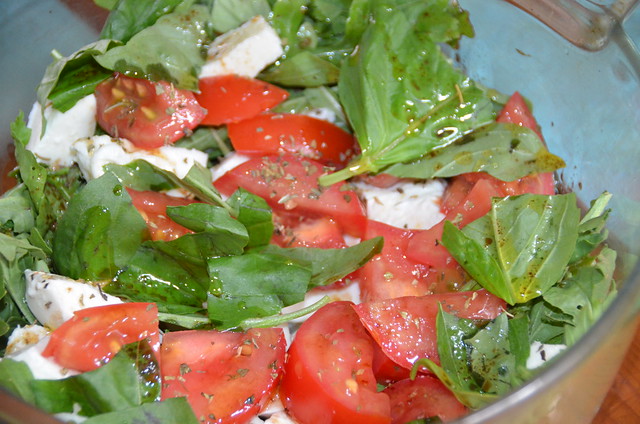 Ingredients
250g

Mixed salad leaves

2 x 125g Mozzarella

cut into small cubes

10-15

cherry tomatoes, sliced or chopped

Handful

fresh basil leaves, ripped

1 teaspoon

dried oregano

6-8 tablespoons

olive oil

2-3 tablespoons

good balsamic vinegar

Dash

red wine vinegar

pinch

salt
Cooking Directions
Put the leaves in a large bowl
Add the tomatoes and cheese
Sprinkle on the basil leaves and oregano
Give it a good mix around
Make up the dressing in a separate bowl and shake well
Pour the dressing on top and then give it all a good mix.