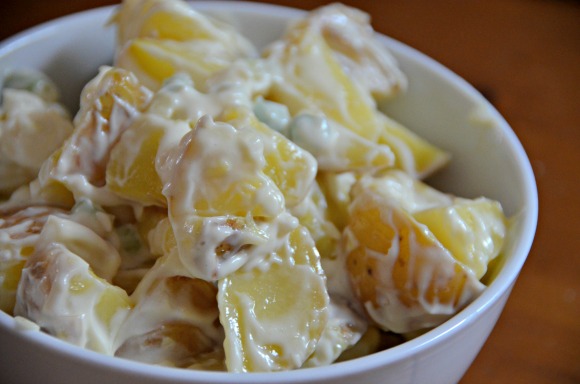 Potato Salad in Germany
Seeing some delicious food or trying something whilst out and about often inspires me to try a new recipe. On a recent trip to Germany I rediscovered potato salad! The Germans are very good at this dish it seems and make much more of it – with more ingredients than we do here. I do not always find our potato salad – certainly as presented by the supermarkets – all that appetizing.
Potato Salad is really easy to make – and delicious – it goes with hot and cold dishes. Just make with the best potatoes you can find
Actually I am unsure how traditional the potato salad I had was since some German potato salad is made from oil and vinegar rather than mayonnaise – and I had one with mayonnaise. And much German potato salad apparently has bacon in it too. But no matter – what I did have was truly delicious!
So on my return to England I decided I would not try to replicate what I had. It is probably too complicated and involved for this website of easy and low cost recipes. But I did decide to make a delicious potato salad – simply. Potato salad recipes vary slightly from country to country
Excellent Potatoes
The key to any good potato dish is the flavour of the potatoes themselves. Potatoes can be full of flavour – or they can be quite tasteless. Buy them from a local grower if you can. If you buy from someone who grows for flavour and quality rather than just for volume and looks you are more likely to find lovely potatoes. Try farm shops, local green grocers or your local farmers market if you can.
New potatoes have been in the news recently questioning how new potatoes have to be in order to be called 'new'. It had been claimed that some new potatoes sold in the Spring had been harvested 7 or so months previously. Or is the term new potato just a description of the type of potato? At least if there are new regulations brought in you will really know what you are buying.
Simple Potato Salad With Few Ingredients
The other great addition to a potato salad is Spring Onions chopped so small you hardly notice the texture, but you do notice the flavour. Spring onions are in season in the spring and summer, coinciding nicely with the new potato season.
And that is all I put in my potato salad apart from some mayonnaise and a dash of white wine vinegar. One dya I will try making my own mayonnaise. has anyone got any tried and tested recipes?
The German potato salad also contained sliced boiled egg and I think that is a really nice addition but thought it made it into a more 'luxury' potato salad. So I would suggest it as an optional extra.
Simply Delicious Potato Salad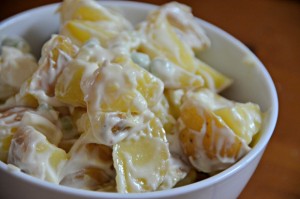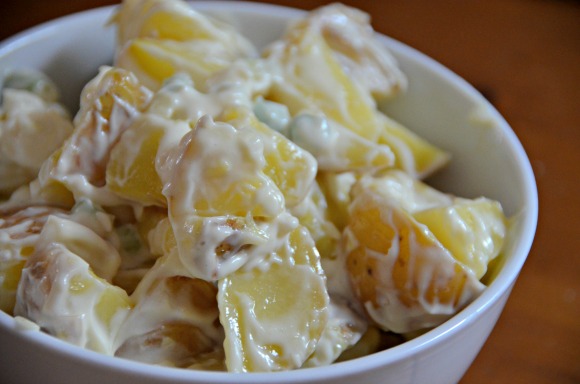 Ingredients
500g / 1lb

new potatoes, scrubbed clean

3 tablespoons

mayonnaise

1/2 tablespoon

white wine vinegar

5-6

spring onions
Cooking Directions
Chop the new potatoes into bite sized pieces
Place in a large saucepan and cover with boiling water
Bring back to the boil and simmer for 5-7 minutes or until soft (potatoes do vary how quickly they cook)
Drain and allow to cool
Meanwhile mix the mayonnaise in with the cider vinegar
Trim the onions and discard the ends and then chop as finely as you can
Mix the onions into the mayonnaise
Add the potatoes and stir thoroughly and carefully
Serve immediately or keep in the fridge in an airtight container for 2-3 days
Delicious served with almost everything!