Homemade Pizza Base Recipe
This pizza dough recipe is easy to make. Pizzas are one of those foods that are associated, along with burger and chips as being completely unhealthy. And yet a pizza is really only as unhealthy as the ingredients used.
Shop or restaurant bought pizzas are often loaded with salt and fat so the best option is to make your pizza dough at home then just like all other home cooked food, you will know exactly what has gone into it. Once I discovered how to make pizza dough, I found it is easy and very satisfying to do. This easy pizza base recipe makes enough pizza dough for 2 pizzas.
Once you learn how to make a pizza base, you may never get another shop bought pizza again!
A pizza base recipe comprises flour, yeast and water so is not inherently unhealthy. I have used the Pizza Express dough recipe, as I like their pizzas best.
The toppings are entirely your choice. Pizzas are often unhealthy because they are loaded with cheese and high fat, high salt processed meats. It is of course entirely possible to use healthy toppings including lean meat and vegetables.
Pizza – A Low Cost Meal
Home made pizza is much lower cost than a shop bought one. The pizza base costs just a few pennies and the toppings are as low cost as you wish them to be.
The process is very similar to making bread so if you are familiar with that, you will find it very easy.You can also make up a batch of dough to put in the freezer so it is ready as a quick meal at another time, ready just to defrost and roll out.
This dough recipe is from The Pizza Express Cook Book
It is easy to make from simple ingredients – and tastes delicious. Once you know how to make pizza dough, you can make any pizza topping you want!
Origins of the Margherita
Interestingly, I discovered from this book that the Margherita pizza was so named because when Queen Margherita visited Naples in 1889, she became bored of the food and asked for a local speciality. Three different pizzas were cooked for her but her favourite was the one made from the colours of the Italian flag – red – tomato, green – basil and white mozzarella cheese. From thence forth this pizza was named after the Queen!
Easy Pizza Base Recipe
Makes 2 Pizzas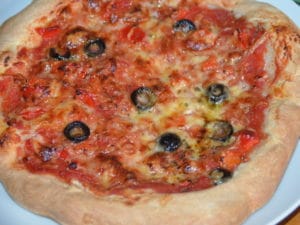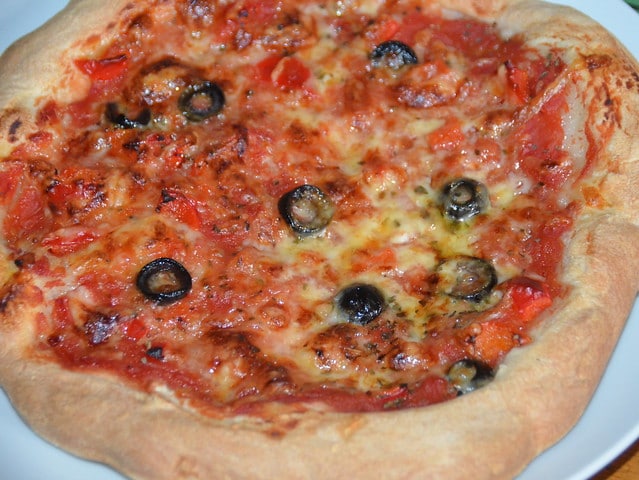 Ingredients
150ml / 1/4 pint

tepid water

1 teaspoon

sugar

2 teaspoons

dried yeast

225g / 8oz

plain flour

1 teaspoon

salt
Cooking Directions
Place the tepid water in a bowl
Add the sugar
Sprinkle the dried yeast in top
Stir to dissolve sugar and yeast
Set aside for 10-15 minutes until frothy
Put the flour and salt into a bowl and add the yeast liquid
Draw together into one mass using floured hands
Tip the dough onto the work surface and begin to knead, by pushing the dough away with one hand and then drawing back towards you
Keep repeating until for 10 or so minutes until dough is smooth an elastic. Add a little more flour if it still a little sticky after 10 miinutes
Place the dough in a bowl, cover and leave in a warmish place for about an hour, or until it has roughly doubled in size
Once the dough is ready, lift it out onto the work surface and knock it back by punching the air out of it
Divide the dough into two
Roll each lump of dough into a ball and place in a bowl or on the work surface, covered for 10-20 minutes
Rolling out the pizza base
The key here is to work calmly and slowly and you will get the right result. You just have to gently press the pizza and stretch it out into a round. Work slowly and carefully and you will produce a round pizza.
You are now ready to add your toppings.
Topping for a basic cheese and tomato pizza
Ingredients
5-6 dessertspoons

chopped tinned tomatoes

1-2

crushed garlic cloves

1 teaspoon

dried mixed herbs

50g / 2oz

grated mozzarella (or cheddar) cheese

3-4

olives, sliced (optional)
Cooking Directions
Mix the garlic and herbs into the tomatoes
Put the pizza base on a baking tray
Spread the tomato mix evenly over the base of the pizza
Sprinkle with grated cheese and add olives if using
Bake in a preheated oven at 220 degrees C for about 20 minutes
Serve with a green salad