Favourite Family Soup Recipe
This recipe is a family favourite of a reader that she has shared. It is easy and quick to make – ready in about 20 minutes and low cost too. It's fabulous for using leftovers and what you have in your cupboard and it is great for when you get in from work or leisure too tired to really make much effort but need something delicious and nutritious in a short space of time.
It is made from smoked salmon trimmings – which you may have as a left over or that you can buy at low cost from fishmongers or from the supermarket.
Lesley comments that her husband calls this delicious chowder, Paradise in a bowl!
A chowder is a stew or thickened soup. This is certainly a main course soup with fish and beans – and plenty of flavour! The beans recommended are cannellini beans – but as Lesley says below, you can use other beans too. In fact this chowder recipe is very adaptable.
Lesley says:-
I used Knorr vegetable granules for the stock – the lower salt variety.
If I want to make it more substantial for a main meal, I add chunks of cooked fish, usually a salmon fillet, but smoked haddock or cod is nice too.
I use cannellini beans, but have also used butter beans. I love the beans as they add to the velvety texture of the chowder.
For meat eaters I have used chopped chorizo sausage in place of salmon trimmings. I also sometimes make it hotter it hotter by using chilli powder or adjusting the amount of cayenne pepper used.
Smoked Salmon Chowder Recipe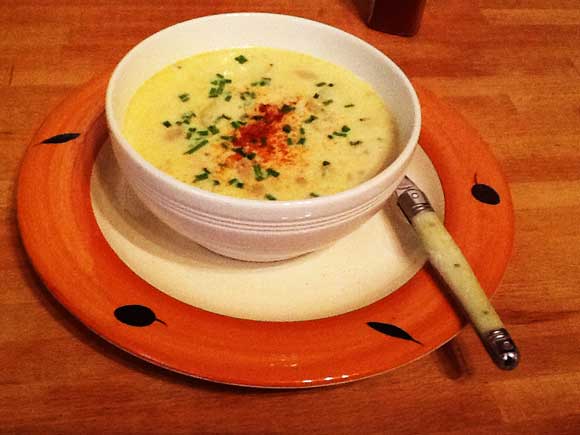 Serves 2
Ingredients
1 medium size

baking potato

1 small

onion

2 small cloves

garlic

sandwich pack or economy pack

smoked salmon trimmings

1 x 400g / 14oz can

cannellini beans

good pinch

chives, fresh or dried

pinch

thyme

pinch

cayenne pepper

1/4 teaspoon

smoked paprika

500ml

semi skimmed or whole milk

2 teaspoons

vegetable bouillon powder, or vegetable granules

1 tablespoon

oil for frying
Cooking Directions
Cut potato in half lengthways, slice into half moons about 3 mm thickness
Crush garlic
Shred smoked salmon into small strips
Chop onion quite small.
Heat oil in a large saucepan
Gently fry garlic, onion, and potato without browning for 3 mins, stirring to prevent sticking.
Add smoked salmon and fry for another minute until opaque.
Add milk, stock powder, chives, smoked paprika, thyme and cayenne pepper
Heat and cook gently until potato slices are soft, stirring frequently
Add beans and heat through.
Pour into bowls and garnish with chives and sprinkle of smoked paprika.