Chocolate Fudge Cake
I wanted to make a special chocolate fudge cake for a birthday. I already have a chocolate cake recipe on this website – my favourite recipe from childhood made with evaporated milk and with peppermint added. For my next chocolate cake I wanted a more lush cake – more in the style of a chocolate fudge cake.
If you think a good Chocolate Fudge Cake is tricky to make – try this one – a luxury cake that is really easy to make
Easy Cake From A Food Blogger
If you want a good recipe for something it is good to ask the food blogging community so I went out there onto Twitter and Facebook and asked for best (but easy) recipes. Of course any recipe I am going to talk about on here has to be low cost and easy and some cakes can be neither – especially more lush cakes!
I had a choice of two recipes – Rich Chocolate cake from Utterly Scrummy Food For Familes – a really rich cake and Easy Chocolate Cake from Life at the Zoo. I plumped for the later – I think it was the first instruction in the recipe that swayed me which is "Put all the ingredients – save for the hot water – into a bowl and mix". Now that is an easy recipe
The chocolate mix was all made up in minutes and ready to go in the oven. I adapted the recipe slightly putting in a little less sugar than the original and a little less water at the end as I was concerned the mixture was too soft. But otherwise it is exactly as the recipe.
I lined my tins with greaseproof paper as I wanted to be sure they would come out whole. I suspect they would be find in a well greased non-stick cake tin but I just didn't want to take any chances!
Ganache
Potentially the tricky bit of this recipe is the ganache. I had never made it before (let us be honest I was unsure what ganache was!) so I was concerned this could be tricky. However it turned out to be just fine – and quite easy…
Ganache is simply a cream and chocolate mixture that makes a chocolate icing. It goes quite solid (but still soft) once cool. It is made by breaking all the chocolate into small pieces and then pouring over heated up double cream and stirring so the chocolate melts and it all makes a wonderful smooth paste
Quality Chocolate
The cocoa powder I bought was good quality and fair trade. The chocolate bars were 70% cocoa solids. I think if you are going to make a chocolate cake it is better to have the good quality chocolate. It is more expensive but you do end up with a richer taste. And a large rich chocolate cake does go a long way (allegedly!!!)
Decorations
There are many ways you can give your cake a creative flourish. I chose to use little flake type chocolate pieces and a sliced up up mini chocolate roll. It is important to put these on as soon as you have put on the ganache so they stick on as the ganache hardens.
You can use just what you like to decorate it – or leave it perfectly plain. The original recipe shows the cake with smartie type sweets on the top.
The Recipe – adapted from Life At The Zoo – Death By Chocolate
Chocolate Fudge Cake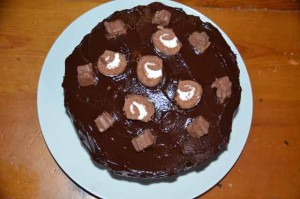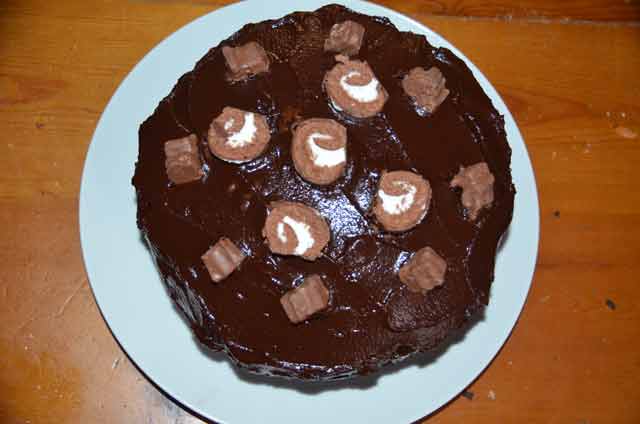 Ingredients
250g / 8oz

plain flour

325g / 11.5 oz

soft brown sugar

85g / 3oz

cocoa powder

1.5 teaspoon

baking powder

1.5 teaspoon

bicarbonate of soda

2

eggs, beaten

250ml

milk

125ml

vegetable oil

1 teaspoon

vanilla extract

125ml

boiling water

Bag of

bite size flake or chocolate pieces

mini chocolate role

cut into 5 slices

175g

good quality dark chocolate

125ml

double cream
Cooking Directions
Preheat the oven to 180 degrees C
Grease and line 2 shallow cake tins with grease proof paper
Place all the ingredients, except for the boiling water, together in a bowl – stirring after the addition of each ingredient to mix well
Slowly add the boiling water a small amount at at time stirring constantly
Bake in the oven for 40 minutes
Allow them to cool in the tins for 15 minutes or so
Remove from the tin and place on a cooling rack
When the cake is cook – make the Ganache
Place the cream in a good, heavy bottomed saucepan
Heat gently until just beginning to boil then pour over the broken pieces of chocolate and stir quickly until you have a smooth paste
Spread about one quarter of the paste over one of the cake halves
Put the other cake half on top
Using a knife (a palette knife if you have one) spread it evenly over the whole cake
Add your decorations
Place in the fridge for a couple of hours minimum before serving