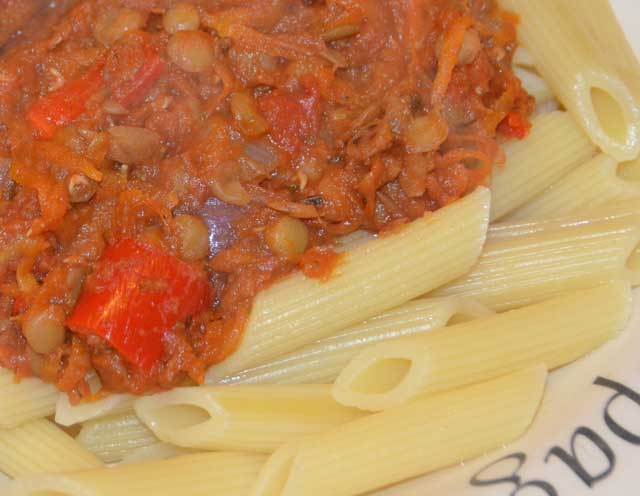 Vegetarian Version Of Meat Recipe
Having for many years been in the position of cooking vegetarian meals along side meat based ones I have several tried and tested easy vegetarian equivalents of meat recipes so the extra effort of cooking two meals is minimal. I have often cooked this vegetarian version of the traditional spaghetti bolognese recipe and it is indeed a well like family favourite (well amongst the vegetarians anyway!)
This lentil bolognese sauce is always a hit in our family and you make think it is better than the meat version
Lentils – Low Cost And Nutritious
It uses lentils – that trusty ingredient that is so useful as a meat substitute – and is good for adding to meat recipes to make the meat go further. I use green lentils for this recipe rather than red lentils as they hold their shape better and are more robust to give a texture more like meat. You could use puy or brown lentils instead but these are less readily available in supermarkets although are usually quite easy to find in health food shops.
Lentils are low fat, high fibre and full of vitamins and iron and being so low priced.
Meat Substitutes
Of course often now people use quorn or soya mince as a meat substitute. And these can be fine and very useful – but they are highly processed so no good if you want to avoid over processed food. Soya has become more controversial as to whether it is healthy or not and quorn has its critics too
It is very difficult to discern whether these kind of products are good for you or not and to me using lentils is low cost and has less controversial health or ethical issues associated with them.
Vegetarian Bolognese Sauce
This recipe is really based on my meat spaghetti bolognese recipe. If you are cooking both you can use the same ingredients apart from the meat so they cna easily cook side by side. I add pepper – red or green (or both) to the sauce and grated carrots. I got used to adding grated carrots to recipes as a way of getting my son to eat them as for some bizarre reason he didn't like them (and still doesn't as an adult!). However the addition of carrots adds a lovely sweetness to the bolognese sauce and our traditional family recipe wouldn't be the same without it!
Serving Suggestions
Serve on a bed of pasta – spaghetti if you prefer but it is delicious with any pasta shapes. A dish such as this is always good with a green salad and if you really want to push the boats out – some garlic bread! And of course a sprinkling of grated parmesan or cheddar cheese is always welcome along with plenty of black pepper. Don't forget to check if your cheese is veggie as many are not…..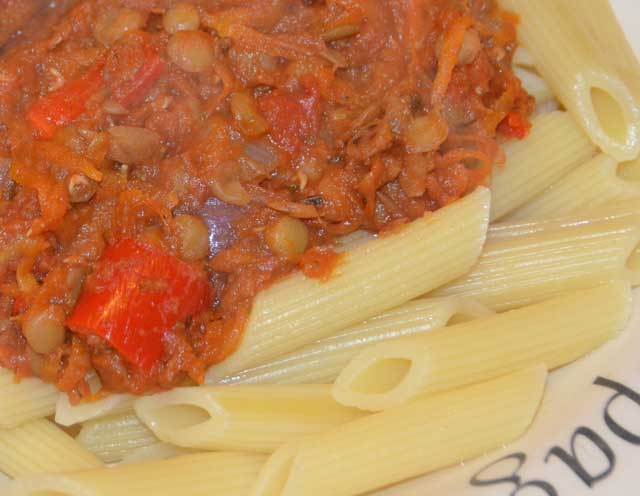 Vegetarian Spaghetti Bolognese
Easy vegetarian version of classic dish
Ingredients
250

g

green lentils

1

tablespoon

olive oil

1

red or white onion

peeled and chopped

2

cloves

garlic

crushed

1

red or green pepper

peeled and chopped

1

large carrot

peeled and grated

1

400g

tin chopped tomatoes

1

teaspoon

oregano

1

heaped tablespoon

tomato puree

150

ml

vegetable stock

400

g

spaghetti or pasta shapes

grated cheese

to serve
Instructions
Place the green lentils in a saucpan and cover with plenty of boiling water

Bring to the boil and simmer for about 40 minutes until soft, adding more water if it is getting dry

Heat the oil in a large heavy bottomed frying pan

Add the onions and cook until soft and transparent

Add the garlic and pepper and cook for a further 5 minutes

Add the lentils

Add the tin of tomatoes and stir well

Add the grated carrots

Add the stock, tomato puree and oregano

Stir thoroughly, cover and reduce the heat to a simmer

Cook for 30-40 minutes

Just 15 minutes before the bolognese sauce will be ready, boil the kettle with plenty of water

Use a large saucepan

If using pasta shapes, place in the pan, cover with boiling water, and stir

Simmer for 12-15 minutes or according to packet instructions

If using spaghetti, pour the water into the pan and bring back to boil

Place the spaghetti into the pan, vertically and gently lower it into the pan as it softens in the water

Once all into the water, stir gently to prevent sticking

Simmer for 12-15 minutes or according to packet instructions