Frugal and Easy Recipes
I have asked that people send in their extra easy and frugal recipes so readers can share with other readers some great everyday recipes for my series on Cheap, Everyday Meals. These are recipes that are low cost and suitable for everyday family cooking.
This recipe has been contributed by Lesley
A Homemade Vegetarian Sausage
This recipe from Lesley is a basic vegetarian sausage recipe which you can flavour in different ways. It is a good basis from which to explore – and it saves buying the frozen processed sausages. It is very easy to make. You can make it just using a potato masher – or you could use a food processor.
Season How You Wish
The recipe is seasoned with smoked paprika but it would also be good with chilli and/ or cumin. Instead of leek you could use onion or shredded cabbage or grated carrot. I love this recipe because it is economical and can be adapted to your tastes and what you have in the cupboard.
A Cheap And Easy Veggie Sausage Recipe
Most supermarkets have kidney beans in their basics range so you can get a tin at a very low price.
The cost of this recipe, not including the herbs and spices, is under £2 and serves 4 people generously. Great with mashed potato and your favourite vegetable or baked beans. You can easily scale the ingredients up or down to serve more or fewer people
Nutritious Kidney Beans
Kidney beans are very good for you. They are high in fibre and contain essential vitamins, minerals and iron. They are good for heart health. You can buy them canned or dried. If you buy them in the dried form, soak overnight and then boil rapidly for 10 minutes and simmer for a further hour until soft. Drain, wash and refrigerate or freeze in 220g portions (about equivalent to a bought tin)
This is what Lesley says about her recipe:-
I usually make your Glamorgan sausage rather than bought veggie sausage, but had been toying around with the idea of making some more smokey ones. I went to buy butter beans to try but as the co-op only had kidney beans, I used those, and they looked and tasted good!

These sausages are cheap to make – I guess a bit of bottled brown sauce or pickle could take the place of the balsamic vinegar. My husband gave them a thumbs up, though I might play around with different flavours too – just like our local butcher who has a large variety of meat sausage with all sorts of flavourings
Smokey Bean Sausage Recipe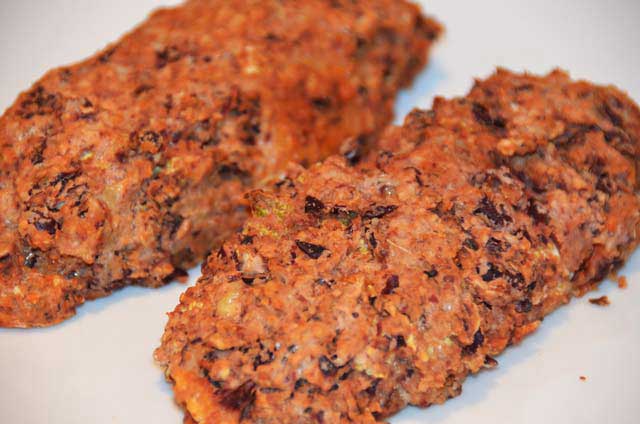 Ingredients
2 tins red kidney beans

drained and rinsed

Small leek

white part only, chopped finely

2 oz / 60g

oats

4oz / 120g

cheddar cheese, grated

2 teaspoons

balsamic vinegar (optional bit gives nice tang)

1 teaspoon

sage

1 teaspoon

thyme

1 teaspoon

smoked paprika

1/2 teaspoon

garlic granules

Salt and Pepper

if required.

1 small egg

well beaten
Cooking Directions
Heat oven to 180 – fan oven 160
In a large bowl, mash the beans until none are left whole and the mixture is broken down. Use a potato masher or food processor
Add chopped leek and mix
Add herbs and smoked paprika
Add oats and cheese and mix well.
Add balsamic vinegar, if using.
Taste at this stage to test if more seasoning/spice required
Add just enough of the beaten egg to bind the mixture – should be not too wet.
Lightly grease a baking sheet.
Mould mixture into 4 sausage shapes and place on baking sheet
Cook for about 20 – 25 minutes. Check after 10 mins and cover with foil if they start to brown too much on the outside.