Easy Cauliflower Curry Recipe
This vegetable curry recipe is inspired by Mary Berry's recipe in her Mary Berry's Cookery Course
– a recipe book that I would recommend. It is simple and wholesome and you can use what vegetables you have available or what is in season at the time of year you cook it. This is an alternative to Jamie Oliver's Vegetable Curry from his Ministry of Food book
The cost of the recipe depends on where you get your vegetables and what you use. Cauliflower is good in this and the price varies but try your local green grocer if you have one.
You will need roughly 750g / one and half pounds of vegetables in whatever mix you have. You just need to chop them into roughly the same size bite size pieces. I used cauliflower, carrot, leek and potato.
A tin of chickpeas provides the protein and some good texture.
An easy and tasty low cost curry recipe that can be made at any time of year with seasonal vegetables. Make it as hot an dspicy as you like!
Garam Masala – Easy Spice
This curry is light in spices too using just garam masala and root ginger but I also added some turmeric because it good for you as well as adding flavour and also a pinch of chilli for a bit of heat.
Garam masala is a blend of indian spices including cumin, coriander, ginger, cinnamon, pepper, cloves but of course it varies and it would seem there is no definitive blend. The original Mary Berry recipe asks for pineapple juice but I thought it would be cheaper and more fun to put a small tin of pineapple chunks in. This adds sweetness and flavour as well as texture
Serve With Rice
I served with brown basmati rice but you can use whatever rice you like. Brown rice is a little healthier having more fibre and is often a little cheaper than the white equivalent. Alternatively you could serve it with nan bread
Basmati rice cooks easily cooked in plenty of boiling water – for some rice cooking advice see How To Cook Rice
Vegetable Curry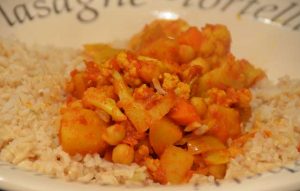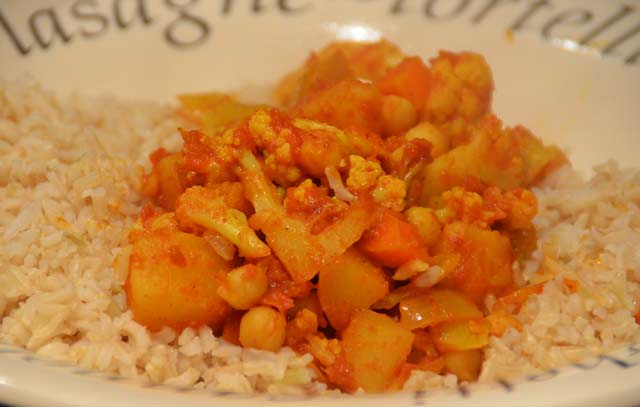 Ingredients
1 small or 1/2 large

cauliflower

1 large

carrot

1 large

potato

1 large

leek

2 tablespoons

sunflower oil

1 onion

peeled and sliced

1 inch

root ginger

1 tablespoon

garam masala

1 teaspoon

turmeric

1 x 400g

chopped tomatoes

1/2 teaspoon

chilli powder

1 x400g

chickpeas, drained

1 x 225g

pineapple chunks + juice
Cooking Directions
Chop the cauliflower into small florets
Peel and dice the carrot
Peel and dice the potatoes
Slice the leek
Heat the oil in a large frying pan
Add the onion until soft
Add the other vegetables along with the garlic and the spices and saute for a few minutes
Add the chopped tomatoes and chickpeas
Add the pineapple chunks and juice
Add chilli powder if using
Cook for about 20 minutes until the vegetables