Ancient Food – Rice Is A Staple Food
Historians may argue about just when rice began to be cultivated but there is little doubt that it was several thousand years BC. I have been unable to discover just when we started eating rice in Great Britain. It is clearly a staple of the British diet now, but mostly in Indian, Chinese, Japanese and Italian dishes ie the countries that rice orginates from.
Since there are recipes on my website (Chickpea and Potato Curry, Chilli con Carne) that can be served with rice, I thought it would be prudent to include a recipe about how to cook rice. Cooking rice well gets shrouded in mystery and is sometimes presented as an art that is achieveable only by the chosen few. Presumably this is why Uncle Ben can sell microwaveable 'express' rice at exorbitant prices. In reality, anyone can cook rice. And you will save money by buying packets of long grain or basmati rice instead of anything ready cooked.
Rice is now a staple of our diet. It is low cost, nutritious – and easy to cook once you know how. Make perfect rice every time
Admittedly it is possible to make a hash of rice, including it being very soggy and starchy, underdone and crispy or even burnt. Watery and lumpy rice, is indeed, very disappointing. For many years I bought easy cook rice. This has been parboiled (well actually steamed, I understand) before being packaged, and it is harder to make this go wrong. However easy cook rice is usually more exepnsive, and in my opinion, is not as flavoursome – particularly if you like basmati rice, which I do
The Main Choices
Long Grain Rice – White or Brown
Probably the most popular rice and readily available in all supermarkets. The white rice is white and fluffy when cooked. The brown rice has a more nutty flavour and also contains more vitamins and minerals than white rice.
Basmati Rice – White Or Brown
This is a more aromatic rice. It has a delicate flavour and is well known as an accompaniment to curries. It is grown mainly in India and Pakistan. I tend to use it all the time because I like it. It is usually slightly more expensive than long grain rice
There are many other varieties of rice (the Rice Association say there are over 40,000 varieties!) – such as arborio rice which is often used in risottos, but the above are the main rices used to go with a meal.
How To Cook Rice
The instructions below are how I cook rice, and it works every time, so I must be doing something right. I am not going to say it is the definitive way – there may be other successful methods too, but once you find the best way – well it's worth sticking to. This method is for long grain rice and basmati rice.
I allow between 50g and 75g per person, depending who I am cooking for (ie bigger portions for men and people doing physical activity). I always wash the rice in cold water by placing it the pan and covering with cold water. I then swish it around with my hand. The water will turn cloudy. I rinse the rice through a sieve and then return it to the pan. In the past I have heard people argue for starting with cold water and others for using hot water. I use boiling water.
Once the boiling waste is added to the rice, stir once – and once only. Too much stirring will almost certainly result in sticky, clumpy rice. So no more stirring until the rice cooked.
I never measure the exact amount of water , but just use enough to be about 2cm above the top of the rice in the pan. I was gratified to discover that Rosemary Brissenden, a well known and respected chef and food writer, uses the 'finger method', which means that the amount of water required is the depth of the index finger from tip to first knuckle. Obviously if you are going to test this, with fingers, rather than by sight, you will need to start with cold water.
If you wish to measure your rice then you will need roughly twice the volume of water as there is rice. I remember in my student days having a cup I uses ie 1 cup of rice had two cups of water.
You also need a saucepan with a well fitting lid. I use a pan with a small steam hole in it, allowing the lid to be on tight while some steam escapes.
I am very sparing with salt, but you can of course add salt to taste
How To Cook Rice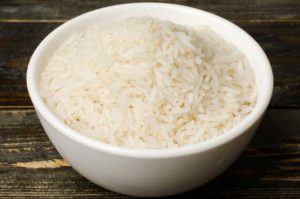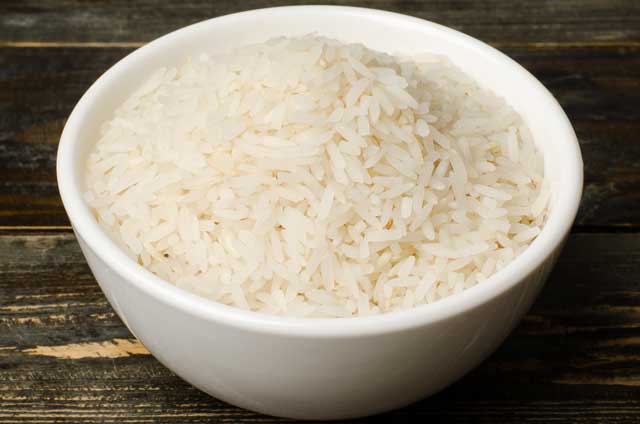 Serves 4
Ingredients
200g-250g

basmati or long grain rice

Plenty

cold water

400-500ml

boiling water
Cooking Directions
Place the rice in the pan
Cover in cold water, swish with your hand and drain through a sieve
Return to the pan and cover with boiling water to about 2 cm above the rice
Stir once and bring to the boil
Stir once again and turn down heat to simmer
Cover and leave for 15 minutes, then check if cooked (no more stirring!)
Adjust water if necessary
Once cooked, fluff up with a fork.