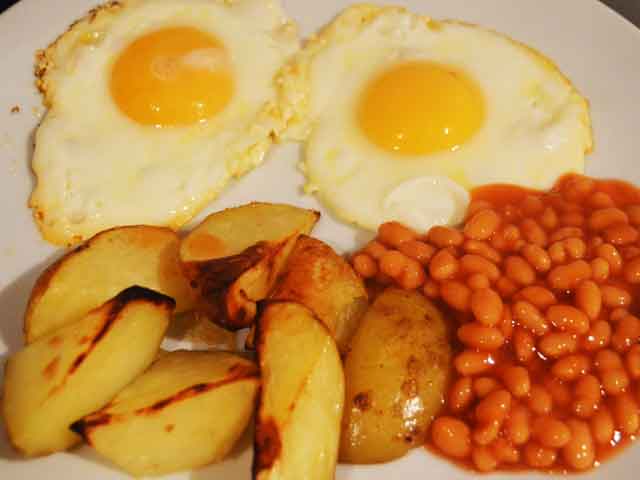 Simple Supper – Egg And Chips
I don't know about you but sometimes I can be looking for ideas for suppers and not seeing the really simple, low cost and very delicious solutions right under my nose! After all what could be simpler and cheaper than egg and chips! After all we have that well known saying – cheap as chips!. Although chips bought from a chip shop are not all that cheap any more!!
I am actually here not so much suggesting egg and chips – as egg and potato wedges. For me deep frying chips at home is off limits and buying from a chip shop too expensive. Frozen oven ones can be OK but not nearly as nice as homemade potato wedges which really are as cheap as chips!
Egg and chips for 4 people will cost less than £3 for four people, even with a tin (or two) or baked beans thrown in – if you buy the supermarket basics/value brands
When thinking of what to have as an easy supper, it is easy to forget the simplest, easiest meals of all – and egg and chips is a universal favourite!
Buying Poatoes
Potatoes are cheaper, usually at the green grocers and local suppliers than in the supermarkets although you can often bag a bargain at the end of the day by buying a bag that has reached its best before date. Check for any rotten ones but if you store them well they will keep for another week or two. Keep them cool and in the dark. Dirty ones last longer than washed ones as the mud protects them (so long as they are dry).
NB When cooking potato wedges, some recipes suggest you parboil the wedges first – and I did this when I wrote up the Burger and Chips recipe. They will cook quicker if you do this but I don't do this anymore as I think they cook perfectly well without parboiling.
Eggs
Eggs too are cheaper away from the supermarkets. Buy from local farms, green grocers or farmers markets and they will be below the equivalent price at a supermarket. I get free range, organic eggs from a local vegetable grower and they are the tastiest eggs ever. And you can go and see the hens roaming around! Plus the eggs that are bought from there are very fresh!
Eggs are one of those things that people tend to keep in the fridge and yet we are generally advised not to keep in the fridge. The debate continues with varying opinions. I do think it is best to allow the eggs to come to room temperature before cooking, simply because you get a better result but it is not critical.
Like making omelettes and boiling eggs there has been much written about frying eggs. I think the trickiest thing is
To not let the bottom of the egg get overcooked
Don't have any raw white still on the top of your fried egg
Not having a broken egg yolk
It is lovely to have a nice collected egg white around a lovely yellow yolk
My Way Of Cooking Egg
I am not necessarily an expert but the best advice I found was to cover the eggs once the white has begun to set – either with the lid of a frying pan if you have one – or by covering it over with a plate or bowl. If you use a plate bigger than your frying pan, it will sit on the edge and have a lip so it is easy to pick up (with oven gloves – it will be hot!). This keep the heat in and ensures the top half of the egg is cooked, while the white still has a softness to it.
I have fried the eggs but you could of course have them scrambled or poached if you prefer. You can use whatever fat you have – I did mine in sunflower oil. Use butter or olive oil if you like the flavours that these add.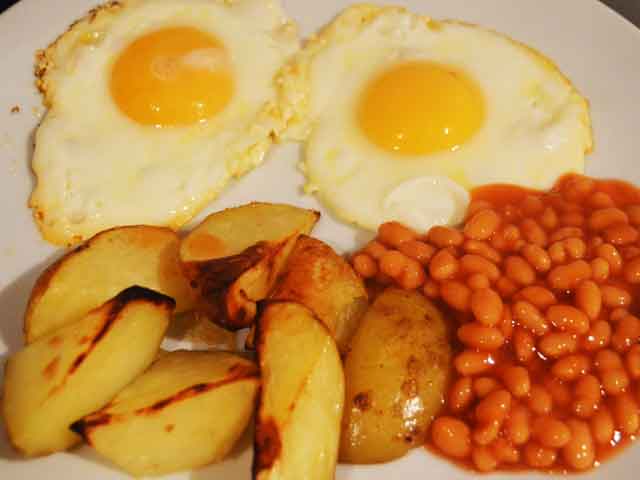 Egg And Chips
Easy, delicious and low cost supper
Ingredients
For the Chips
2

medium potatoes

1

tablespoon

sunflower oil
For the Eggs
4

eggs

1

tablespoon

oil or butter
Instructions
Make the Chips
Preheat the oven to 200 degrees C

Scrub the potatoes, and remove any blemishes, but do not peel

Slice into wedge shapes of roughly the same size

Place in a baking tray

Dribble the oil as evenly as you can over the potatoes

With a table spoon or large slotted spoon turn the wedges in the oil until they have an even coating

Bake in the oven for about 30 minutes until brown and cooked through, turning once after 15 minutes
Make the Eggs
Once they are cooked, turn the oven down to about 100 degrees C and cook the eggs

In a large frying pan (ideally one that has a lid) heat the oil

Break in an egg and with a fish slice, gather the whites toward the egg yolk as it splays out

Break in the next egg and repeat

If the egg whites of two eggs join up, separate them with the end of the fish slice

Only put in as many eggs at a time as will comfortable fit together

Cover the eggs with a lid (or large plate)

Cook for about 1 and half minutes until the whites are all cooked

Scoop up gently with a fish slice and put on a plate. Keep warm while cooking the other eggs in the cooling oven

Serve immediately with the potato wedges