Frozen Yoghurt Desserts
As sunny days approach, thoughts turn to ice cream or iced yoghurt… Well mine do anyway. Trouble is I love premium type ice cream with pure ingredients and lots of natural flavour. But of course they are expensive. Not always that healthy either with cream, sugar and other not so good ingredients.
As summer days approach there are opportunities to make delicious desserts that are healthy and low fat!
Premium Ices The Best?
Often cheaper ice cream is made with low cost ingredients (and no cream or eggs) but is lower in fat than the real thing. They said there was nothing unhealthy about it (especially as one of the main ingredients is sometimes air!)- but I would always sooner have real food!
What I am really coming to is how to make ice cream type food low cost and quality. Well the answer for me is home made frozen yogurt. It is delicious and easy to make. If you make it with fruit that is in season it is quite low cost compared to premium supermarket products. This recipe makes about 400ml of frozen yogurt for about £2.50
Making Frozen Yogurt
I make the frozen yogurt using a food processor and an ice cream maker. You can of course make ice cream without an ice cream maker but if yu make it regularly I would recommend you get one as it makes the process much easier. And if you eat a lot of ice cream, you will get a pay back over time as you will make delicious premium ice cream at at least half the cost!
A simple one like this Kenwood IM200 1.1 Litre Ice Cream Maker
does a great job. The alternative is to freeze ths mixture in the freezer, stirring every hour or so until it is completely frozen.
A blender is almost essential for fruit ice cream if you want to use fresh fruit in season. The good thing is that a blender is perfect for so many things including smoothies, soups, cakes and bread.
Low Fat And Fruity
Yogurt is low fat – or very low fat – you can choose the type of yoghurt you buy for this recipe. Whole milk yoghurt is only 3% fat and low fat yoghurt contains even less – just check what it says on the pot you are buying.
Add some blueberries which are very nutritious not to mention delicious. You can stay sugar free if you wish if your fruit is sweet enough or add a little sugar to taste. It will depend on the sweetness of the fruit.
A Little Of What You Fancy…
Because this dessert is so full of flavour you may feel you will be satisfied with a smaller portion than you might if you had more mass produced stuff!
You can of course just go for Fruit and Yogurt mixed chilled but not frozen. You may also like Apple Crumble Ice Cream or Rhubarb And Ginger Ice Cream
Berry Frozen Yogurt Recipe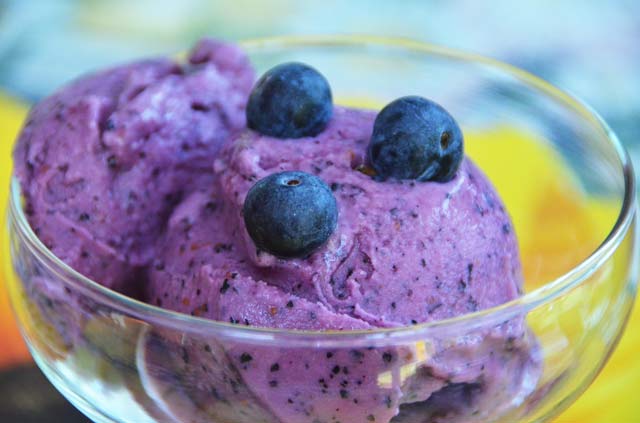 Ingredients
150g

Fresh Blueberries

50g

Caster sugar

250g

Plain natural yogurt
Cooking Directions
Blend the blueberries into a pulp
Add the sugar
Stir into the yogurt
Place in an ice cream maker for about 15 minutes or until frozen
OR
Place in a freezable container and put in the freezer, removing every hour to give it a good stir until frozen
Remove from the freezer 20 minutes before serving