Yoghurt – Healthy Dessert
Desserts are delicious but usually associated with being unhealthy, high fat, high calorie and nutritionally useless. Fruit yoghurt desserts are one of the few exceptions to this and so are popular as a light option and fly off the supermarket shelves.
When berries are in abundance in the summer and autumn, and indeed when tinned fruit is available all year round, I sometimes wonder why people don't buy plain yoghurt and add their own fruit, rather than buying the cartons of prepared fruit yoghurt.
Shop Bought Yoghurts vs Make Your Own
The average pot of supermarket bought 'fruit' yoghurt has little fruit, lots of sugar plus often thickeners, flavourings and other additives. A pack of four 125g pots, costs between £1.50 and £2.00.
You can buy a large pot of plain yoghurt for as little as 55p for 500g. Add your own berries or tinned fruit and a little sugar or spoonful of honey – and you have an instant dessert that is more health-giving and considerably cheaper than the average small pot of yoghurt. You will also probably considerably reduce your carbon footprint – in the amount of plastic used, the reduction in processing and additives and the distance the products have travelled – particularly if you can buy locally produced yoghurt and local fruit.
Fruit In Season
The best berries are fresh and can even be free! Go blackberry picking in September and October when they are plentiful. Enjoy an autumn Harvest Walk and go armed with containers and bags. Search the internet to see if there are any fruit sharing schemes in your area where people report that they have a surplus of fruit.
To get freshly picked berries at reasonable prices, go to Pick Your Own Farms. And look out at your local market stalls for well priced produce – often cheaper than the supermarkets.
Blueberries are of course very available all year round now now – and have apparently taken over from raspberries in popularity. Most blueberries come from overseas, although their long shelf life make them adaptable to importing.
Buy frozen berries, especially local ones that are locally grown. Supermarkets sell bags of frozen fruit at prices often much cheaper than fresh ones. check in the the freezer aisles. They tend to be a bit mushy, but this is ideal for making fruit yoghurts.
And Good For You Too!
Berries are undoubtedly good for you being full of vitamins and anti oxidants, repairing cell damage and helping to protect against certain forms of cancer as well as being anti ageing. Isn't it brilliant that something that tastes so good is actually good for you!! Yoghurt has many health benefits too – low in fat and high in calcium it can also be good for the digestion.
Fresh Fruit And Tinned Fruit
But it doesn't have to be just berries in yoghurt. Tinned fruit is delicious too – pineapples, mangos, peaches – the choices are many and varied. Try the supermarkets basics ranges. You can even make up a large amount in the fridge so it is handy for when you want it. Freeze it for a frozen yoghurt dessert.
Tinned strawberries may not be great on their own but whizzed into some yoghurt you'll find it much more tasty than the average supermarket pot of Strawberry yoghurt. Stewed gooseberries, when in season, taste great in yoghurt.
With a pot of natural yoghurt in the fridge and some fruit to stir into it, you are never far away from a nutritious sweet snack that does not cost the earth.
Fruit With Yoghurt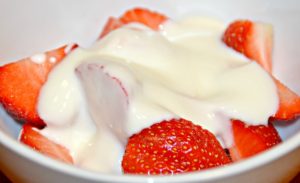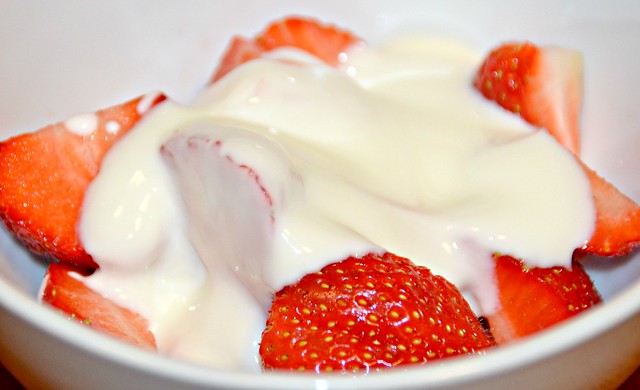 Ingredients
A handful of berries a single type or a mix

blueberries, raspberries, strawberries – frozen or fresh

2-3 tablespoons

water

2 tablespoons

natural yoghurt

1-2 teaspoons

sugar
Cooking Directions
Put all the ingredients in a bowl and stir

-or-

Whizz in a food processor or use a hand mixer