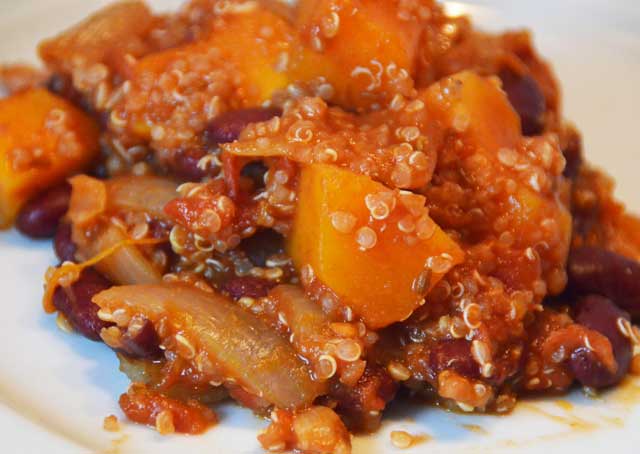 Easy One Pot Supper
One pot suppers are the best and this easy chilli recipe is filling and delicious. We all know what it is like on a busy day when you have a hungry family to feed and you want something simple and filling – and low cost. This chilli recipe is made with onion, kidney beans, butternut squash, tinned tomatoes and quinoa plus some spices. It can be used as a base but all the ingredients can easily be substituted. In fact this is the sort of recipe to do when you don't have an idea of what you are going to cook and you are foraging in the cupboards and fridge to find something!
A one pot chilli bean dish that is easy to make. Use the recipe as a base and idea and make your own variations according to what you have in the cupboards
Cupboard Staples
I would always advise that when you shop get some of your favourite pulses in tinned form as a standby as they ares o useful for throwing together a cheap and easy meal. Dried pulses are cheaper if you buy them in quantity and cook up a batch to freeze so that is also a recommended way of having pulses to hand too. Rice is another basic that I try not to run out of and keep replenished. If you have those an a one or two vegetables, even bags of frozen peas and beans you will always be able to put a meal together at short notice with minimum effort!
Quinoa
Quinoa is the superfood grain from Bolivia that has seen increased popularity in the last few years. High in protein and other nutrients it is particularly popular amongst vegetarians and vegans. It is also gluten free. I have not used the grain extensively yet. The only other ecipe on the website using Quinoa is this vegetable soup recipe.
If you don't have any quinoa simply omit it from the recipe and serve the chilli dish with some rice instead.
Butternut Squash
The main vegetable ingredient is butternut squash. You can however use any squash such as crown prince squash (my favourite), pumpkin or onion squash. Alternatively use sweet potato or ordinary white potatoes.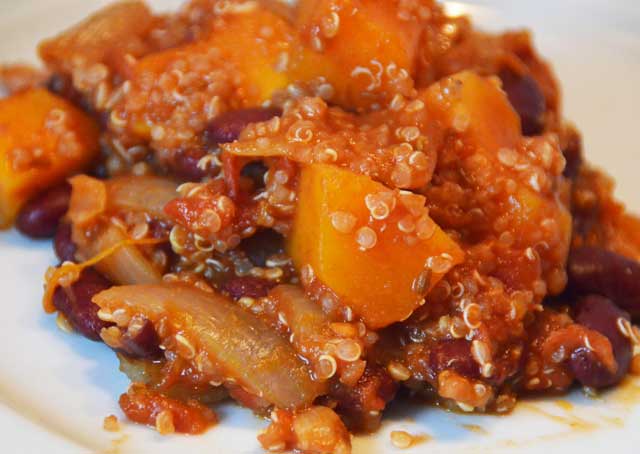 Easy Bean Chilli Recipe
Easy One Pot Spicy Supper Recipe
Ingredients
1

tablespoon

olive oil

1

onion peeled and chopped

1

small or 1/2 large butternut squash

peeled and chopped to bite size pieces

1

400g tin

tin chopped tomatoes

2

teaspoons

cumin seeds

1

teaspoon

chilli powder

1

x 400g tin

kidney beans

drained

100

g

quinoa

400

g

water
Instructions
Heat the olive oil in a large heavy bottomed saucepan

Add the onion and fry until soft

Add the cumin seeds

Ad the butternut squash

Fry for 5-7 minutes, stirring frequently

Add the tomatoes and kidney beans

Add the chilli powder

Stir and bring to the boil

Turn down the heat to simmer

Meanwhile prepare the quinoa by placing in a saucepan

Cover with the water

Bring to the boil and simmer for 15 minutes

Transfer to the chilli mix

Stir and serve