Wheat And Yeast Free Cauliflower Pizza Base
When searching for wheat free meals I came across this recipe for pizza base made from cauliflower, in Good Housekeeping magazine. It is also a yeast free pizza base too of course. I must admit I was a bit dubious as to how well it would work, being rather different from a normal pizza base. However I was absolutely delighted with the result!
It was really tasty and of course you can have a pizza that also gives you a good portion of vegetables in the base as well as in the topping. It doesn't taste the same as a wheat based pizza dough but it makes a very tasty alternative and I shall definitely bake it again. Even if you are not interested in a wheat free diet it is worth trying as it makes a much lighter pizza base.
If you like pizza but don't want all that wheat – or yeast, try this cauliflower pizza base – it really is very tasty and easy to make
The base was not as firm as a wheat pizza dough and it did break a little on serving but that does not detract from the excellent flavour! If you are looking for a Yeast free pizza base – try Julia's Recipe.
Easy With a Blender
It is also easy to make but you do need a good blender to cut up the cauliflower in the first place. You have to be careful not to overdo the blending or you might end up with a puree instead of a breadcrumb like texture.
One small cauliflower is enough for one base to make a pizza to serve 2 people very generously. The toppings then are up to you. I made 2 pizzas. Both had a tomato paste layer and then one was with goats cheese and chorizo and the other had chopped up peppers and goats cheese. The pizza bases are baked separately first for 20 minutes and then the toppings are added and they back in the oven for a further 15 minutes.
Two pizza bases could be made with one large cauliflower as you can spread the pizza base mix quite thinly – about the thickness of a two pence piece.
Cauliflowers
Of course pizzas are often regarded as a product that is bad for you. Well this pizza is definitely good for you as cauliflowers are high in many nutrients especially vitamin C. Cauliflower is not perhaps the most popular vegetable but it does deserve to have more praise. Many people just think of cauliflower cheese but a cauliflower is a wonderful vegetable in soups, stew and curries. And now I know it is good to make a cauliflower pizza base too!
Cauliflower Pizza Base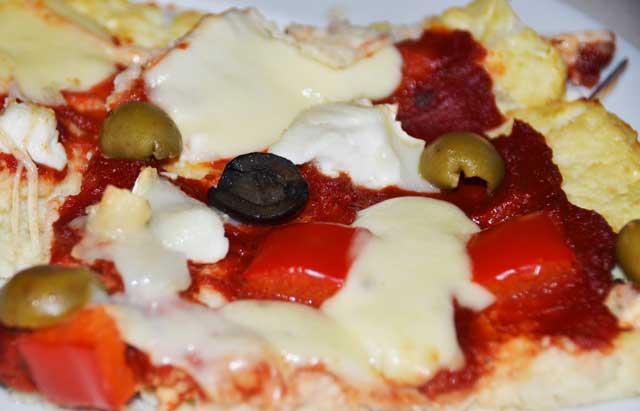 Ingredients
2 small or 1 large

cauliflower

100g

cheddar cheese grated

75g

mozarella cheese, grated

2 eggs

beaten

4 tablespoons

tomato puree

2 teaspoons

mixed herbs

100g

goats cheese

6 slices

chorizo

1 small

red pepper

handful

olives

2 cloves garlic

crushed
Cooking Directions
Preheat the oven to 200 degrees C
Prepare 2 baking sheets with greased baking parchment
Remove the leaves from the cauliflower
Roughly chop into florets
In batches , place in a blender and whizz until its like breadcrumbs
Place each batch in a large microwaveable bowl
When all the cauliflower is done, place in high in the microwave for 6 minutes
Stir in the cheese and eggs
Spread in a circle on each of the baking trays, smoothing out with the back of a spoon
Bake in the oven for 20 minutes
Meanwhile prepare the toppings
Chop the pepper into small pieces discarding the pith and seeds
Place the tomato puree in a bowl and add the herbs and crushed garlic
Slice the goats cheese and separate into four pieces
Slice the olives in half
When the pizza bases are turning golden brown, add the toppings
Smooth on the tomato puree
Arrange the other toppings how you like them
Return to the oven and bake for a further 10-15 minutes until the toppings are how you like them
Serve immediately