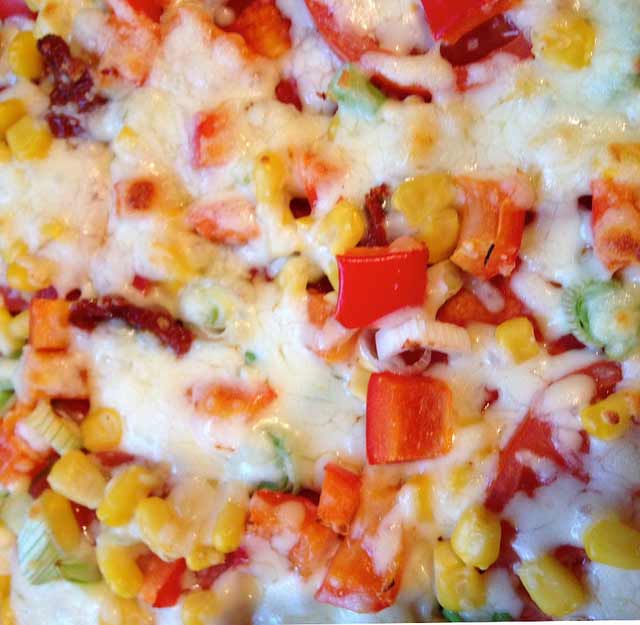 Pizzas – A Favourite Supper
Pizzas often have a bad press health wise but continue to be really popular. Making pizzas at home is fun and surprisingly easier and can be much healthier and less expensive than buying them either as a takeaway or from the supermarket.
Pizzas are ever popular so this easy recipe for pizza dough without yeast is quick to make and low cost – great for all the family!
Easy Pizza Recipe – No Yeast!
You can make a traditional pizza base by using this pizza dough recipe. Julia has provided us with a simpler pizza base recipe. She has to be on a yeast free diet and loves pizzas, so created this pizza base made with self-raising flour and no yeast.
No Yeast Pizza Dough
This pizza base is easy to make and is particularly good for people on a yeast free diet – but also just for people who want to make homemade pizzas easily.
Get the children involved and use it as an opportunity to discuss healthier toppings, or try new ones. It's a great project for the weekend. Make up a couple of extra pizzas to go in the freezer for an easy midweek supper when time is tight and a treat is just what you need!
Self-raising Flour Pizza Dough
This pizza base is made with self-raising flour which is something you probably have in your cupboards already. Which means a spur of the moment pizza is possible! It is really quick and easy to make as it doesn't have to have rising time like traditional pizza dough. And you can use all your favourite toppings
Easy – And Low cost Recipe Too!
Julia is a busy Mum so appreciate tasty meals that are easy to make, healthy, low cost and that her kids will love! Julia worked out that if you buy a supermarket's basics self-raising flour (around 65p per 1.5kg)- each pizza base will cost approx 15p (incl oil + salt). If you use basics tomato purée and grated mozzarella (200g) each 12 inch pizza would be about £1.45, the cheese being the most expensive part. So much cheaper than a bought pizza and you can be more generous with your toppings!
Healthy Homemade Pizza
Julia says:
This pizza base is quick and works well with no waiting around for dough to rise. My kids love home made pizza and won't eat shop bought. Which is good because shop ones tend to be full of fat, but this is actually fairly healthy depending on what toppings you use!
Makes 2 x 12 inch circular pizza bases: so ingredients can be halved.
More Recipes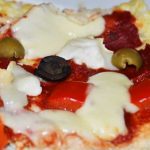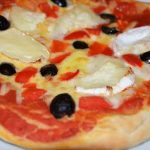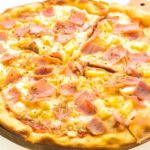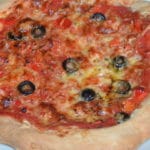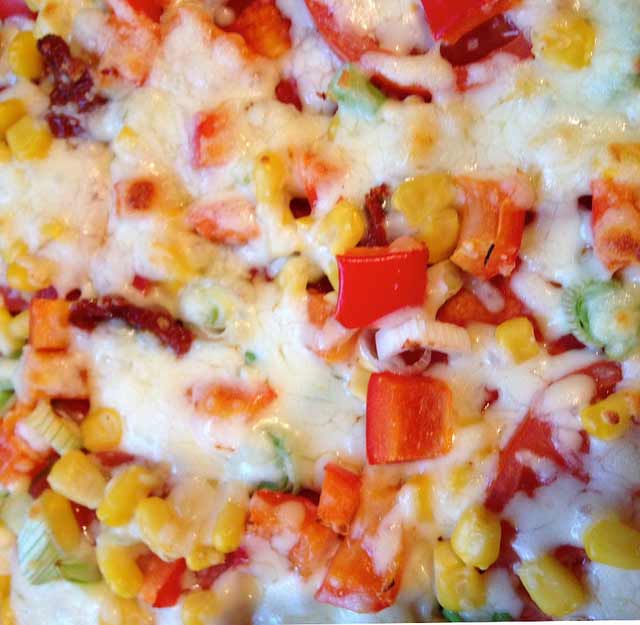 Yeast Free Pizza Dough
Easy pizza made with self-raising flour and no yeast
Ingredients
550

g

self raising flour

2

tablespoons

cooking oil

300

ml

water

1/2

teaspoon

salt
Instructions
Preheat the oven to 200 degrees C.

Put all the ingredients in a mixing bowl and mix into a dough.

Knead for about 2 mins until a nice firm consistency.

Add a little water or flour if needed.

Split the dough into two.

Lightly flour the pizza tray.

Using a rolling pin roll, out the dough on the tray.

Use your fingers to get it to the shape you want.

Bake on a baking tray for approx 10-15mins or until the base is light brown and almost cooked through.

Cover with tomato puree, your favourite toppings plus cheese and return to the oven for 7-10 minutes.
Notes
You can cool and freeze the bases. You can even freeze with the toppings on and defrost the morning you are going to eat them. Or store in the fridge for 24 hours.