Broad Bean Recipes
The sumer time brings many lovely vegetables including broad beans and courgettes. There are plenty of courgette recipes but rather fewer broad bean recipes. One of my favourite is Broad Bean Risotto but this pasta recipe is really delicious and you can use the vegetables you have available. It is also ready in less than 15 minutes so makes an ideal midweek supper for a busy family especially if you want to spend time outside rather than in the kitchen!
Summer is a time of prolific fresh vegetables full of flavour. This pasta recipe is easy, low cost and brings out the tasty goodness – ideal for a midweek supper
Perhaps broad beans is not the first vegetable you think of when you are making a pasta dish but this mix of vegetables is really tasty, especially with the touch of chilli and a sprinkling of Parmesan cheese. And if you are not a great fan of broad beans, this recipe may well convert you. If you are familiar with bullet like broad beans and wonder why anyone ever buys them, get some broad beans from a local organic grower in season (June and July) and you will really see the difference (or grow them yourself!) Freshly picked broad beans are a delight! They are good for you too!
To Peel Or Not To Peel
Sometimes I read recipes where you are advised to remove the outer skin on each bean. This is too laborious for me (just as I never skin tomatoes or peppers either) and I have not yet found it necessary. Obviously it is up to you if you prefer to do this but I am not alone in disagreeing with it
Courgettes
Courgettes can be very plentiful in the summer time and it can be hard to find easy recipes. They are great in almost any stew and nice on their own with a cheese sauce or as an addition to Cauliflower Cheese. They are a general all rounder in terms of nutrition – not a super food but a great source of fibre and low calorie too.
I know some people who grow courgettes, easily end up with a surplus!
Pasta
I used wheat free penne pasta when I cooked this but you can chose any pasta you like – wheat based, wholemeal or wheat free. I like penne shape but this would also be really good with spaghetti or tagliatelle. You can make the vegetable mix sauce in the time it takes to boil the pasta
Broad Bean Pasta Recipe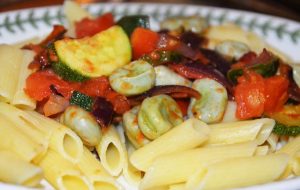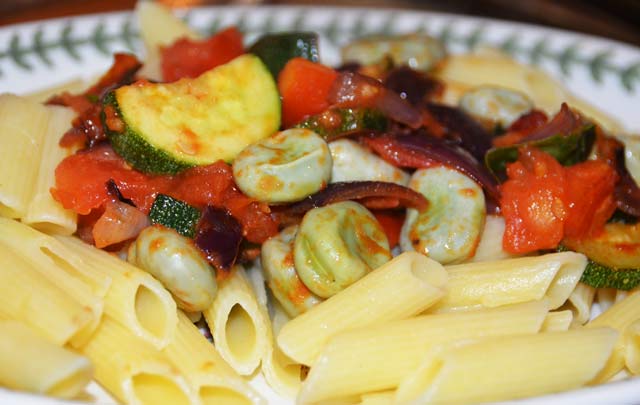 Serves 2
Ingredients
1 tablespoon

olive oil

1 red onion

peeled and chopped

1-2 garlic cloves

peeled and chopped

1-2 tomatoes

chopped

1 medium

courgette, sliced

handful

fresh basil leaves ( or 1 teaspoonful of dried basil leaves)

1 splash

chilli sauce

5-6 broad bean pods

podded

200g

pasta

30g

Parmesan cheese, grated
Cooking Directions
Put the pasta in a large sauce pan and bring to the boil
Simmer according to pack instructions
Meanwhile heat the olive oil in a large frying pan
Add the onion and fry for a 3-4 minutes
Add the tomatoes and stir
Add the garlic and courgettes
Continue cooking for a further 5 minutes
Meanwhile place the broad beans in a sauce pan
Cover with boiling water and bring back to the boil
Simmer for a minute
Drain and add to the other vegetables
Add in the chilli sauce and stir
Drain the pasta
Serve the vegetables on a bed of pasta
Sprinkle with cheese