Halloumi Stuffed Peppers Recipe
Stuffed pepper recipes are very versatile. They are very easy to prepare and can make a delicious, low cost and healthy meal with little fuss. This stuffed pepper recipe with halloumi cheese is no exception. The are so many ways to stuff a pepper! The initial cooking is simply to wash, halve, de-seed and then roast with a little olive oil. Whilst they are roasting you can prepare the filling and any accompaniments.
If you do not have all the exact ingredients you can vary them. Any roasted veg would be good instead of sun dried tomatoes and it is a great way to use up any leftover vegetables. It is spiced with a little chilli – you can make it as hot or as mild as you wish.
Stuffed peppers are delicious and this halloumi cheese and cous cous filling is easy to make. Serve with salad leaves and tomatoes
Halloumi Cheese Recipes
Halloumi cheese has become quite popular recently – especially with the growth in vegetarianism. It is great as a meat substitute in burgers or even in a big breakfast. I love Halloumi cheese and like many people often eat it sliced and then grilled or fried like in this Halloumi Cheese and Chickpea Recipe. But you can also cut it up into cubes to mix in with other things.
It has a high melting point and remains solid even when heated. It is originally from Cyprus and made from sheep's milk but as it is also made from cows milk.
Cooking Notes
You will need a pyrex bowl or similar for preparing the the cous cous and a baking/roasting tray for the peppers
The recipe includes chilli powder. Chilli powders vary a lot in heat. I have a very hot powder so only use a small amount. If you are unsure how hot your powder is – tart small and add some to taste.
Halloumi Stuffed Pepper Recipe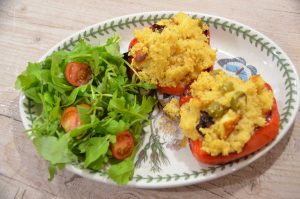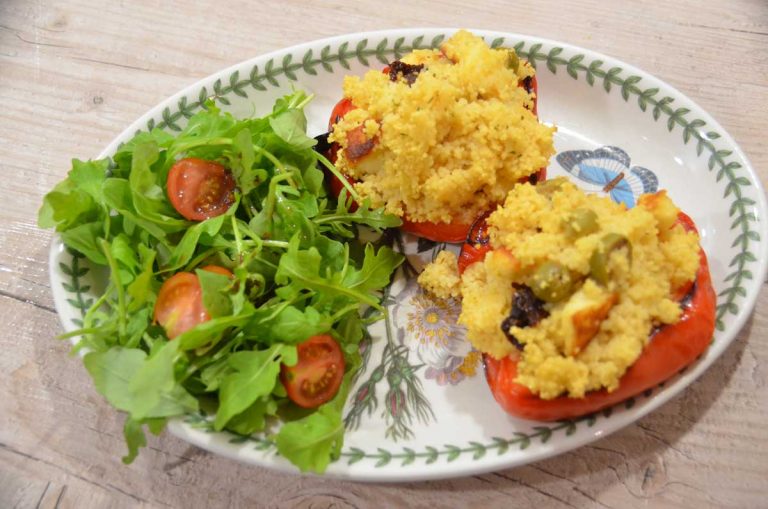 Ingredients
4

red peppers

250g

Halloumi Cheese

200g

couscous

400ml

vegetable stock

8

sun dried tomatoes

10

green lives

1/4 teaspoon

chilli powder

1 teaspoon

mixed herbs

1 tablespoon

olive oil
Cooking Directions
Pre heat the oven to 180 degrees
Cut the peppers in half length ways and remove pith and seeds
Place face down on a baking tray/roasting dish and brush with olive oil
Bake for about 20 minutes or until just blackening at the edges
Meanwhile boil enough water to make the 400ml stock
Place the couscous in a heat proof bowl. Pour the stock over and leave for 5 minutes.
Chop the halloumi cheese into cubes.
Stir fry in a frying pan with a little oil
Add the chopped sundried tomatoes
Add the sliced olives.
Str fry until the cheese is browned slightly and the olives and tomatoes are heated through.
Sprinkle on the herbs and chilli powder
Stir the cheese mix into the couscous, mixing thoroughly
When the peppers are ready, remove from oven and turn over
Fill the cavity of each pepper with couscous mix.
Return to the oven for 5 minutes to heat through
Serve with salad leaves.