Creamy Vegetables
This is a vegetarian stew with a variety of vegetables and herbs, cooked in stock and creme fraiche and a poached egg on top. It is a recipe that you can adapt to seasonal vegetables and what you have in your cupboards. You can use broccoli, potato, carrots, frozen peas and chick peas.I do however always add fennel when I can get it because I love the flavour. But you can use cauliflower, butternut squash, sweet potato – any leftover vegetables. It can be an alternative to bubble and squeak after Christmas dinner!
This vegetarian stew was inspired and adapted from a meal in a restaurant. It has now become a family favourite!
Fennel For Flavour
I love the mild aniseed flavour of fennel. It is subtle and sweet and never overwhelms. Fennel is a very adaptable vegetable and has been included in several recipes on this website such as Onion And Fennel Tarte Tatin. It is this flavour that blends so well with the other vegetables.
Poached Eggs
I find the easiest way to poach eggs is with the small egg poachers you can buy. Just grease lightly with butter, crack an egg in and then place in a saucepan with an inch of water. Cover and simmer for 5-6 minutes until they are done how you like them.
Cooking Notes
The stewing pan that I like best is in the Raymond Blanc range of pans. Best pans I ever bought!
Creamy Vegetable Stew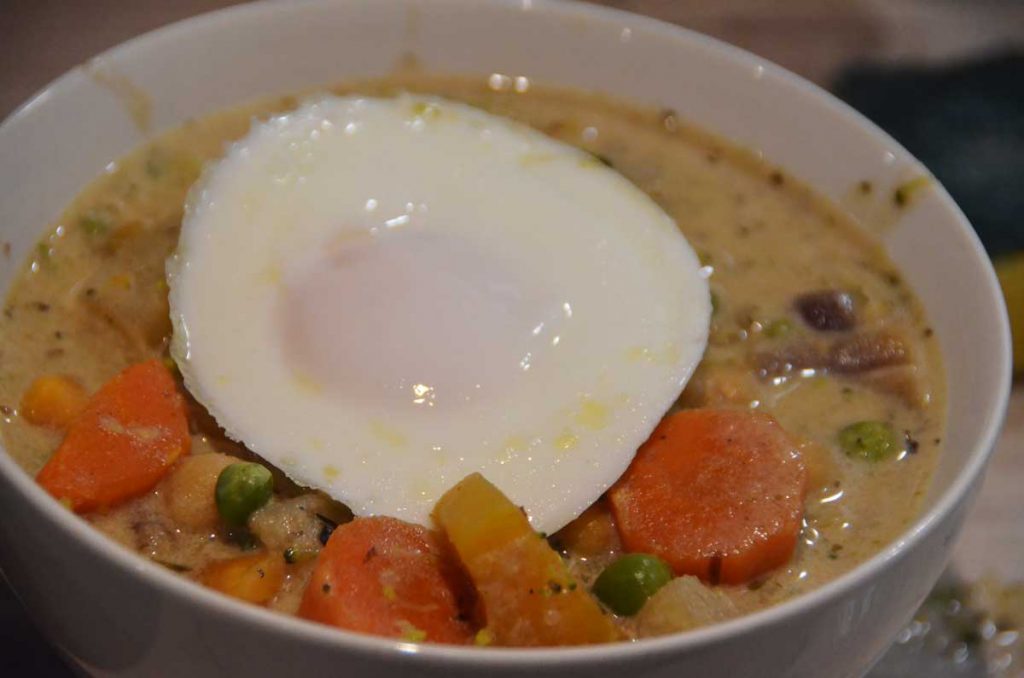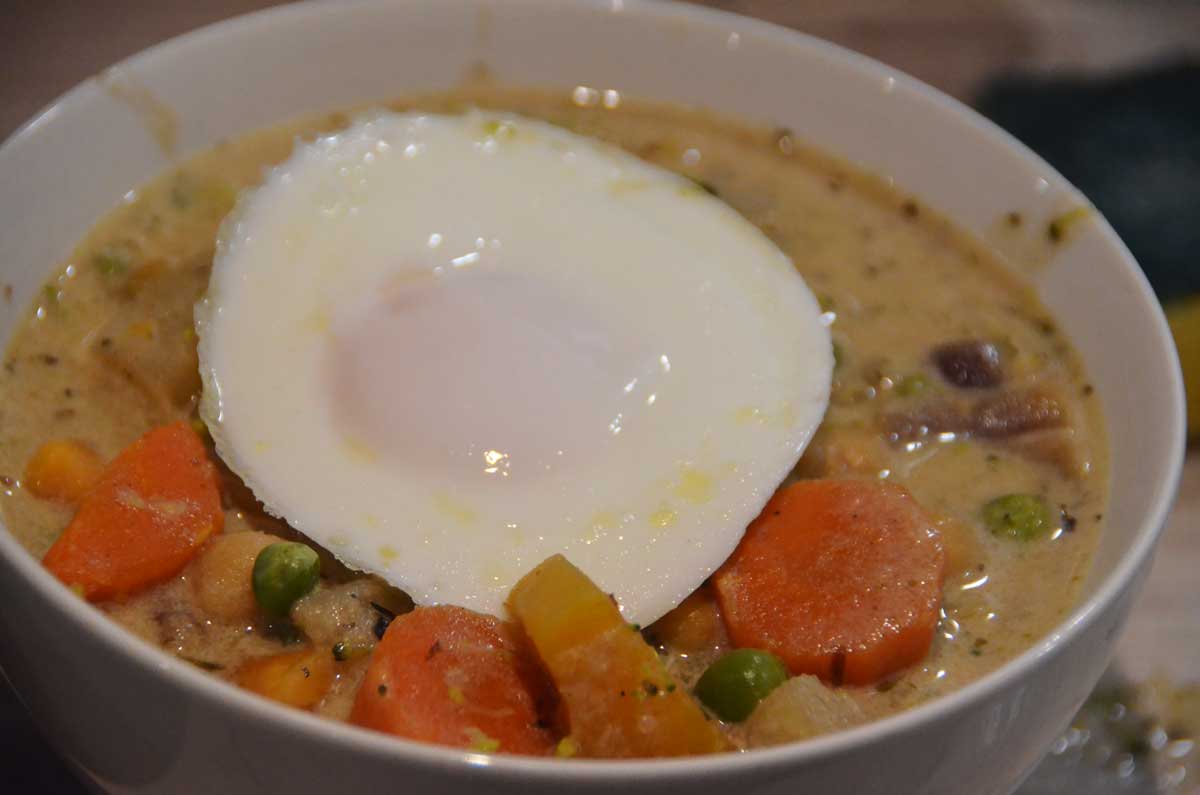 Ingredients
1 onion

peeled and sliced

1 stick celery

chopped

1 medium fennel bulb

sliced

1 medium potato

peeled and cubed

1 medium carrot

peeled and sliced

1/2 butternut squash

peeled and chopped

1 400 can chickpeas

drained

Handful

frozen peas

1 tablespoon

olive oil

500ml

vegetable stock

2 teaspoons

mixed herbs

150ml

creme fraiche

1/2 head

broccoli

4

<

eggs
Cooking Directions
In a large heavy bottomed saucepan heat the oil
Add the onion and fry for a few minutes.
Add the potatoes, celery and fennel and cook for a little longer
Add the carrots and squash
Sweat for a few minutes, stirring regularly
Add stock and bring to the boil
Add the herbs and the rest of the vegetables
Simmer on a gentle heat for about 15 minutes or until all the vegetables are cooked
Turn down low
Poach 4 eggs
When the eggs are done, stir the creme fraiche into the vegetable mix.
Serve immediately in bowls with an egg on top of each serving