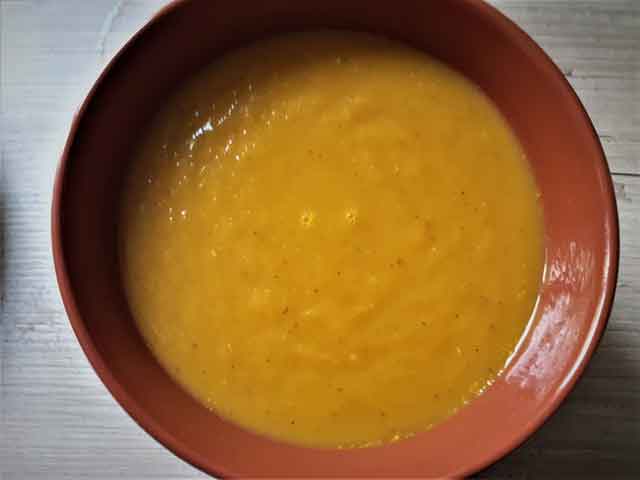 Spicy Soup
This is a soup to that will feel great of you are warming up from the cold! The spiciness warms you up from the inside and the sweet flavour makes you glow. And it feels full of nourishment too!
This soup combines sweet potato and carrot – they just seem made for each other! It's easy to prepare with just a bit of peeling and chopping and everything goes in one pan.
Spicy Carrot and Sweet Potato Soup is full of flavour and really warms you up from the inside
Soup Maker
This soup can be made with a Soup Maker (it is the lazy way to make soup!) but you can make it in a pan and then whizz in a blender too.
Spices
The only spices you will need are cumin seeds, smoked paprika and chilli flakes (or powder). You can alternatively use a hot smoked paprika and don't add the chilli. Of course any hot sauce or spicy mix that you like would do to add to the soup – just use your favourite.
Remember to add a little at a time to get the right level of heat for you – you can always add more but you can't take it out!
A Word On Stock
The stock you use is up to you. You make have your favourite – or even a home made stock. I tend to use Swiss Boullion Powder. You can decide on how much you use as it comes in a large tub of powder – and they do some different versions (vegan, reduced salt). It is available in most supermarkets and health food shops
Fancy a different carrot soup? Try this Curried Carrot And Parsnip Soup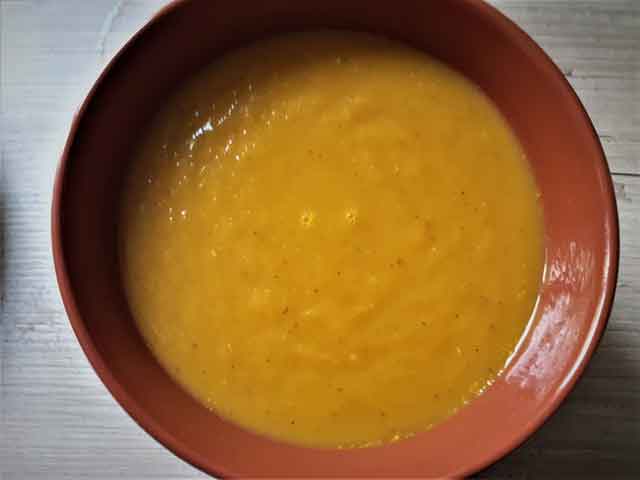 Spicy Carrot And Sweet Potato Soup
Delicious Spicy Warming Soup Recipe
Ingredients
1

tablespoon

sunflower oil

1

onion

peeled and sliced

2

garlic cloves

crushed

2

large sweet potatoes

peeled and diced

2

large carrots

peeled and chopped

1

litre

vegetable stock

1

teaspoon

cumin seeds

1/2

teaspoon

smoked paprika

1/2

teaspoon

chilli flakes
Instructions
In a large saucepan, fry the onion until soft

Add the cumin seeds and crushed garlic and cook for a further minute or two

Add the sweet potato and carrot and cook stirring for a minute

Pour in the stock, stirring all the time

Add the chilli and smoked paprika

Bring to the boil and simmer for 20 minutes or until the vegetables are soft

Blend until smooth

Adjust seasoning as necessary

Serve with your favourite bread