Parsnip And Carrot Soup Recipe
This carrot and parsnip soup helps to make the most of root vegetables – comforting, filling, nourishing and sweet. Root vegetables are wonderful to sustain you in the winter and very versatile and I love them. It is not unusual to have carrots and parsnips left over – especially after the weekend if you have done a roast. Soup is the ideal way to use them up.
There are so many different ways of making soups with either carrots or parsnips, but this one brings them together – and uses up some curry paste too!
This spicy carrot and parsnip soup will nourish and sustain you! Full of goodness and very delicious!
The warmth and spice from the curry and ginger adds an extra layer of feel good factor!
Spicy Carrot And Parsnip Soup
Root vegetables are so very good for us in the colder months. Carrots are full of the wonderful beta-carotene. Parsnips are actually related to carrots so it seems natural to cook them together. Full of vitamins and minerals as well as fibre they are good complement to carrots in nutrients as well as flavour.
I used a Balti curry paste I had in the fridge but you can use whatever paste you have. If you don't have a paste to hand a good spoonful of curry powder can be used instead.
I added some root ginger to the soup at the beginning so as to introduce a bit of a gingery edge to the soup. Again you don't have to do that. I am just particularly fond of ginger and think that it goes really well with parsnip. It is also traditionally used as a medicine for the coughs and colds of the winter period.
Serving Suggestion
Serve this soup with a swirl of yoghurt if you want the heats taken out of it a little. It could also be served with some Naan bread instead of crusty white or granary bread.
Curried Carrot And Parsnip Soup Recipe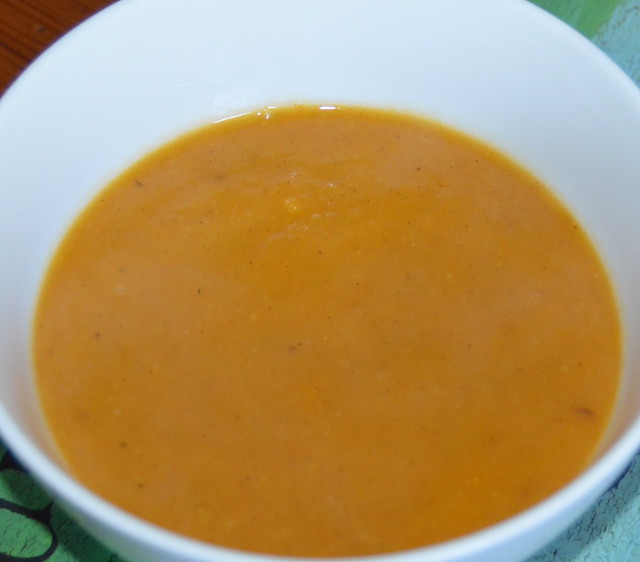 Prep time: 5 minutes
Cook time: 20 minutes
Total time: 25 minutes
Ingredients
1 tablespoon

groundnut or sunflower oil

1 onion

peeled and sliced

1

garlic clove, peeled and chopped

1 inch

root ginger, chopped

2 medium

parsnips, peeled and chopped

3 medium

carrots, peeled and slices

1 litre

vegetable stock

1 large tablespoon

curry paste
Cooking Directions
Heat the oil in a large saucepan
Add the onion and fry until soft
Add the garlic and ginger and cook for a couple of minutes
Add the chopped parsnip and carrot
Stir and sweat the vegetables for a few minutes
Add the vegetable stock
Stir in the curry paste
Bring to the boil and simmer for about 15 minutes
If all the vegetables are soft, place in a liquidiser to make smooth
Return to the pan and taste
If liked, add a bit more curry paste
Re heat and serve
Add a swirl of yoghurt if liked