Cauliflower And Leek Mash
If you want to reduce your carb intake, this cauliflower and leek mash is the ideal food to give you all the comfort – and taste of regular mash, without the carbs! It is really simple to make too. This recipe serves one person as a complete meal or two to three people as a side vegetable.
Cauliflowers and leeks come in all sizes so you may have to make a judgement on how much to use. the exact proportions are not important. You can really make this to your own taste. I used half a small to medium cauliflower and a medium sized leek. It make s a filling meal for one person
This Cauliflower and Leek Mash is ideal if you are craving cheesy mashed potato but don't want all the carbs
This mash doesn't quite have the smooth consistency of potato mash but it has all the flavour and you might like the more varied texture.
Mustard Flavouring
When working with simple foods, flavouring is everything – and ordinary English Mustard is great for adding some zing to many foods. I often put it in Macaroni Cheese or Cauliflower Cheese and it goes really well with this dish too. A little chilli powder instead would work well too if you don't have any mustard. I use the smooth type but the wholegrain mustard would work just as well.
Leeks in Butter
If you can, fry the leeks in real butter – it really is the best flavour. And add a little garlic. It is worth if for the aromas alone! IF you don't have butter some margarine will of course do as well or some sunflower oil. You will still get a wonderful mash.
Cheesy Mash
The mash is brilliant because of the cheese. Use a good strong cheddar cheese for maximum flavour. Reserve some of the grated cheese to sprinkle on top when it is being baked in the oven. Sit down and enjoy!
You will need a small casserole, pie dish or similar for baking in the oven
Cauliflower And Leek Mash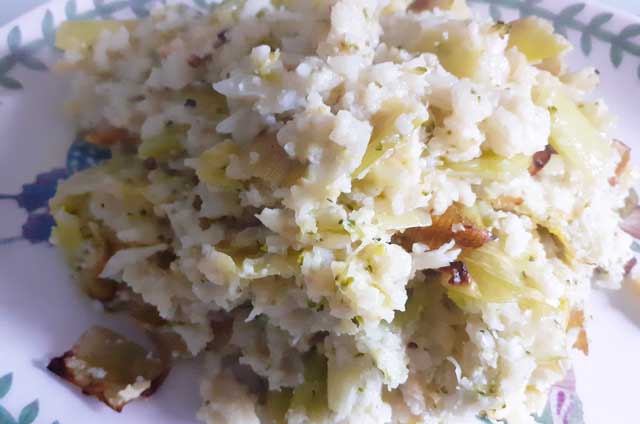 Serves 1 as main course
Ingredients
25g /1oz

butter

1

leek, sliced

1

garlic clove, peeled and crushed

1/2

medium cauliflower

40g / 2oz

mature cheddar cheese, grated

1 teaspoon

English mustard

Cooking Directions

Preheat the oven to 180 degrees C
Cut the cauliflower into small pieces
Place in a saucepan and cover with boiling water
Bring back to the boil and cook for 10 minutes or until soft
Meanwhile in a frying pan, melt the butter
Add the leeks and fry until softening
Add the garlic and stir a little longer
Put to one side
Drain the water from the cauliflower
Mash with a masher then stir in the leek
Stir in the mustard and 3/4 of the cheese
Place in your small casserole or small pie dish
Sprinkle the remaining cheese on top
Bake in the oven for about 20 minutes