Chicken Stuffed With Blue Cheese
This blue cheese stuffed chicken looks and tastes like a real dinner party dish that may have taken a lot of time to make. But it is so easy to to put together it is easy enough for a midweek supper. So surprise your family in the week – or use it for a special occasion when you have limited time.
This delicious chicken recipe looks luxurious but is so easy and quick to make!
Special Dinners in Lockdown
During this time of Lockdown some people are making an occasion of dinner at least once a week as they can no longer eat out. This is an ideal recipe to use for that as it uses simple ingredients and is easy and quick to make. Yet it tastes like a special dinner. It is ideal accompanied with candles and a lovely bottle of wine!
Follow it up with a special dessert such as Baked Alaska
Chicken Breast Recipe
This recipe requires chicken breast as the breast is stuffed with the blue cheese. You need to slice down the middle of the breast from the edge to create a pocket to put the cheese in the middle. It doesn't matter if it starts to ooze out. the is part of the delight of this dish!
Mustard And Cream
The chicken is then spread with whole grain mustard of your choice. How much you use really depends on how much you love mustard but I would recommend about a level teaspoon per chicken breast.
You can use single or double cream for this recipe -whichever you have in your fridge or can buy. In these days of lockdown it is best not to be too fussy over recipes but improvise with what you have in your cupboards. If you have a choice then single cream is probably best.
Blue Cheese
Any blue cheese is suitable for this recipe – stilton, Danish Blue, Roquerfort, Gorgonzola – really which ver you can get, like and is most economical.
Serve with your favourite vegetables
Blue Cheese Stuffed Chicken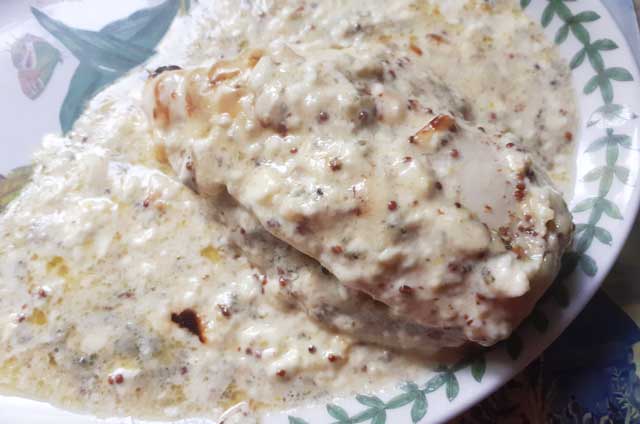 Ingredients
4

chicken breasts

125g

blue cheese

400ml

single cream

4 teaspoons

wholegrain mustard
Cooking Directions
Preheat the oven to 180 degrees C, Gas Mark 4
Slice the chicken breasts lengthways on the narrowest part about half way in to create a pocket
Divide the cheese in four and roughly slice each portion
Stuff the cheese into the chicken breasts, folding down the edge to keep it in.
Place the breasts in a lasagna type baking dish
Spread each of the breasts with whole grain mustard
Pour the cream over the top
Place in the oven for about 40 minutes
Serve with your favourite vegetables