Chickpea And Potato Curry – Low Cost, Easy Family Meal
Simple, warming and tasty – and of course low cost – describes this chickpea based curry supper which has been one of the favourites in our household for many years. It is also one for people who don't think a meal is a meal without meat – they may hardly notice its absence! You can adapt this meal too to add a bit of cooked chicken or left over roast beef or lamb.
Although this dish is essentially vegetarian, you can make it with some cooked chicken or some beef or lamb mince, if you prefer
Tinned Or Dried Chickpeas?
Although I generally believe in cooking meals from scratch, there are potentially two exceptions in this recipe. I have used tinned chickpeas rather than cooking from dried.
Dried chickpeas are undoubtedly cheaper but they must be soaked and boiled before use. The best approach to this is cooking a few hundred grams at a time and then dividing them into portions and freezing them. There are times when I do this and I would recommend it.
However because this website is about easy and quick cooking as well as about cost – using tinned chickpeas is much better than being put off by the long soaking and boiling method – but the choice is obviously yours.
Pre mixed spices?
The other exception is that sometimes I use curry paste or a curry mix. I like it because it gives you a basic curry flavour and then you can add your own extras according to your taste – but it gives a great starting point. You can of course just use the spices you like in the recipe, or use a curry powder as a base. If you want to be really quick you can even just use a bought curry sauce!
Experiment until you get the taste you love. Using curry paste means you can get a great curry flavour, without having to be a curry expert. Please feel free to make your own recommendations or reveal your favourite combination of spices in the comments box below.
I originall y did this recipe for a Schwartz ebook promotion and you can still download the whole book which includes my recipe.
My Favourite Rice
I nearly always use basmati rice as I prefer the flavour. And I get the ordinary rice – not the easy cook – as it has much more flavour. It is pretty easy to cook. It is best to wash and rinse the rice first before cooking. For further information see How To Cook Rice in my How To… section
Low Cost Meals With Chickpeas
If you like this recipe you might also like to try Chickpea And Vegetable Pilaf or other Chickpea Recipes
If you prefer to have some meat content, add some cooked meat at the same time as the chickpeas, or cook some small pieces of uncooked chicken or some lamb or beef mince, with the onion, then proceed as per the recipe. This will clearly make more servings, but then leftovers often taste even better after a couple of days in the fridge!
Serves 4
Chickpea and Potato Curry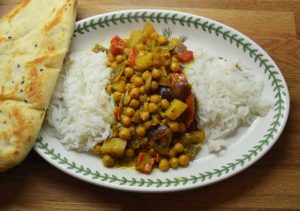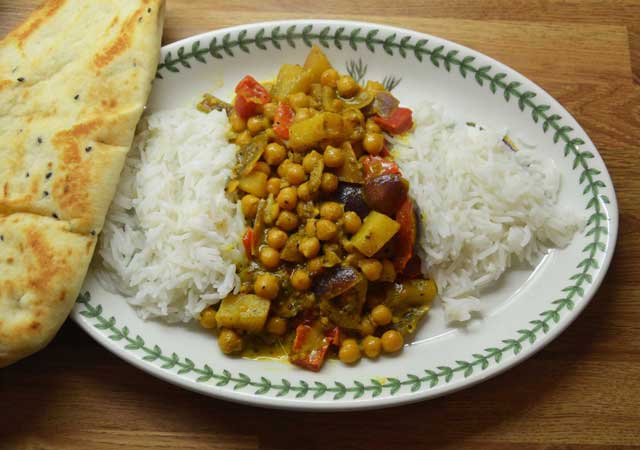 Ingredients
1 tbsp

groundnut oil

1 teaspoon

cumin seeds

1

red onion, chopped

1

red pepper, deseeded and chopped

2 garlic cloves

peeled and crushed

3-4

small potatoes, cubed

1 packet

biryani mix

1x 400g/14oz

can chickpeas, drained

1 x 400g/ 14oz

coconut milk
Cooking Directions
Heat the oil in a large heavy-bottomed frying pan or flameproof casserole.
Add the onion and cumin seeds and fry for 5 minutes.
Add the pepper and potatoes and cook for a further 5-7 minutes stirring occasionally.
Stir in the garlic and curry mix.
Add the chick peas and stir.
Add the coconut milk.
Bring to the boil, stirring occasionally.
Cover and simmer for 20 minutes, stirring every 5 minutes or so
Meanwhile cook the rice.
Serve as it is or with some nan bread and mango chutney or Apple Chutney