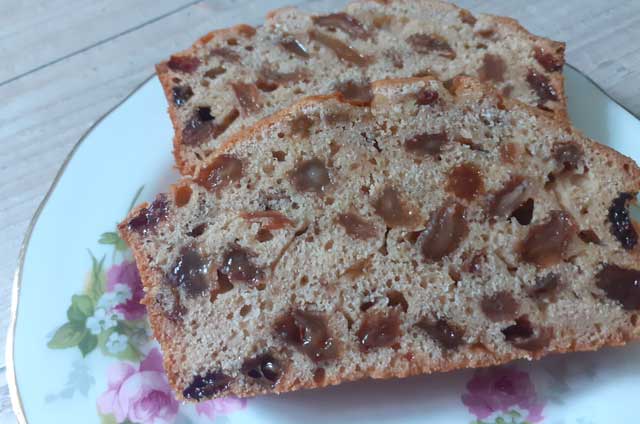 Sultana Tea Loaf Recipe
Tea Loaf is an easy cake and gets its flavour (and moisture) from tea. the fruits – in this case sultanas – is soaked in strong tea for 2 hours before the cake is made up. It is quite an old fashioned cake. This recipe came from my Grandmother's handwritten recipe book which I sometime dip into to find wonderfully simple and delicious cake recipes. the last recipe I did was Marmalade Cake
My Grandmother's handwritten recipe book strikes again with this wonderful Tea Loaf recipe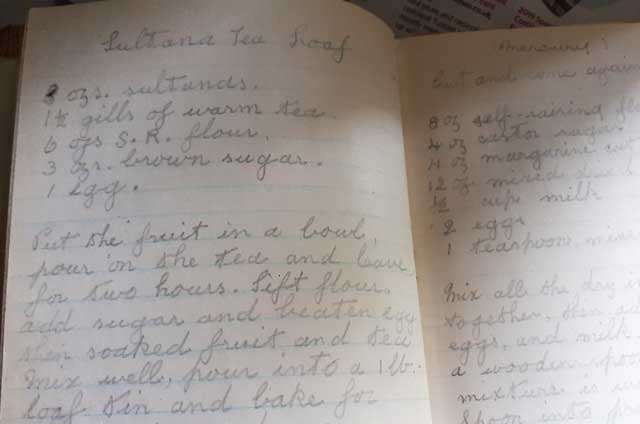 It is the sort of cake about which my Grandmother would have said there's nothing in it – meaning it is low on sugar and there is no fat – and can't make you put weight on!!
Tea Loaf
Wikepedia tells me that Tea Loaf is a traditional cake and is mainly associated with Yorkshire. Well I feel on firm ground here as my Grandmother lived all her life in or near the wonderful seaside Yorkshire town of Scarborough where my Mother grew up and always loved.
To honour that county I used Yorkshire Tea to soak the fruit. It is my favourite drinking tea anyway. I did have to convert the liquid quantity of tea required in the recipe (1 and half gills) to millilitres
Tea Loaf requires a long slow cook. The recipe said to use a 1lb loaf tin but I only had a 2lb tin which was fine. The 1lb would have made a much taller loaf.
Tea Loaf can be eaten by itself but it is delicious spread with butter – and may be even with a little cheese (Wenslydale of course!)
Tea Loaf Variations
Some Tea Loaf recipes now add mixed spice or use Earl Grey tea to ring the changes. All these things are good – but try it good and plain first!
If you don't have sultanas – you can use a mix of currants and/or raisins. And you can use any tea – just make it good and strong.
Tea Loaf Recipe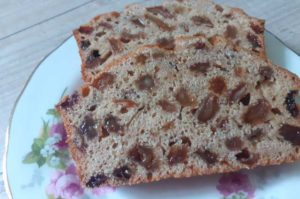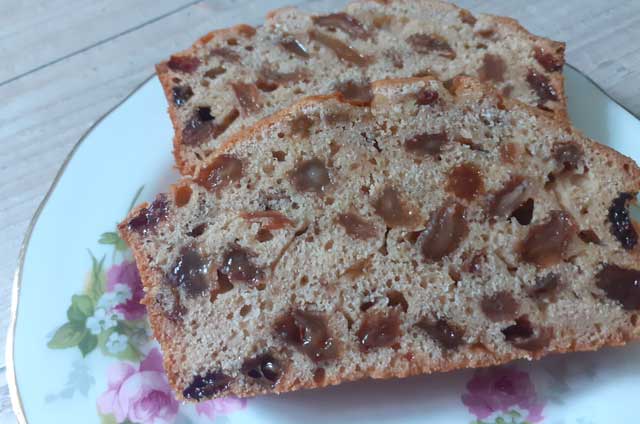 Ingredients
250g / 8oz

sultanas

225ml

warm, strong tea

175g /6oz

self-raising flour

100g /3ozs

brown sugar

1

egg, beaten
Cooking Directions
Make up the tea with two tea bags and steep for 5 minutes
Put the sultanas in a bowl
Pour the tea over the fruit and leave to soak at least 2 hours.
Preheat oven to 160 degrees C
Grease and line a 2lb loaf tin
Sift the flour into a large bowl.
Add sugar and the egg
The add the fruit with any liquid tea
Mix well
Pour into the loaf tin
Bake for one hour then check if done with a skewer
If not done, then leave for another few minutes and check again
Allow to cool in the tin before turning out