Raspberry Clafoutis
Raspberries are available in the supermarket all year round from different countries. But they are best when they are from the UK and particularly from Perthshire in Scotland. The colder Scottish weather with the right amount of rain is apparently perfect for the most delicious raspberries and Scotland has become famous for them since the late 1950s – along with other berries.
In the absence of fresh raspberries you can get frozen raspberries all year round. Or you can freeze them yourself when they are in abundance in late summer. They freeze really well – much better than strawberries.
In summer time you may be looking for the perfect raspberry dessert recipe. Raspberry Clafoutis may be your answer!
Raspberrries are a high fibre berry because of all those seeds. They also contain plenty of vitamin C
Clafoutis
Is a kind of baked custard originating from France. There are many different recipes and for different fruits. You will find and Apple Clafoutis on the is website. Both the Apple recipe and this one are very easy to do for such a posh sounding dessert! All the ingredients (apart from the berries) go in a bowl, get whizzed up together with a hand whisk and the poured over the fruit. Bake in the oven for 30 minutes and dessert is served!
It can be served hot or cold with cream or ice cream. It is actually quite a good dessert to prepare in advance for dinner the next day. The texture is soft.
Clafoutis is sometimes made with almond flour which I have used in this dessert. It does give an extra flavour and goes so well with the raspberries.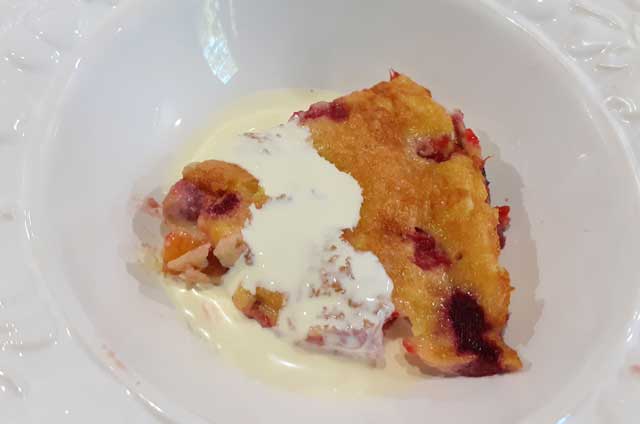 Berries
I made this Clafoutis with raspberries and a few blueberrries to make up the weight. It would be good with any forest fruits. I am sure blackberries would be good or a mix of all three. It is a great dessert to make to celebrate the abundance of berries in late summer and early Autumn
You will need a flan dish and an electric whisk
Cooking Tip:- This recipe will leave you with two egg white over. You can freeze egg whites – so pop them in a small countainer and label them so you have egg whites ready to defrost for another day.
Apple Clafoutis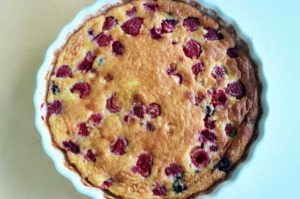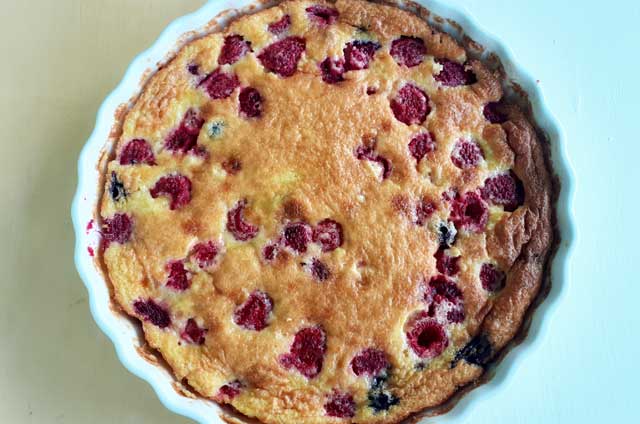 Ingredients
400g (14oz)

raspberries (or a mix of raspberries, blueberries and blackberries)

50g (2oz)

ground almonds

25g (1oz)

plain flour

2

eggs, beaten

2

eggs yolks

100g (3oz)

250ml

double cream

1 tablespoon

butter for greasing
Cooking Directions
Pre-heat the oven to 170 degrees C
Grease the flan dish with butter
Scatter the berries evenly in the flan base
In a large mixing bowl, whisk together all the other ingredients until smooth
Pour over the fruit in the flan base
Bake in the oven for 30 minute until brown on top
Leave to cool and set a little more
Serve warm or cold