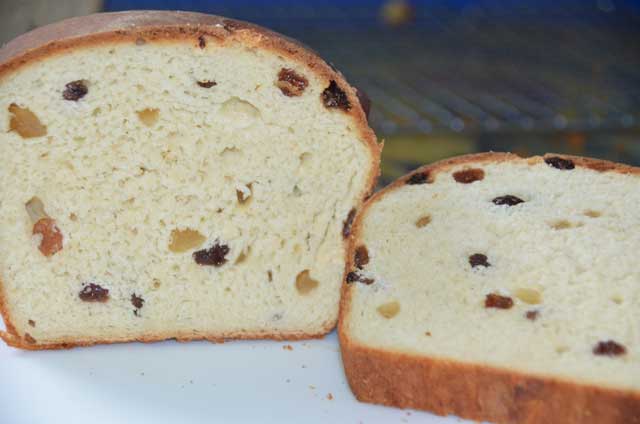 Baking Homemade Bread
The delightful thing about making your own home made bread is that once you have the hang of it, the possibilities are endless. This fruit bread with ginger is a delicious variation on a simple white bread. It doesn't even take that long to make as it only requires one proving. Basically, it is just a basic bread recipe with the addition of sultanas and pieces of ginger. So you can go on to create further variation so this recipe too!
A simple bread recipe with the addition of fruit and ginger turns tea time into something special!
Fresh Bread And Toast
Like all fresh bread it is best eaten on the day it is made. But this bread can definitely be eaten a day or two later toasted with lashings of butter! It may even be better like that – you decide!
Ginger
This bread has pieces of stem ginger in the mix along with sultanas. You can add as much as you like of both although the quantities suggested does make it quite gingery! As the several ginger recipes on this website might suggest I do enjoy ginger in things – such as Scones with Ginger. Most supermarkets stock jars of stem ginger.
Therapuetic Kneading
Like most bread making recipes, this loaf requires 10 minutes kneading time. I think kneading is a very therapeutic exercise requiring repetitive motion and your thoughts can go where you direct them – or have time just to be! The reward for the work is seeing and feeling the change in the dough which happens over the 10 minutes. Dough starts as an impossibly sticky and difficult to manage mass and quite quickly starts to smooth out until you a left with a smooth ball of stretchy dough. You know when you have achieved your objective.
There is no need to worry too much about the technique. Keep pressing, lifting and turning and the magic will happen!
Once the dough is ready for this recipe you then must knead in the fruit and ginger which requires a bit further gentle work. Just keep going until the fruit is fairly evenly distributed.
Proving
The proving (rising) time will be around 2 hours but it does depend on how warm the room is. I made this loaf on a warm, sunny day (yes we do get them in Scotland once in a while!) so it didn't take long. So if it hasn't risen quite enough after 2 hours – just leave it a little longer. DO try and find a warmish place.
Bread-making Tips
Make sure your flour is 'strong flour'
Use a measuring spoon as it is important to get the right quantities of sugar, salt, yeast and oil
The warm milk should be 'hand hot'
Make sure the oven is up to temperature before you put the loaf in the oven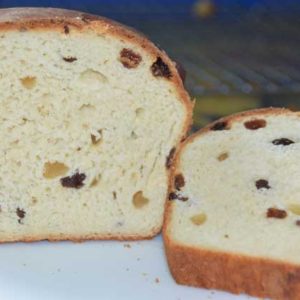 Sultana Bread With Ginger Recipe
Ingredients
450

g

strong white flour

25

g

butter

1

teaspoon

soft brown sugar

1

teaspoon

salt

1

teaspoon

easy blend dried yeast

300

ml

warm semi-skimmed milk

80

g

sultanas

50

g

stem ginger

chopped
Instructions
Grease a 2lb loaf tin

Put the flour in a large bowl and rub in the butter

Add the sugar salt and yeast

Add the milk, distributing it around the bowl

Mix together with a wooden spoon

With your hands, pull all the ingredients together

Put the dough on your work surface and start to knead

If it is slightly sticky use just your fingers to begin with

Once the dough is easier to handle, use the heel of your hand to push the dough away, then pull back towards you.

Keep doing this for about 10 minutes, until the dough is smooth and elastic

Once it is smooth add the fruit and ginger by slowly kneading it in.

Shape the dough to your tin and put in the tin to prove

Cover and keep in a warm place until it has doubled in size - about 90 minutes

Preheat the oven to 200 degrees C

Bake in the oven for 30-40 minutes

The bread is ready when it sounds hollow when tapped on the bottom

Allow to cool

For most enjoyment - serve slice when still warm!