Toad In The Hole Dinner – Traditional Meal
There can be few more traditional recipes than Toad in the Hole. It is of course essentially sausages in a Yorkshire Pudding type batter. Best served with mashed potato and onion gravy and a vegetable such as carrot, swede or broccoli. Or serve it with roast potatoes and roast parsnips for a Sunday dinner!
It is a real family favourite. It is also easy to adapt when you have a vegetarian and a carnivore to feed at the same meal time! Just cook one tray with veggie sausages, and one with meat sausages, without any real extra work. You just need two smaller size baking dishes instead of one large one.
It seems there is no definitive knowledge of the origins of the name 'Toad in the Hole' but there is little doubt it is a family favourite and a great low cost dish
Origins Of Toad In The Hole Expression
When researching the origins of the name 'Toad in the Hole' – it seems there is little agreement and even less evidence as to where it came from.
It seems that sausages are a relatively new addition to this recipe and that once any meat could be used – for example leftover beef or lamb scraps. So the 'toad' may have nothing to do with the sausage. It could be named because toads bury themselves in the mud sometimes, and when they leave, they leave a hole much as the sausage – or meat – does in the batter!
The first reference to it seems to have been in 1787 and later in the 1800s with some Victorian recipes, including Mrs Beeton, recording it as meat cooked in batter. Whatever the origins, it is now a traditional English dish which many people enjoy.
Yorkshire Pudding
Yorkshire pudding is also first referred to in the 1700s – just a few years before the first Toad in the Hole – originally being know as Dripping Pudding, being a way to make 'pancakes' from the dripping from roast meat.
Yorkshire pudding batter is now made with flour eggs and milk for both the Toad in the Hole batter and if served as one large pudding or made as individual portions. there has always been a bit of a mystery around making the perfect Yorkshire pudding – and I have certainly had some that are better than others – but like all simple food – it just takes a bit of practice. And if it does go slightly wrong – so long as you have used good ingredients, it will still taste good, even if the texture isn't quite right. I have to say though, I still think that my Yorkshire born and bred Mother makes the very best Yorkshire puddings!!
Buy Best Sausages
When it comes to sausages, I think its is best to pay more for quality and would certainly not recommend cheap sausages. Although there are many 'basics' or 'value' products I will buy from the supermarkets, sausages are definitely not one of them! Even good quality sausages are still a low cost food.
Buy from a local supplier if you can, where you can find out the exact ingredients. Try your Farmers Market or local butcher. Sausages bought from butchers are often cheaper than the premium brands in the supermarket. Any variations of good sausages are recommended, whether Lincolnshire, Cumberland or Pork and Apple or the many wonderful varieties that your local butcher may do.
Don't be seduced by traditional looking packaging in the supermarket either. Some sausages are dressed up to be something they are not! Check the label for ingredients first.
Toad In The Hole With Vegetarian Sausages
Cooking a vegetarian toad in the hole can be a good meal to offer a guest who is a confirmed carnivore. You can make vegetarian sausages yourself. Most supermarkets stock them ready made in the frozen section. These are usually good for a vegetarian version of Toad in the Hole. Don't forget some vegetarian gravy too!
Toad In The Hole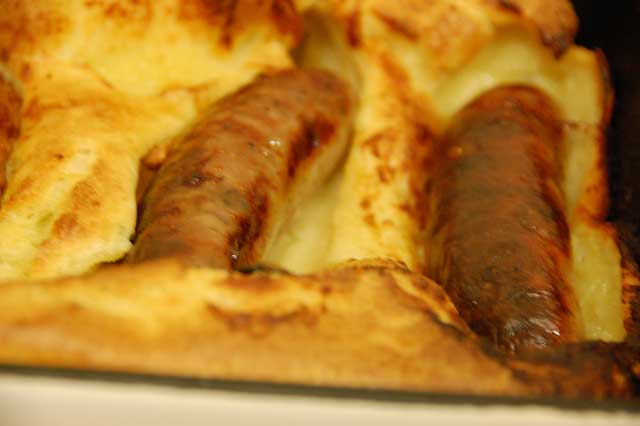 Serves 4
Ingredients
8

sausages

1 tablespoon

margarine

225g /8oz

plain flour

3

eggs

250ml / 1/2 pint

semi-skimmed milk
Cooking Directions
Place the sausages on the baking dishes
Dot the tablespoon of fat on the dish with the vegetarian sausage
Bake in the oven at 200 degrees C for 10 minutes
Meanwhile make the Yorkshire pudding batter
Seive the flour into a bowl
Make a well in the middle and break the eggs in
With a balloon whisk, gradually mix in the eggs as you slowly pour in the milk
Whisk to a smooth consistency
Take the baking dishes from the oven
Pour on the Yorkshire pudding mix, dividing equally between the two dishes
Place bake in the oven and bake for about 30 minutes or until the batter is risen, and brown