Easy Carrot Cake Recipe
Carrot cake is a classic cake. But sometimes it is just a little too sweet and gooey – and a little too fussy.
Carrot cake usually has a butter cream topping, an icing decoration. This easy carrot cake recipe is a little less fussy, a little more wholesome, a little less sweet and perhaps most importantly – really simple to make.
Healthy Carrot Cake?
I love making cakes from fruit or vegetables. It makes them more nutritious than the average cake – and is a way of making the most of seasonal gluts or leftover food. For example, Banana Cake can be a way of using up overripe bananas that no one wants to eat and Apple Cake was one of a number of solutions to deal an apple glut.
There is something relaxing and homely about making a cake. Take time out and enjoy the process – dating back centuries – and then savour the results!
Carrots are low cost and plentiful throughout most of the year. They add moisture and sweetness to a cake – and a bit of goodness. And if you make your cake as wholesome as this one, it can be included in a packed lunch as well as being a great teatime treat! Great for a picnic too! It is also really easy to make. All the ingredients go in a bowl and then stir! That is the best kind of cooking, in my opinion!
Wholemeal Flour Too
This carrot cake contains wholemeal flour – it is made with a mix of wholemeal and white self-raising flour – which sounds very worthy as we all know wholemeal flour is better for you – but don't let that put you off.
The wholemeal flour gives it a more nutty texture. The larger supermarkets stock self-raising wholemeal flour as do most health food shops.
Best Moist Carrot Cake Recipe
I first baked this lovely carrot cake when I was having a meeting at my house. I thought I would test it out on those attending – they are people who will always be honest about my cooking!! I was surprised that one person immediately identified it as a carrot cake before tasting – as it is not a typical one. The verdict was fabulous – that it really was the best carrot cake some people had tasted! The cake is also good enough to be a pudding and is good served with ice cream or evaporated milk (yes I have tried it!)
This cake is best made in a loose bottomed, deep cake tin, for ease of removing it from the tin. If you have a solid cake tin, it is probably best to line the tin with baking parchment, which you can grease. You can then just lift out the cake in the baking parchment and then gently peel it away from the cake.
I also must add that baking cakes is very therapeutic and homely! Pop on your apron, tune the radio to your favourite station and enjoy taking part in an ancient craft that dates back almost to the beginning of the human race! Then when cake is cooked, put kettle on, remove apron and enjoy slice of cake and cup of tea and let the world do without you for a while!
You will need:-
Carrot Cake Recipe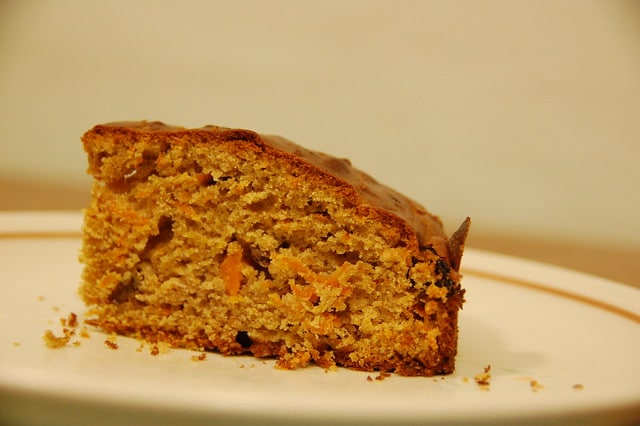 Ingredients
225g / 8oz

carrots, peeled and grated

125g / 4oz

white self-raising flour

125g /4oz

wholemeal self-raising flour

1 teaspoon

baking powder

2 teaspoon

cinnamon

25g / 1oz

sugar

2 tablespoons

runny honey

125ml

sunflower oil

3

eggs, beaten

65g / 3oz

sultanas

2 tablespoons

milk
Cooking Directions
Preheat the oven to 170 degrees C
In a large bowl place the flour, baking powder, cinnamon and sugar
Stir to thoroughly mix
In another bowl mix together the honey, oil and eggs
Add this mixture to the flour mixture and stir thoroughly
Add the sultanas and carrots and mix in
Add the milk and stir
Pour into the prepared cake tin
Bake in the oven for about 45 minutes
Test with sharp knife or skewer in centre -if it comes out clean then it is cooked, otherwise bake for a further 5 minutes
Once ready, allow to cool for 5 minutes
Turn out and allow to cool on wire tray
Delicious enjoyed still warm!