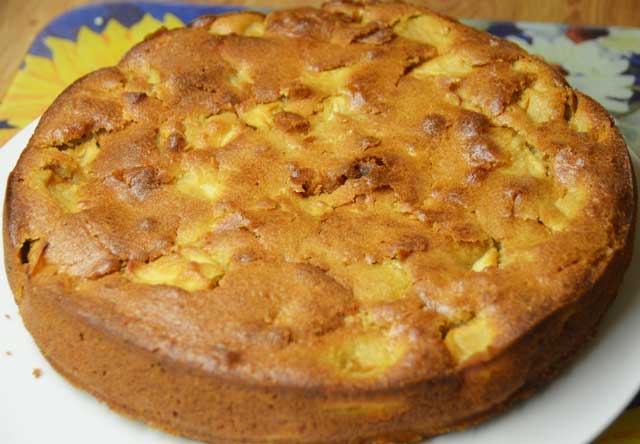 Apple Cake
This recipe for apple cake comes in just great when there is an abundance of apples. There are many ways to utilise apples including the familiar Apple Crumble and Baked Apple recipes.
When it comes to cakes made from ripe fruit, it may be that the Banana Cake is better known as a way of using up ripe bananas, but here is a great recipe for a wonderful apple cake.
This Apple Cake Recipe is made with 750g of apples, so you are getting a good bite of fruit in the cake too! That and a good splash of apple juice (or cider). It can be eaten on its own with a good cup of tea, but my favourite way of eating it is serving it warm with really good vanilla ice cream. Of course, you can eat it either warm or cold with cream, ice cream, yoghurt, evaporated milk or even custard.
It is fabulous as a pudding, snack and is also great for the lunch box too!
Cake
Cake – the very word conjures tea times at my Grandmother's when I was a child, having a traditional Sunday tea with ham sandwiches, cake and may be some tinned fruit. All accompanied by some strong Yorkshire tea. In the winter the real coal fire would be blazing. The cakes we had were a plain Victoria sponge or may be some malt loaf.
Afternoon tea has become more of a 'thing' again in recent years with the popularity of vintage cafes. It has always been a treat at somewhere like the Ritz in London or Bettys in Harrogate and York. Although I suspect Apple cake wouldn't be on the menu there I suspect our Grannies might have made Apple Cake as a way of using up surplus fruit.
Any Apples
This recipe can be made with any apples. You can make it with Bramley Apples. However if you have a glut of apples from your apple tree use them up. The pieces tend to sit well within the cake. Do let me know what apples you try and the results.
The cake is quite a dense, moist cake so do not worry if it does not rise to a light and fluffy texture. It has a relatively long slow cook, but you will need to check just when it is ready by placing a skewer or sharp knife in the middle and see if it comes out clean. If it does not, leave the cake for a further 5-10 minutes before testing again. If the cake starts to overcook on the outside, turn the temperature of the oven down a little.
I would recommend using a 23cm loose bottomed cake tin and grease it well before putting the mixture in. If you use a fixed bottomed tin it is probably best to line the tin with greaseproof paper / baking parchment to ensure you can get the cake out easily when cooked.
A Touch Of Spice
Use your favourite spices in this cake. Cinnamon on its own is good. Mixed spice is nice, especially at Christmas time. Cloves are always good with apples. Or you could leave the spice our altogether and let the apples speak for themselves!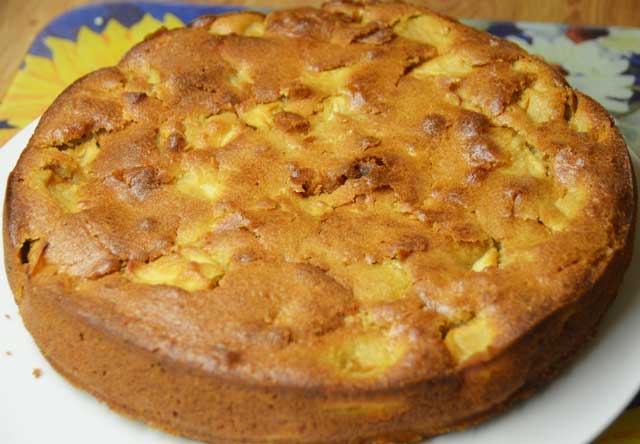 Apple Cake
Ingredients
170

g

margarine or butter

125

g

light muscavado sugar

or soft brown sugar

3

eggs

beaten

225

g

self-raising flour

1

teaspoon

cinnamon

or mixed spice

750

g

apples

peeled and chopped

80

ml

apple juice or cider
Instructions
Preheat the oven 160 degrees C

Cream the margarine and sugar, by mixing them together with a wooden spoon, or in a food processor

Beat the eggs into the mixture

Mix the cinnamon into the flour

Fold the flour and cinnamon into the mixture

Add the apple juice or cider

Mix in the chopped apples

Pour the mixture into the prepared cake tin

Place in the oven and cook for about 60-70 minutes

Allow to cool in the tin for 5 minutes, and then turn out on a rack

Serve warm or cold - on its own or with cream, ice cream, yoghurt or whatever you like!

Keep in the fridge and eat within 2-3 days
More Cake Recipes