Make Hummus – It's Easier Than You Think!
I love it when you make something at home and it is just so much better than the shop bought. Hummus is no exception! Often the worry about trying to make something that you normally buy, is that it won't be as good as the shop bought product. Well even though I say it myself, I far exceeded my own expectations by making hummus that was just so delicious! Never again will I pay for ready made hummus from a shop now I know how to make hummus as it will always be a disappointment now! And it is a lot more economical too.
Yummy homemade hummus is amazingly easy to make and so much tastier than any you buy in the shops.
And the other surprise when I learned how to make hummus is that it is much easier than I had anticipated too. If you use tinned chickpeas it is made in a matter of minutes.
Apart from chickpeas you need tahini (sesame paste) which is available at large supermarkets and health food stores. You can often find dark or light – I opted for the light version. The rest is just garlic, olive oil and lemon juice You can add cayenne pepper or paprika if you wish too. You could also add some chopped olives.
Just the Way You Like It
In the end the ratio of ingredients is down to personal taste and recipes do vary in the proportions. The recipe that I used is below and I did find it very tasty. You can add a little more olive oil to serve. Personally I love it on pitta bread with sliced black olives on top
You can add your own variations such as chillies, sun dried tomatoes or roasted red peppers. You can lighten your hummus by stirring in some yoghurt too. Once you have mastered the basics, the choice really is yours.
Hummus, Humus or Houmous?
Hummus originates from the middle east although its exact origins are unknown. It can be found with various spellings too – humus and houmous are two variations. Humus is in fact the Turkish spelling. It seems all these spellings are acceptable. But whether it is hummus, houmous or humus, it is certainly delicious!
Hummus was unknown in the UK before the 1950s and became really popular in the UK in the late eighties and early nineties and is now a standard dip or spread. Hummus is very versatile. It can be used as a dip, a sandwich filling, a baked potato filling or an addition to a salad. This recipe make a good quantity, enough to more than fill a 250g margarine tub, but it can be frozen if desired.
Chickpeas
If you are using dried chick peas – and some would argue that they do taste much, much nicer than tinned chick peas, you do need to give them plenty of soaking and boiling time to ensure they are very soft. They should be soaked for a full 24 hours – rather than just overnight and they do need to be boiled for about 90 minutes although I believe it does vary according to the individual chick peas.
I have read that the addition of a little bicarbonate of soda to the soaking and cooking water shortens the cooking time and would appreciate any further comments about doing that. Cooking in a slow cooker overnight can also be a good option. It can also be good to cook up a large batch and then freeze in quantities to have on hand for stews, curries and – well hummus.
How To Make Hummus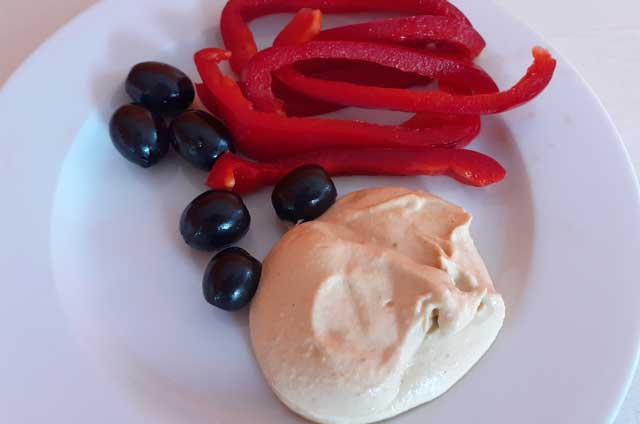 Ingredients
125g / 5oz

dried chickpeas

-or-
1 x 400g tin of chickpeas

Juice of 1

lemon

2

garlic cloves, peeled and crushed

6 tablesppons

olive oil

pinch

cayenne pepper

150ml

tahini

pinch

salt
Cooking Directions
Place the chickpeas in a large bowl and cover with water to soak ideally for about 24 hours
Drain and rinse the chickpeas
Put the chickpeas in a large saucepan and cover with boiling water
Boil rapidly for 10 minutes then reduce to a simmer for 60-90 minutes or until soft
Drain and allow to cool
Place in a blender and blend into a coarse paste
Add the tahini, lemon juice, garlic, olive oil and cayenne pepper
Blend until smooth and creamy, adding a little water if required
Season with paprika, salt and pepper
Keep in an air tight container, in the fridge
Use within 3-4 days
Can be frozen