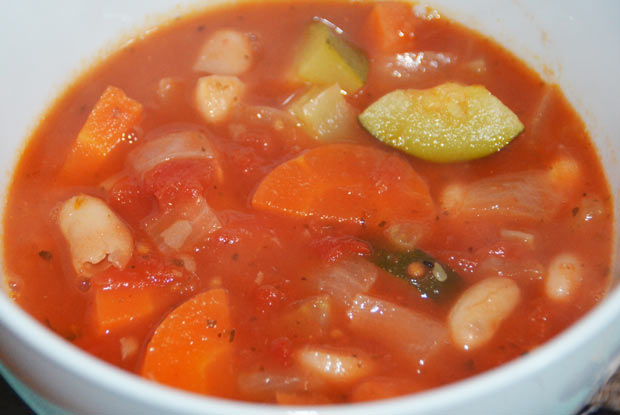 Main Course Soup!
Although soups are warming and delicious, sometimes you just need something a bit more substantial than a liquid lunch. Adding beans as a key ingredient to soup, adds protein and substance without adding many calories or any fat. And the protein and the texture will ensure you feel satisfied and feeling that you have had a substantial lunch, setting you up for the afternoon. Yet it won't weigh you down or make you feel sleepy.
A portion of beans also counts as one of your 5 day and will ensure you get some valuable minerals and vitamins. This is also a soup that doesn't require a blender since this is eaten without making a puree of the vegetables.
This healthy bean and vegetable soup recipe is easy to make and fabulous for a more substantial lunch or light supper. Serve with some good bread
Filling and Flavoursome
Not only substantial but this bean soup is really flavourful too. And if you make up a large batch, more than you can eat in a day, you are in for a treat as it tastes even better when reheated the next day. It's an excellent choice for lunch with friends or when you know it is going to be a long time until supper time! So prepare in advance and reheat when needed. I have added basil leaves for flavouring but you may wish to add your favourite herbs and spice, or even a little cayenne pepper
Choose Your Beans
The soup is very easy to make, but like many recipes involving vegetables, it just requires a bit of peeling and chopping at the beginning. It is easy if you use a tin of beans, as I did in the is recipe. You can use dried haricot beans if you soak them over the previous night and boil them for 60-90 minutes before using them. This will make the soup for an even lower cost. However, once all the ingredients are peeled and chopped, it takes just 30 minutes bubbling time. This would also be an ideal recipe to make overnight on the slow cooker.
I use haricot beans in this recipe, although you could use cannellini beans or indeed really any bean that you like. Haricot beans are quite bland in themselves and so take on the flavour of the things around it well. Haricot beans are also known as Boston beans or navy beans and are the type of bean used in baked beans. You can vary the vegetables you include according to what you have available and what is in season.
The health benefits of beans, both in soups and in stews, is well documented and they are so low coast and convenient. Plus dried beans have a long shelf life. Once you get used to soaking and boiling beans to prepare for use, it is really pretty straight forward – just takes a bit of planning. And if you cook a large batch they can be frozen in portions in your freezer, ready for use.
More Bean Soup Recipes
If you are looking for some bean soup recipes try Moroccan Chickpea Soup or Tomato and Chilli Soup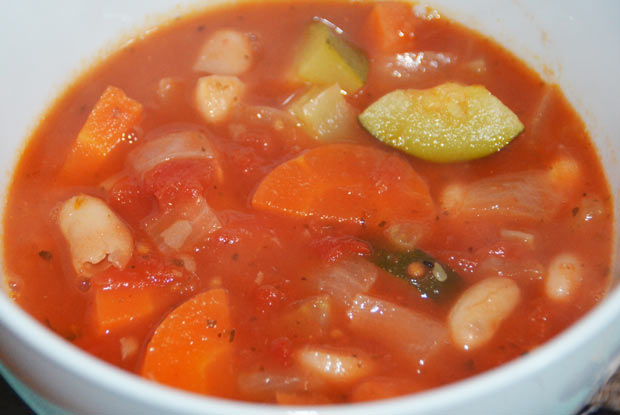 Bean And Vegetable Soup
Ingredients
2

tablespoons

olive oil

1

large

onion

peeled and sliced

2

medium

carrots

peeled and sliced

2

celery sticks

sliced

1

courgette

sliced and halved

400

g

can chopped tomatoes

900

ml

vegetable stock

400

g

can haricot beans

or cannelini or borlotti beans

1

teaspoon

dried oregano or mixed herbs
Instructions
In a large saucepan, heat the olive oil

Fry the onion and cook until soft

Then add the garlic, celery and carrots and stir fry for a further 5 minutes

Add the courgettes and cook for a further 2-3 minutes

Add the tomatoes, stock, beans and basil

Bring to the boil and reduce to a simmer

Cover and cook for 25-30 minutes

Serve with good quality bread