Moroccan Style Chickpeas
This Chickpea recipe with Moroccan Spices is really easy to make and very tasty. You can vary the spiciness according to your taste. And it costs just under £3 for four servings – not bad for a recipe that give you at least 4 of your 5 (or 7) a day. Serve with a good salad and you are almost there!
The low cost and high nutrition value of pulses is why I often cook with lentils and beans. They are low cost – really low cost – and high in protein and nutrients as well as being low fat and low calorie.
Not only that, but they are tasty and adaptable. You can use tinned pulses which are ready cooked, and ready to use or dried pulses which are much cheaper but require soaking and cooking before using in a recipe. Canned beans and pulses work out a little more expensive, but not significantly so and you may think the convenience is worth the extra.
Many people are of the opinion that dried chickpeas taste much better than the tinned variety and I am inclined to agree. The difference is not so great however so I would not reject using tinned altogether.
Really easy, and really low cost this nutritious, spicy dish is so tasty it is simple to prepare and likely to become a family favourite.
Dried Chickpeas
Using dried chickpeas is really a question of planning ahead as they require little work. It's a good idea to prepare a large batch at a time and then freeze them in portions so they are ready to use. Just soak them overnight on a large bowl with plenty of water then boil them in a large pan for around 2 hours. The amount of time they need to boil does vary so check them regularly after an hour and a half – and of course check them to make sure they don't boil dry!
Chickpeas are known in the US as 'garbanzo'. Chickpeas have been cultivated since around 3000BC. They did not come to the UK until about the 17th century. Currently India is the world's largest producer of chickpeas where they are widely used in vegetarian cuisine. They are in fact a pulse, or seed, with 2 or 3 seeds in each pod.
Chickpeas can be used in curries and casseroles, as well as soups and of course Hummus. They have a nutty, creamy flavour and are excellent in spiced dishes. This recipe is very simple and is best served with couscous which is so easy to prepare and is ready in minutes. This is recipe is also delicious cold as a salad.
Spices And Extras
If you don't have all the spices – just use what you have. A little chilli and cumin – or even a chilli sauce. And you can leave out the almonds if you don't have some in the cupboard. Us ethe recipe as an idea and work from there!
Moroccan Style Chickpeas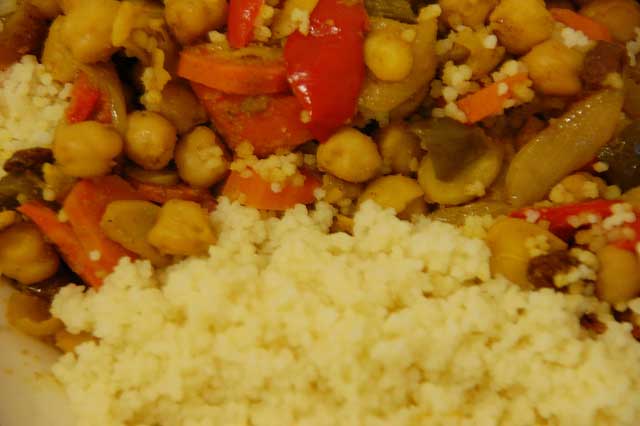 Serves 4
Ingredients
250g /9oz

dried chickpeas (or 14oz can of chickpeas drained)

2 tablespoons

olive oil

1 large onion

peeled and sliced

2 teaspoons

cumin powder

1 teaspoon

tumeric

pinch

cayenne pepper

2 teaspoons

coriander

1 teaspoon

cinnamon

300ml

vegetable stock

1 red pepper

deseeded and chopped

2 carrots

peeled and sliced

50g / 2 oz

sultanas

40g / 2oz

flaked almonds

225g / 8oz

dried couscous

500ml

boiling water
Cooking Directions
Prepare the Dried Chickpeas (Skip if using a tin)
Place the chickpeas in a large bowl and cover with plenty of water
Soak overnight and ideally for 24 hours
Drain the chickpeas of all the water
Place in a large pan of fresh water
Bring to the boil
Simmer for 90 minutes or so – or until the chick peas are soft (check regularly to ensure there is plenty of water)
Drain and put to one side
Cook the Vegetables
Heat the olive oil in a large frying pan
Add the onion and cook for a few minutes until soft
Add the chopped pepper
Add the cumin, coriander, cinnamon, tumeric and cayenne pepper and stir
Cook for a further 2-3 minutes
Add the carrots, sultanas and almonds
Pour in the stock, stir and bring back to the boil
Add the chickpeas
Stir and place in a casserole
Bake in the oven for about 30 minutes at 180 degrees C
Place the couscous in a bowl
Pour the boiling water over the couscous
Allow to stand
Fluff up with a fork
Serve the spicy chickpea on a bed of couscous.