Cauliflowers For Soup
Many people associate cauliflowers with either cauliflower cheese or as an overcooked and mushy vegetable served with roast dinner. But Cauliflowers make wonderful Vegetable Soup and this recipe takes advantage of the affinity cauliflower has with blue cheese.
In fact cauliflowers can be really delicious when cooked correctly and are very nutritious too being, perhaps surprisingly, particularly high in Vitamin C. After all, they must have something going for them as they have been popular in Northern Europe since the 16th century.
Decline In Cauliflower Consumption
Yet in the last decade consumption of cauliflower has gone down by as much as a third according to some recent reports
Unfortunately, school dinners can have a lot to answer for and the serving up of mushy watery cauliflower, alongside lumpy mashed potato has never done wonders for either's image!
Cauliflowers are a very versatile, delicious and nutritious vegetable. This lovely, warming soup is just one of the many delicious cauliflower recipes
Whether the humble British cauliflower has been a victim of poor presentation and cooking, or has been ousted from popularity by more 'exotic' vegetables from far flung places, is hard to say, but it has to be said that in a world of rising prices and concerns about carbon foot print, making the most of local home grown vegetables, has never been so important. Not to mention supporting our farmers and home economy. And in a period of rising food prices, a cauliflower can make a very economical meal.
Fresh Cauliflowers
When buying a cauliflower – choose the freshest looking with lovely green leaves, and go with your instincts. If it is well wrapped in outside leaves, it means it is also well protected and can make a good choice. If it is beginning to get brown splodges on the florets, it is best avoided. Unlike many vegetables, there is no real difference in the flavour whether it is small or large, so you can pick the size of cauliflower that suits your needs for the recipe you wish to use.
So whatever your past experience of the cauliflower, give it a chance in some new recipes. Strong flavours seem to go really well with cauliflower and the tang of blue cheese included in this recipe is no exception. Curry spices work well too as shown in the Cauliflower Pilau recipe
Cauliflowers come from the same plant family, brassica, as broccoli and I would say here that broccoli can be used instead of cauliflower in this recipe, or you can use a mix of the two. This is true of most recipes involving cauliflower – broccoli cheese is as delicious as its cauliflower equivalent!

Which Blue Cheese?
For the blue cheese, any can be chosen for this dish such as roquetfort, danish blue or stilton – let your taste buds, your budget and the current contents of your fridge, be your guide. I must admit I am not a great fan of blue cheese on the cheeseboard, but I love the tangy, cheesy taste when in a soup like this. So even if you would not normally eat blue cheese, I would recommend that you try this soup. In fact if you have any leftover blue cheese – perhaps after Christmas or a dinner party, this is a great way to use it up.
The blue cheese crumbles and melts in the soup so you do not have any stringy bits, like you might with some other cheeses – mozzarella for example. Great on a pizza, but really not so good when eating soup!
Easy Cauliflower And Blue Cheese Soup
This soup is ideal on a cold day when something really tasty, filling and nutritious is required for lunch. This is a deliciously warming soup with plenty of flavour and ideal way to use the nutrient rich cauliflower, particularly if you find plain boiled cauliflower a bit off putting. I always think a substantial soup like this is best after a long walk!
You can serve it either as a smooth soup or as a 'chunky' soup which is how I enjoy it best. It just depends how much you decide to process it in the liquidiser. I remove all the small florets, before placing the soup in the liquidiser, keeping them to one side, while I puree the rest of the soup. Then I return them to the pan for reheating. This results in a 'chunkier' soup with a more interesting texture, in my opinion. If you do not have a food processor then press the vegetable mix through a sieve.
If you do not wish to eat all the soup on one day, it can easily be kept in an airtight container in the fridge for a couple of days – in fact it is even more tasty when reheated. Do remember to heat it gently, stirring constantly to ensure it does not burn or stick to the bottom of the pan. Do use a heavy bottomed pan of you have one, and a wooden spoon.
Serve with plenty of freshly ground black pepper.
Cooking tip:-
Remember you can use the stalk of the cauliflower, as well as the florets because they will soften in the cooking and then be pureed. You can even add the leaves to the soup too! The leaves are also good in pakoras – but that is a story for another day!
I would strongly recommend these Raymond Blanc pans for your soups and sauces. Buy a set or get them separately.
Cauliflower Soup With Blue Cheese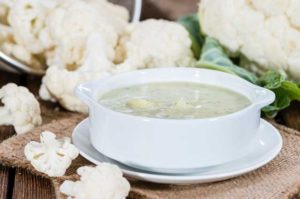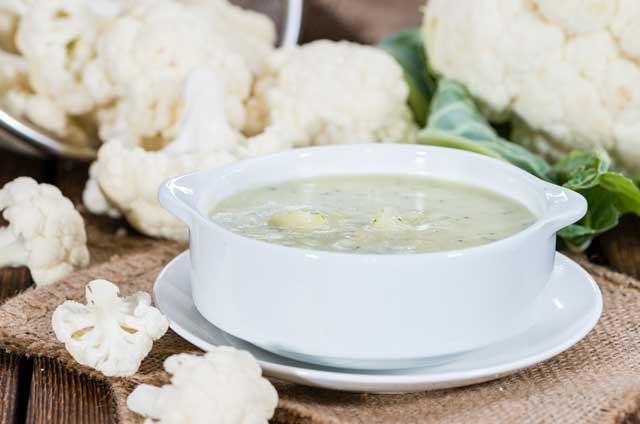 Serves 4 generously
Prep time: 10 minutes
Cook time: 30 minutes
Total time: 40 minutes
Ingredients
2 tablespoons

olive oil

1

onion, peeled and chopped

2

garlic cloves, crushed

570ml / 1 pint

vegetable stock

250ml / 1/2 pint

milk

1

small cauliflower, cut into florets

1 tablespoon

flour

100g / 3oz

blue cheese

1 tablespoon

paprika

4 tablespoons

single cream
Cooking Directions
Heat the olive oil in a large saucepan
Add the onion and garlic and cook until soft
Add cauliflower florets and cook over a low heat for 3-4 minutes
Sprinkle flour over veg ensuring even coverage, and cook for one minute
Pour in the stock, gradually stirring continuously
Add paprika
Bring to the boil and simmer gently for 20 minutes until the vegetables are soft
Add the milk and bring back to boil then remove from heat
For a 'chunky' soup reserve about one quarter of the vegetables
Place the vegetables and the liquid in a food processor and blend until smooth
Return to the pan and add back any removed vegetables
Crumble in the cheese and heat through
Serve with crusty bread and a swirl of single cream