Chocolate Fudge Cake
This Chocolate Fudge Cake was part of a bake off at Payplan. Another cake in this competition was the Raspberry and Amaretti cake so you can try that one as well! I might add these cakes were made a long time before the current social distancing rules – when office life could involve getting together to share a cake!
Becky's Chocolate Fudge Cake looks amazing!
Cakes – Made For Sharing!
And the whole office will have benefited from this competition. Sharing food is amazing for bringing people together and it is really good baking and cooking, when you know people are going to enjoy the result. Baking your own cake is more economical than a shop bought cake, and you know exactly what is going into the cake.
Perhaps in this Lockdown time people are having virtual Bake Off competitions. do let me know if you are!!
Becky's Chocolate Fudge Cake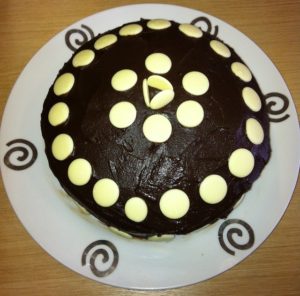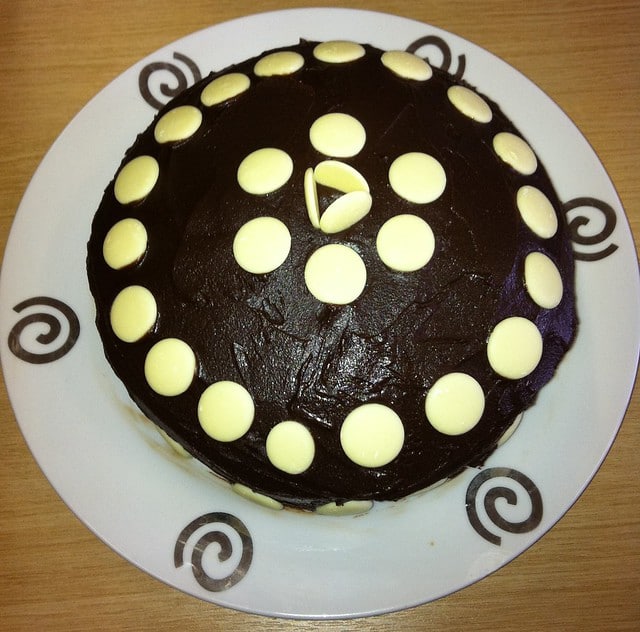 Ingredients
175g / 6oz

unsalted butter

175g / 6oz

sugar

3

eggs, beaten

3 tablespoons

golden syrup

40g / 1.5oz

ground almonds

175g / 6oz

self-raising flour

40g/ 1.5oz

cocoa powder

For The Icing

225g / 8oz

plain chocolate, broken into pieces

55g / 2oz

muscovado sugar

5 tablespoons

evaporated milk

1/2 tablespoon

vanilla essence

Cooking Directions
Preheat the oven to 180 degrees C
Grease a deep cake tin
In a large bowl, cream together the butter and sugar until light and fluffy
Add the eggs one at a time and beat in thoroughly
Add the golden syrup
Add the ground almonds
Sift in the flour and cocoa powder
Ensure all ingredients are completely combined
Divide between the two tins
Bake in the oven for 20-25 minutes, or until a skewer or sharp knife comes out cleanly
Leave to cool and then turn out on a wire rack to cool completely

Make the icing

Melt the chocolate pieces in a bowl over some hot water
Combine with the sugar, evaporated milk and vanilla extract to form a paste
Ensure the cake is completely cooled
Spread the mix evenly over the cake
Decorate as desired with chocolate buttons
Score:
Taste – 7.1
Presentation – 7.5
Difficulty – 6.7