Cashew Nut Risotto
Some of the best recipes are the simplest – and cheapest! Risotto is an easy, tasty and low cost recipe. It is a one pot recipe that can easily be made in advance and reheated, or frozen in portions. It can be adapted to what you have available. What's not to like!! Costing around £3 to feed four people generously, this is an excellent easy option for an evening meal for a busy family.
Easy and delicious family meal quick to prepare and only 30 minutes to cook – all in one pot. Low cost at about £3 for four servings. Fabulous!
Cashew Nuts
If you, like me, didn't know where cashew nuts came from, you may be interested to know that most cashew nuts come from Brazil, Vietnam and India. They grow on trees and are the seed of a fruit, the cashew apple.
Unfortunately for us, the cashew apple although tasty and nutritious, is too perishable to transport to Northern Europe. If anyone reading this has tasted one, I would love to hear from you!
Cashew nuts, whilst quite high in fat, are lower in fat than many nuts and most of the fat is unsaturated. They have many other health benefits too. Nuts are a good source of protein for vegetarians. Perhaps most importantly, they are delicious.
Nuts are available to buy in packets in the supermarkets. They can also be bought online in bulk from amazon

I was actually quite surprised to discover that you can buy a good deal of food in bulk from Amazon. It could work out as a cheap way of buying food especially if you team up with a group of people, as these cashew nuts are much cheaper than the supermarkets. Remember to buy unsalted raw or steamed cashew nuts, not the salted or roasted variety that are sold as a snack.
There are a few more recipes on this website that include cashew nuts including Chickpea And Vegetable Pilaf, Nut Roast and Cauliflower Pilau. Do share your favourite cashew nut recipes.
Adaptable Rice Recipe
I used basmati rice in this recipe, but you can use long grain rice.
Brown rice would also be good as the cashew nuts would enhance the nutty flavour of the rice. If you use basmati or long grain rice, it ss best to wash in cold water and drain, to remove some of the starch, before adding to the frying pan. The amount of stock or water you need will vary with the rice, so have some on the side to add as required. This dish is cooked simply with onions, garlic and red pepper but you can add further vegetables such as peas, mushrooms or courgettes, depending on what is in season. You can also use a green or yellow pepper according to what you have available and your own taste.
Cashew Nut Risotto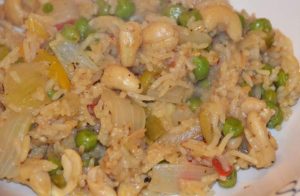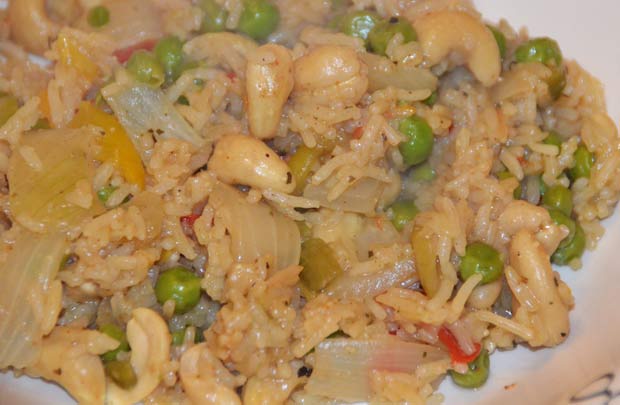 Ingredients
2 tablespoons

olive oil

1

onion, peeled and chopped

1-2

cloves garlic, peeled and crushed

180g / 6.5oz

basmati, long grain or brown rice, washed

125g / 4oz

cashew nuts (raw, unsalted)

1 teaspoon

paprika

1 teaspoon

dried basil (or a few fresh basil leaves)

1

large red pepper, de-seeded and chopped or handful of mixed, chopped, frozen pepperd

570ml

boiling water

100g / 3oz

frozen peas

salt and pepper

seasoning to taste
Cooking Directions
Heat the oil in a large frying pan
Add the onion and fry for a few moments until soft
Add the garlic
Add the rice, and stir
Add the cashews, stirring and turning to roast a little
Add the peppers and cook for a couple of minutes, taking care to ensure rice is not sticking
Pour on half the water and the frozen peas
Add the dried basil if using
Bring to the boil and then turn down the heat to simmer for about 30 minutes
Add more water as necessary, when most of the moisture has been absorbed
If using fresh basil, add at the end of the cooking time
Check rice is thoroughly cooked
Adjust seasoning with salt and black pepper