Vegetable Pie Pies
Once you can make pastry, making a savoury meat or vegetable pie is – well – as easy as pie! You can vary what you put into it according to what you like and have available. It is also a great way to use up left over food too!
Making a pie is as easy as – well – pie! Fill with your favourite vegetables or use up some leftovers. Warming, filling, low cost and tasty!
You can make individual pies or a large family pie, and adjust the size depending on how many people you need to feed. The pie can be made in a deep baking dish, cake tin or use an old fashioned enamel pie dish. The container you use depends on how you want your pie to be. If you like, you can of course buy a purpose made pie dish but you may find you already have suitable containers. A small deep roasting dish will do or a lasagne type dish.
Cook The Filling
It is best to cook the vegetables first before putting them in the pie and then make an onion based white sauce. Flavour the sauce with your favourite herbs. In this case I used sage.
Have Fun With Pastry!
I decided to make a pie when a friend of mine was talking about how she had started making pies, and really enjoyed it. She is a creative person and loves making patterns and fancy edging to the pastry!
I have to admit that I tend not to do this, just making pain, ordinary flat pastry, but you can of course make shapes out of pastry to put on the pies. Just try to remember not to over-handle the pastry or it will spoil the lightness. You may need to make a bit extra pastry too. However much pastry you make, you will need half the amount of fat to flour.
Ideal For Freezing
You can make individual pies and freeze some. This is ideal if you often cook for one. Great for students too! You can buy delightful individual pies dishes in kitchen shops and from Amazon Oval Pie Dishes, set of 4 Individual Pie Dishes
.
A vegetable pie also makes a warming and economical winter dish. Filling and tasty, it can also be low cost, depending on some of the vegetables you choose. You can also use up any oddments of vegetables such as that lonely carrot, a few broccoli florets or half a sweet potato.
Make Your Own Pastry
It is the pastry that is really the making of a pie, so do try to make the best pastry you can.
Having said that, don't be afraid to have a go at pastry. It is one of those things that sometimes people shroud in mystery. Really, pastry is very easy. Just try to do things lightly, coolly and quickly and you can't really go wrong! And always remember you are cooking tasty family meal, not auditioning for Masterchef!
But if you wish – buy some ready made pastry!
For a pie dish 23cm x 17cm – Serves 4-6
Vegetable Pie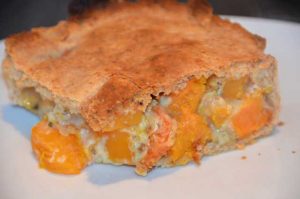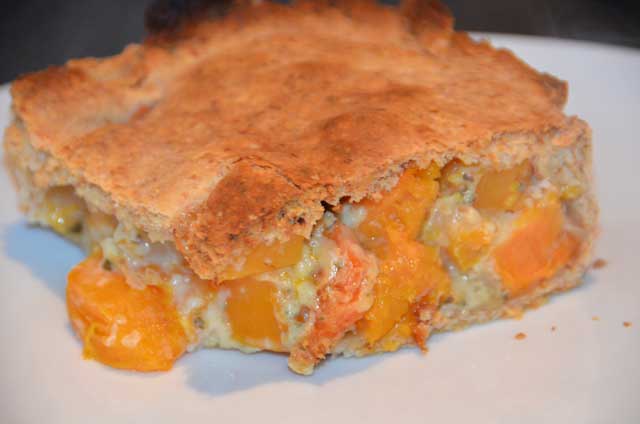 Ingredients
180g

plain flour

Pinch

salt

90g

margarine

4 tablespoons

cold water

margarine

to grease

2 tablespoons

olive oil

1/2

butternut squash

2

medium carrots

1/2

sweet potato

1/2

small swede

1

small onion, peeled and finely chopped

320ml

milk

2 tablespoons

plain flour

25g / 1 oz

margarine

1 teaspoon

dried sage
Cooking Directions
Sieve the flour and salt into a large bowl
With cold hands and using your fingertips, rub in the margarine, lightly until it looks like breadcrumbs
Add the water, by sprinkling over the flour and margarine mixture retaining a small amount
Gently bring the mixture together into a dough ball, adding more water if necessary.
Form into a dough and place in a plastic bag in the fridge to rest for 30 minutes
Meanwhile preheat the oven to 180 degrees C
Peel and de-seed the butternut squash and chop into bite sized pieces
Peel the sweet potato, swede and carrot and chop into bite sized pieces
Place all the vegetables in a large roasting dish
Drizzle with oil
Stir to coat the vegetables with oil
Place in the oven. Bake for 20 minutes
In a medium saucepan, melt the margarine over heat and add the onion
After a few minutes stir in the flour and cook for a minute
Add the milk and sage. Stir and cook until the sauce is thick. Remove from heat.
Take the pastry and cut into 2 pieces of about 2/3 and 1/3
Roll out the 2/3 to the size and shape of the pie dish
Grease the pie dish
Place the pastry to line the pie dish and prick with a fork
Bake 'blind' for 10 minutes (ie place in the oven for 10 minutes)
Place the vegetables in the pie and pour the sauce over
Roll out the remaining pastry and place on the top, pressing down the edges to meet with the bottom layer of pastry
Cut 3 or 4 slits in the top and bake in the oven for about 45 minutes