Cooking For Guests
When I have relatives and friends to stay at the house and I am keen to cook them some good, wholesome food. I like to illustrate that good cooking can be simple, economical and nutritious with the minimum of fuss. When I spend time with friends I also like to ensure I do not spend the majority of the time in the kitchen, but have plenty of time and energy to enjoy their company. It is also good to keep an eye on the food expenditure so that your bank balance doesn't run away with you as you try to cater to their needs.
Roast chicken is a great meal when you have guests to stay. Filling and economical there should be left overs for another meal as well as the carcass to make stock
Catering For Both Vegetarians And Meat Eaters
There are often both vegetarians and meat eaters amongst my guests and a roast dinner is great meal (if not an obvious one) to cater for both. The vegetables can be used to accompany both the meat roast and the vegetable roast. So alongside a roast chicken, you can cook, for example, a nut roast or Lentil Roast which both recipes are easy and fairly quick to prepare.
Roast chicken also provides leftovers that can easily be turned into another meal such as Chicken Risotto – which you can make a day or two after you have had the roast chicken. It does work out much more economical than buying chicken breasts for the same number of people. You are also left with the carcass from which you can make good chicken stock fro soups, gravy or stews.
Its All About Timing
I cooked roast chicken with roast potatoes, roast parsnips, brussel sprouts, broccoli and carrots. Obviously you can cook your favourite vegetables.
The key to a great roast dinner is ensuring that everything is ready at the same time. The chicken can be removed from the oven ten minutes before serving to 'rest'. This gives you time to cook your vegetables, especially if they are already prepared. To save washing up, and heat, use a steamer that you can boil a couple of the vegetables together in water, whilst steaming others in the steamer, on top.
The roast potatoes and parsnips, once cooked can be placed in a serving bowl to keep warm in a low oven for a short while, without spoiling. Thus there is plenty of leaway when putting the roast dinner together.
Keep It Simple
This roast chicken recipe covers just cooking a simple roast chicken without any fancy additions. It is how I like it – just simple – and it makes it straight forward to prepare and cook. I always choose a free range chicken, from a local supplier. I choose free range because the chicken will have had a much better life, but also, more selfishly, it tastes much better. It won't be full of growth hormones, nor will it have been injected with water to help make up its weight. Consequently a chicken of less weight will feed more people. A chicken of around 1.6 kg will provide a meal for four people, plus a chicken risotto. You may like to read about the Chicken Out campaign – the campaign for free range chickens. Whatever you decide to buy, the instructions below should result in a perfectly good chicken.
Roast Chicken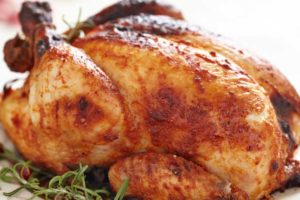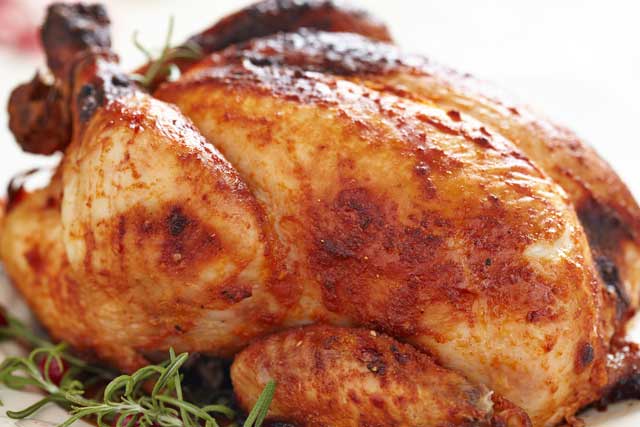 Prep time: 5 minutes
Cook time: 90 minutes
Total time: 100 minutes
Ingredients
One

Chicken (ideally free range around 1.6kg)

1 dessertspoon

butter or margarine
Cooking Directions
Pre-heat the oven to 200 degrees C
Place in a metal roasting tray
Dot with the butter or margarine
Place in the oven
Calculate the cooking time = 20 minutes for each 500g plus 20 minutes. (1.6kg requires 1hr and 30 minutes)
Half way through cooking, remove from the oven ad baste the chicken by taking a spoon and pouring the melted fat over the top
Near to the end of cooking time, check to see if it is cooked – use a skewer to pierce the flesh. It is cooked when juices run clear.
Remove the chicken from the oven and rest for 15 minutes before serving – now is the time to cook your vegetables.
Check your roast potatoes and parsnips – if they are ready, put in an oven proof serving dish
Turn down the heat to about 100 degrees C and return them to the oven to keep warm.