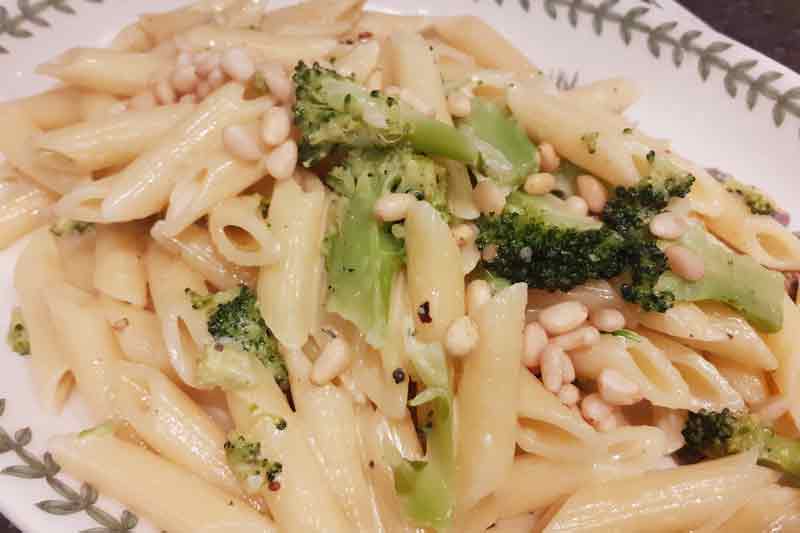 Broccoli And Blue Cheese Pasta Recipe
This is an easy pasta dish that is quick and easy to make but tastes really luxurious
This is not only great for a mid-week supper but it is good enough to serve at a dinner party too! It would be a great recipe to put together when you know you are entertaining and you want to spend more time with your friends, chatting, than at the kitchen stove.
This is a really easy Broccoli And Blue Cheese Pasta recipe is great for a mid week family meal, and good enough for a dinner party!
It is also good for using up any blue cheese that is not really presentable for the cheese board. Pasta is a great staple in the cupboard and a portion for four people is around 60p so you can afford to splash out a little on the sauce! There are many easy pasta recipes on this website and many are very quick pasta recipes too, as well as being very low cost and delicious!
Choose Your Blue Cheese
You can use any blue cheese so long it is reasonably strong flavoured. You might want to save your best Stilton for the cheeseboard, unless you are trying to use up some left overs. Most supermarkets do a blue cheese in their basics range which is great for cooking.
It appears the first ever blue cheese was French. Roquefort was invented, it is said, when a young man abandoned his cheese and bread lunch in a cave in order to meet a girl. On returning a few weeks later, he discovered the cheese had blues veins running through it. Only genuine Roquefort, aged in these caves, can be called by the Roquefort name.
British Stilton was not produced until the 18th century. It can now only be produced in Nottinghamshire, Derbyshire and Leicestershire, and not in the Cambridgeshire village, Stilton, that bears its name. The history behind this is uncertain. It may be that this was the first place the cheese was sold from. Find out more about stilton cheese here
So whatever your favourite blue cheese – you can use it for this recipe.
Choose Your Pasta Shape
I made this recipe with penne pasta. I think it goes well with this shape, but you really can use any pasta shape that you happen to have. This recipe is easily adaptable for a different number of people, just adjust the quantities proportionately.
I have used broccoli as the vegetable as I think it goes really well with blue cheese, but you could use other green vegetables or cauliflower. Blue cheese goes really well in Cauliflower and Blue Cheese Soup. This is a recipe that can be a good opportunity to use up any leftover cooked cauliflower, broccoli, sprouts or green beans too. A few frozen peas make a nice addition too
Pine Nuts
I like a sprinkling of pine nuts in dishes like these. They add some crunch and texture. You can add it at the end of cooking the sauce – or put them on the table so people can help themselves. Adds an extra nutritional punch too!
Cooking Tip
If you are cooking a vegetable, the best way is to steam it over the boiling pasta if you have a steamer. I have three tiered steamer pans
that you can boil something in the base and steam one or two other items, all on one hob. Certainly saves electricity or gas.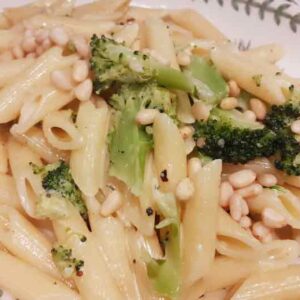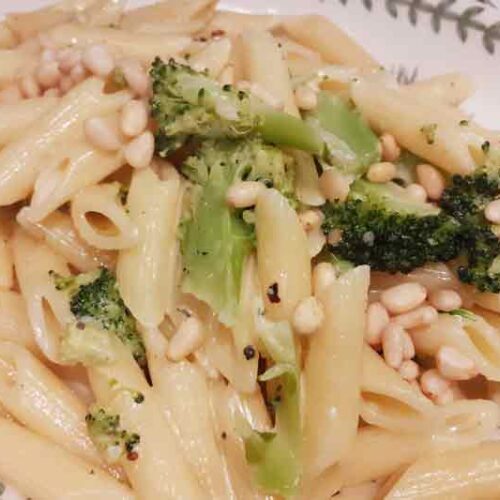 Blue Cheese Pasta Sauce
Easy, impressive pasta supper
Ingredients
350

g

pasta

1

head

broccoli

broken into small florets

100

g

blue cheese

150

ml

single cream

40

g

pine nuts

optional
Instructions
Cut the broccoli into florets, and then into smaller pieces

Put your pasta in a large saucepan and cover with boiling water

Bring back to the boil, stir, the turn down to simmer for 10-12 minutes

Place the broccoli in a steamer pan (if you have one) over the pasta and cover - otherwise place in a small saucepan, cover with boiling water and simmer for 6-8 minutes

Put the cheese and cream in a small saucepan over a very gentle heat.

Melt the cheese, slowly then remove from heat

When pasta is soft, drain

Add the broccoli

Stir in the cheese sauce covering all the pasta

Add the pine nuts if desired - or plac eon the table for people to help themselves