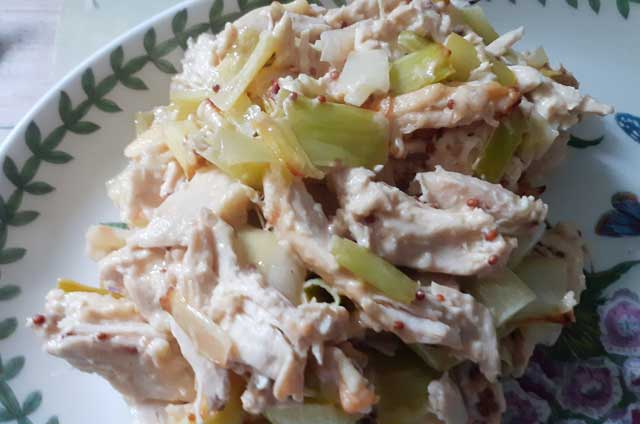 Chicken And Leek
I love the way Twitter brings together people with similar interests and ideas can be exchanged. Sometimes it seems that Twitter gets a bad press and the community, networking and sharing aspect of Twitter is rarely celebrated in the media.
I met Fiona through Twitter and she shared this fabulous recipe that she created when she was having a leek recipe competition in her household! I may have said before that I love leeks and we all know how well leeks goes with chicken.
There is that famous, traditional Scottish dish, dating back to the 16th century, cock a leekie soup for example.
Lovely Leeks
Leeks are in season in the winter months and there are so many dishes that can be cooked with them.
This easy, tasty recipe makes the best of the great combination that is chicken and leek, as a great filler for the staple meal of jacket potatoes
Versatile Jacket Potatoes
Baked potatoes, like pasta, are a great starting point for a meal – low cost, tasty and easy to cook and can go with all manner of other ingredients. This recipe can is for three people, but can easily be adapted to the number of people you are cooking for. This is an interesting variation on the more usual jacket potato fillings of beans, cheese and chilli.
If you prefer you can bake the potatoes in an oven, but clearly they will need at least an hour to cook
Easy Supper With Leftover Chicken
This dish would make an easy, filling and tasty midweek supper. It could be a way to use up some leftover chicken after a roast chicken dinner.
Fiona is the owner and founder of The Sewing Directory, a directory of sewing websites and a network of people who sew, providing mine of information of ideas, projects and advice.
If you have any great jacket potato recipes, do share them. This website is all about easy, tasty, low cost meals
Jacket Potatoes With Leek And Chicken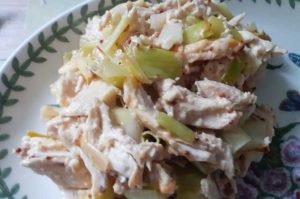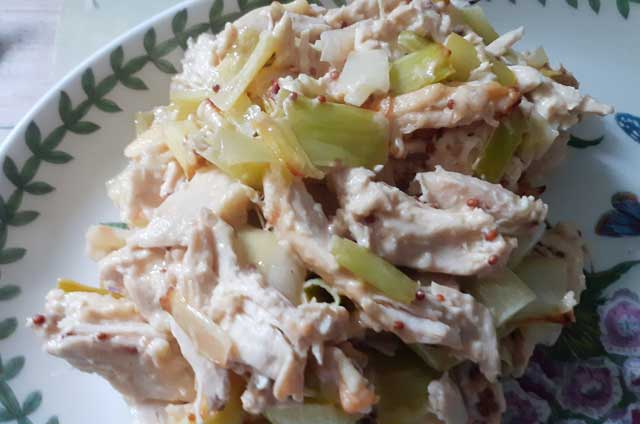 Serves 3
Ingredients
3

Baking Potatoes

2 tablespoons

olive oil

2

medium leeks

200g / 7oz

chicken

75g / 2oz

goats cheese (or cheddar or blue cheese)

1 teaspoon

wholegrain mustard (optional)

salt and pepper

to taste

3 teaspoons

butter
Cooking Directions
Prick the potatoes and put on a plate in the microwave – Depending on the size either start them now (if they are large/15mins+), or when you add the chicken to the leeks(10-12 mins cooking time).
Slice the leeks
Dice the chicken
Heat the olive oil in a pan on a medium heat
Add the leeks and stir for 3-5 minutes until they start to soften.
Add the chicken and continue to heat and stir for another 5 minutes
Sprinkle with salt and pepper.
Put the cooked chicken and leeks into an oven dish, sprinkle grated cheese on top (I used a soft goats cheese and crumbled it on top)
Put the dish under the grill to melt the cheese into the leeks and chicken – takes 5-10 minutes depending on the cheese you use.
Whilst that is under the grill remove the jacket potatoes from the microwave, slice open and add butter
Add the leeks, chicken and cheese filling and enjoy