Banana Loaf – Ripe Bananas
Banana Loaf is fabulous for using up bananas that are too ripe to eat? You probably hate to waste food yet can't quite enjoy bananas that are going squidgy.
There is no better way to use up bananas than banana loaf. Whether you have too many bananas, or some are going too overripe to eat, this is a delicious way to use them. But there is of course nothing to stop you buying bananas especially for a banana cake!
Banana cake is a great way to use up over ripe bananas – but don't worry – you don't have to wait that long – this recipe is great made with 'just' ripe bananas too!
I have been making banana cake for years, probably starting when the children were young and bananas made an easy 'first food'and I could then use up the bananas in cake for the adults! It is a great cake to take on picnics or have as a mid morning snack – especially as it does have the health benefits of bananas.
Banana Loaf, Bread or Cake!
I was unsure whether to call this a banana loaf, cake or bread. It isn't really bread but many people seem to call it that. I don't think there is any difference and the terms are interchangeable. But let me know if you think differently! When I found this recipe it was referred to as banana cake
I am always on the look out for new ways of doing things and this recipe seemed to be particularly straight forward. I came across this banana cake recipe in The Real Food Store, Exeter, Devon. They sell locally grown produce and fair trade bananas. This recipe is very easy to make and produces a very bananary cake.
Banana Cake – And Pineapple Too!
This cake is also very delicious with pineapple pieces on top of the cake – simply add them to the top before putting the cake in the oven. Pineapple and banana just go together and give that 'totally tropical' taste! Sweet and delicious! You can always serve it warm with some ice cream – or cream.
Walnuts make a good addition to the cake – just stir some in before putting the cake in its cake tin – or place some half walnuts on top of the cake. Try this Banana Date and Walnut Cake
All In One Cake
This recipe can all be whizzed up in one bowl. Just put the ingredients in, and blend together. Make sure your butter is sift though first. slice it up and warm it in your heating oven if it is too hard.
Banana Loaf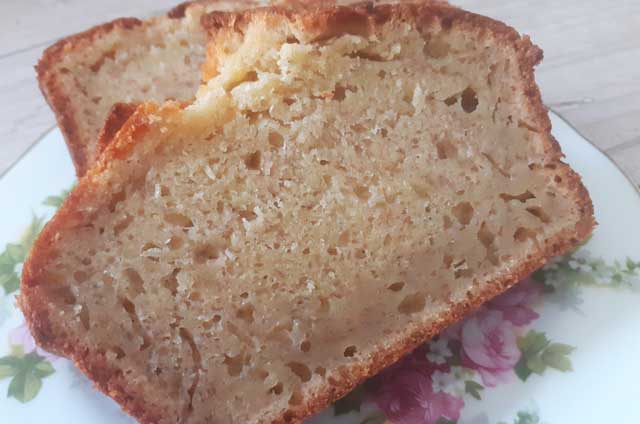 Ingredients
4 ripe

bananas

110g / 3.5oz

butter, softened

110g / 3.5oz

sugar

2

eggs

225g / 8oz

self raising flour
Cooking Directions
Preheat the oven to 180 degrees C
Mash the bananas to a pulp, leaving it a little lumpy
Put all the ingredients together and mix with a hand whisk or blender if you have one, otherwise with a wooden spoon
Line a cake tin with baking parchment
Pour in the mixture, ensuring it is evenly spread
Bake in the oven for 40 minutes at 180 degrees C
Turn down the oven to 150 degrees C for 10 minutes
Check with a skewer that it comes out clean. If not, cook for another few minutes and check again
Remove from oven and allow to cool for 5 minutes
Turn out onto a wire rack to cool