Warming Simple Carrot Soup
There is nothing like a warming soup on a cold day – it warms you up from the inside out. Carrot and coriander soup is deservedly a favourite because of its delicious taste, but it also one of the easiest soups to make. It is also really low cost as soup for four costs less than £1. Compare that to the cost of premium fresh soups – it is at least half the price and you know exactly what has gone into your soup.
Tasty Carrots
Use locally grown organic carrots for the best flavour. I always buy these now – the standard supermarket carrots don't taste anywhere near as good once you have tried the real thing. Real carrots come in all shapes and sizes too – which means you can choose exactly the quantity you want. Check out your local greengrocer or farmers market.
Warming, delicious, easy to make & low cost – carrot and coriander soup has it all!
Because the carrots I usually buy are dirty with mud, quite ingrained, I tend to peel them. I just googled whether other people do the same and it seems some people just scrub the dirt off, although others suggest the skin can taste bitter. There is also the question as to whether some of the nutrients are lost but it seems that this isn't really the case. I find peeling easier then scrubbing, especially on a nobbly carrot. Then rinse the carrot afterwards to remove any smudges or residual mud.
Coriander is a herb. The leaves and the seeds can be used to flavour cooking. It is the seeds that are used to make ground coriander that is use in this soup dish. If you grow coriander, you can use some leave to garnish the soup. Coriander is from the carrot family – perhaps that is why they taste so naturally good together! It appears it was the Romans who introduced coriander to Britain, so it has been part of our diet for a long time! These days it is possibly better known as an ingredient in curry dishes from India and Thailand. Ground coriander is easy to buy at most supermarkets.
Simple, Delicious Lunch
This delicious soup has just four ingredients – onion, carrot, coriander and stock. Five if you decide to give the soup a swirl of cream to serve – but it is far from essential. Make a large batch and keep some in the fridge. It will taste even better in a day or two. It can also be frozen. Making a large amount makes best use of the cooker energy and means you will be less tempted to buy a ready made soup, next time you really fancy a warming, nutritious lunch. Why not heat some up and take some to your place of work in a thermos flask with a hunk of bread. It makes an economical and delicious lunch. You will be the envy of your colleagues! Especially if your bread is home made
Carrot And Coriander Soup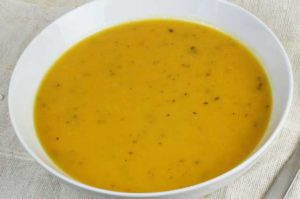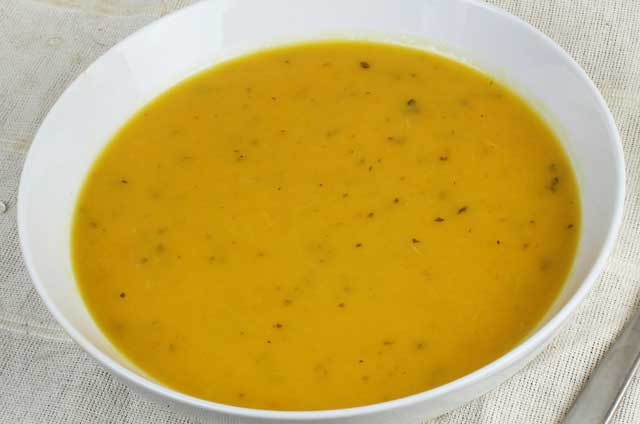 Serves 4
Ingredients
1 tablespoon

butter or margarine

1

onion, peeled and sliced

500g /1lb

carrots, peeled and sliced

1 teaspoon

ground coriander

750ml

vegetable stock

2-3 tablespoons

cream (optional)
Cooking Directions
Heat the butter in a large saucepan
Add the onion and cook until soft
Add the carrots and cook for a couple of minutes
Add the stock and coriander, stir and bring back to the boil
Turn down the heat and simmer for 15 minutes until the carrots are soft
Place in a food processor until smooth or push through a seive
Return to the saucepan to heat through
Serve immediately with good bread and a swirl of cream if desired