Leeks And Soft Goat's Cheese
Leek and Goat's Cheese Pie is a light pie with some of my favourite ingredients – leek, peppers and goats cheese. The pie uses filo pastry – ready made – although you could make the pie with shortcrust pastry too. Leeks are in season from November through to April and are plentiful in the shops. Prices for leeks vary from between £2-£3 a kilo. Try your local market for really fresh leeks.
This could be my favourite leek recipe although there are several leek recipes that I love. Leeks have been cultivated and cooked for thousands of years. They are documented in Roman times and mentioned in the Bible in Numbers 11:5along with melons, onion and garlic.
Delicious way to cook leeks, you'd never believe it is so easy to prepare!
Cheese – Goats, Local or French
This pie recipe uses goats cheese, but you could use feta cheese or even mozzarella – really what ever your favourite cheese is that you think will go best. Although French goats cheese is probably the most well-known, you can get Welsh or even Somerset goats cheese – so if you prefer to buy local, look out for these. You can find them in supermarkets, but do look at your local Farmers Market or local produce store too.
Peppers aren't in season at the same time as leeks although they are available all year round. Once the British season is over, they tend to be imported from southern Spain and Italy. Use what colour of pepper you prefer, or is available to you. If your peppers are small, you can use both red and green.
Filo Pastry (not homemade)
I have to admit, I have not tried to make filo pastry ever – it seems too tricky. If anyone out there has successfully made it, please do share your comments and thoughts as to whether it seriously can easily be made at home.
One of its advantages, though is that it is lower in fat and calories than other pastry. It makes a lovely crisp coating to this recipe, too.
The frozen pastry is a little lower cost than the fresh, chilled ready made.
I make this pie with a deep loose bottomed, 20 cm cake tin – it would work with a baking dish or pie dish too. Grease the baking dish or cake tin before you start.
Serves 4
Leek And Goats Cheese Pie Recipe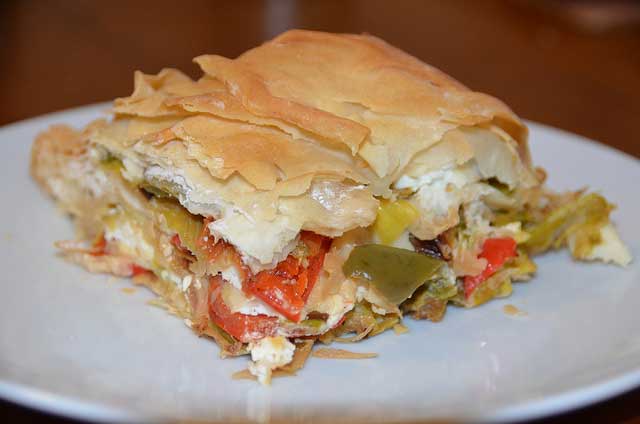 Ingredients
1 tablespoon

butter

1

270g pack filo pastry

1 tablespoon

sunflower or olive oil

2

leeks, sliced

2

small or 1 large pepper, deseeded and sliced

6

cherry tomatoes

100g

goats cheese

1 teaspoon

mixed herbs
Cooking Directions
Grease the cake tin or baking dish
Take a sheet of filo pastry and place in the bottom with the sides overhanging the edges
Melt the butter and lightly brush the filo pastry with the butter
Place another sheet cross ways to the one you have placed and let the sides overhang
Lightly brush with melted butter
Use another two sheets in this way
Preheat the oven to 180 degrees C
Heat the oil in a large heavy bottomed frying pan
Fry the leeks and the pepper until soft
Add the tomatoes and cook a little longer
Sprinkle the mixed herbs on and stir
Place about one third of the mixture in the pie dish and sprinkle with one third of the cheese
Fold over the sides of the top layer of the pastry over the mixture
Place another one third of mix and one third of cheese and again fold over th pastry
Finally place the remaining mixture and cheese
Fold over all the pastry and brush with butter
Bake in the oven for 30 minutes
Serve with a green salad and some potatoes or a vegetable.